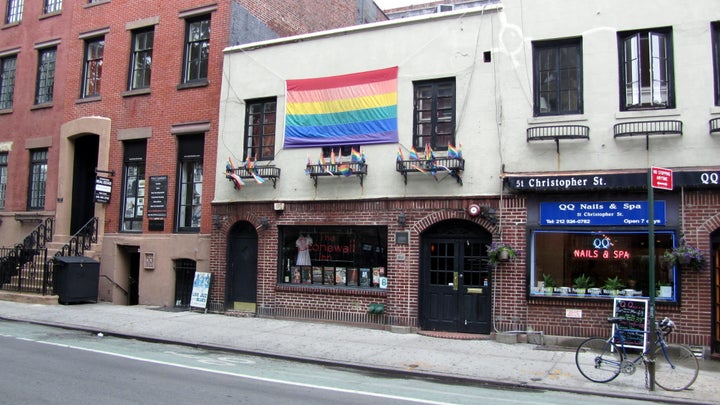 It's only been days since President Obama uttered that single never before used in any presidential inaugural address syllable "gay." Whether it was bold or long overdue is not important. And if the president's phrase, "through Seneca Falls, and Selma, and Stonewall" did not match the oratory skill of Lincoln's second inaugural, or have the motivational impact of JFK's "ask not," it elevated the struggle for gay rights in the U.S. and that's not nothing. This gesture of inclusion called for brief celebration. We cheer. We pause to look back on those that have come before. And then we ask, "What's next?"
Back in the early 1960's when the civil rights movement inspired by the likes of Pauli Murray and Rosa Parks was gaining momentum, little if any support could be found for gay rights. While the Freedom Riders risked everything, President Kennedy asked Martin Luther King to slow down. This was a period during which Bob Dylan plugging in his guitar was seen as a big deal by progressive musicians. A time when Bayard Rustin, an openly gay organizer of the 1963 MLK March on Washington had his legacy within the civil rights movement take a back seat in history. Still, the counter-culture of the sixties challenged the status quo and helped push the country into an identity crisis of enormous magnitude.
And it was during this period that I set my recent novel Finding Bluefield. The narrative chronicles the lives of two women who sought love and family during a time when relationships like theirs were mostly hidden and often dangerous. It's a story about being different. And while I don't believe one must experience feeling different in order to have empathy or understand others who have been made to feel different, I sort of do believe that it helps.
The decade that began with the promise of a JFK presidency ended with the moon landing, Woodstock, and the Stonewall riot. The police raid on that gay bar that evening was a common occurrence. It was the response that followed on that June evening that was out of the ordinary. The night's violence, set off, by most accounts, when a lesbian resisted arrest. The result of many years of pent-up frustration sparked a new movement that agitated rather than asked for its rights. The result may be seen in this week's Sports Illustrated magazine which features a picture of two men in a San Francisco gay sports bar kissing to celebrate their 49ers clinching a spot in the Super Bowl. Gay equity has taken center stage during Super Bowl media days with 49ers cornerback Chris Culliver made it clear he would not welcome a gay teammate and Baltimore Ravens linebacker Brendon Ayanbadejo has spent part of his Super Bowl week promoting gay rights and equality.
After Stonewall, and Betty Friedan calling lesbians the "Lavender Menace," the 1970s exploded into a frenzy of drugs and sex and the mobilization of under-represented groups. The disenfranchised began to advocate for their specific rights. Frustration was turned into action. The identity crisis of the sixties seemed to resolve itself into identity pride.
Out of all this emerged Harvey Milk, the first openly gay officer elected to the San Francisco City Board of Supervisors, in 1977. With Tammy Baldwin, and Kyrsten Sinema, and the hundreds of openly gay, lesbian and bisexual officials elected to the local, state, and national office, it's easy to forget that Harvey Milk's election was a big deal. And it was much more than a symbolic victory. Milk understood that equality was only achieved when everyone had it. He worked for childcare, affordable housing, multilingual voting ballots, and gay rights. Harvey Milk understood that identity politics had its limits. It could not attain equality for all. A year later, Milk's murder, along with San Francisco Mayor George Moscone, reminded us of the danger of being out.
Much has happened between Stonewall and President Obama's second inaugural. The tragedy of AIDS propelled activism to a life and death crisis. Allies formed, creating a blueprint for many groups to organize. Social media, the cause of too much cyber bullying, has also connected the most remote, vulnerable, and isolated individuals, and exposed hatred and rallied support for individuals and causes. By any measure there have been tremendous gains in acceptance. But still, the list containing Mollie Olgin and Kristene Chapa, Jadin Bell, Tyler Clementi, Matthew Shepard, and countless others is not shrinking.
So what is next? Issues that we face in the coming decades must be faced together. Can we move beyond identity politics?
Because, in the end, we are all just people.
Calling all HuffPost superfans!
Sign up for membership to become a founding member and help shape HuffPost's next chapter