Employment is hard to come by for women living with HIV/AIDS in India. People afflicted with HIV/AIDS bear the brunt of incredible social stigma, and this is exacerbated when the person afflicted is a woman. In 2012, The Didi Jewelry Project was founded with the aim of providing a compassionate space and an opportunity for employment for women affected by HIV/AIDS. The organization works in tandem Aashiana Shelter to provide training, jobs, and a support network. Women are taught the art of jewelry making, and in learning a marketable skill, they not only gain economic independence, but also self-confidence. "Didi" is a word for "sister" in Hindi. Here, two survivor artisans from The Didi Jewelry Project talk about their experiences, their family, and the sisterhood they have formed.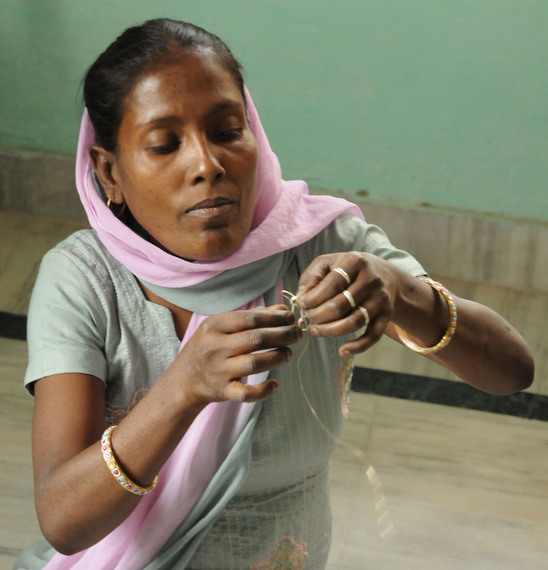 What is a story you like to tell about your life?

I got married in the year 2000 and came to Delhi. After a year, I was blessed with a beautiful daughter. In year 2003, my husband feel ill and after tests it was diagnosed that he was HIV positive. He did not tell me about his illness. But later after a few years, I had jaundice and I found that I too was HIV affected. I started taking treatment. We were helped by a few NGOs. My husband was working, but due to his illness couldn't earn much. He died in 2010.
After his death I was in a very bad condition. I used to feel very sad and lonely. I suffered from headaches and became very weak. I came to know about Aashiana, and I started working here. I needed money to take care of my daughter and myself. This was the first time that I stepped out of my house to work. I started making jewelry, which I loved doing. Now, I am earning and have become financially independent. I am very happy and proud of myself that I can also do something. Working in Aashiana is a blessing to me.
I used see others working, and I also wanted to work and feel independent. When I started working for Aashiana and learned to make jewelry, I came to know that I too had this talent to make beautiful jewelry. I am thankful to the Aashiana family to help me bring out my hidden skills.
How has economic independence impacted your life?
Earlier, I was dependent on others for lead my life and also to care for my daughter. Now, since I have started earning on my own, I am more independent and can take care of my daughter and myself in a better way. She is now 14 years old. I can also save money for our better future and for my daughter's education.
I want my only daughter to have a good education and get a good job. She should have a beautiful life and settle down with a good life partner. I want to enhance my skills and learn new things. I want to grow more in my work.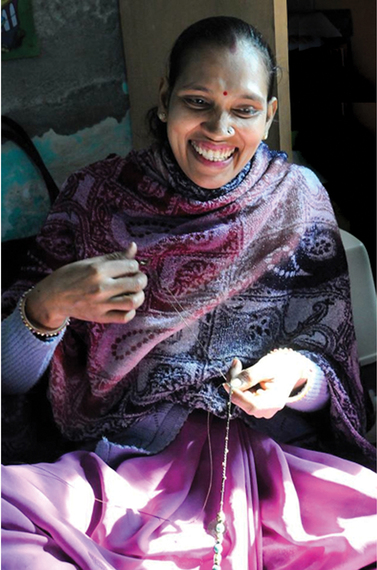 Tell us a little about you and your family:
I was born in the Gonda District in Uttar Pradesh. I have two children. My son is six years old, and my daughter is nine years old.
How do you feel when you're working?

I really like working here in Aashiana. When I was not working, I faced lot of financial problems. Here, in Aashiana, I learned new things and skills. By working here, I can support my family. I can give good education to my children and also take care of our health. By becoming economically independent, I am very happy as earlier I was dependent on my husband for everything. He was also getting very little salary, which was not enough to support our family. Now, as I am earning, I can support my husband to take good care of my family. I am also able to save some money for the future of my children. We are very happy now.
What is your favorite thing to make?

I love to make jewelry, specially earrings.
What is a story you like to tell about your life?

I was living with my husband's family since I got married. My husband came to Delhi in search of work. He fell ill and went to the doctor for treatment. There, after some tests, he found that he was HIV positive. It was a big setback to all of us. Our family in the village all separated us from the family. Even my father and mother-in-law left us, and we had to come to Delhi. Initially, we lived with my brother-in-law, who supported us. My husband also started working as construction worker, but due to his illness he was not able to do heavy work. He was very weak to work.
We went back to our village, but only after 20 days we had to come back to Delhi, as we were treated very badly by our family and relatives in the village. We came back to Delhi. My husband started taking treatment, and I joined Aashiana. With the help and support of Aashiana I was able to support my family and get good treatment to my husband and myself. Aashiana is like an extended family to me. We all are like sisters who work togather and support eachother. Now, my husband is well and also got a job as a guard in a school and my children are going to school. We are very happy as family.
What inspires you?

I am a God loving person. My God inspires me and helps me to do everything in life. My children also help me going in life.
I dream is to give good education to both my children so that they can have a good life in future.
To learn more about The Didi Jewelry Project, click here.
Calling all HuffPost superfans!
Sign up for membership to become a founding member and help shape HuffPost's next chapter