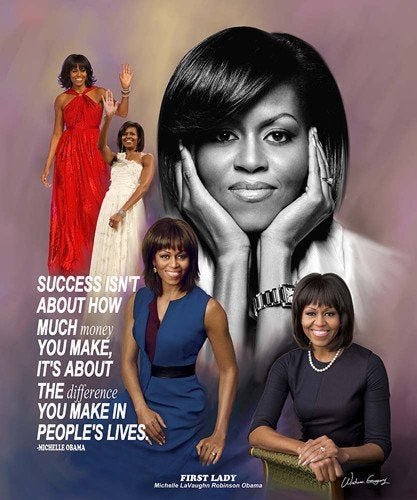 "We are all we have." Former First Lady Michelle Obama boldly proclaimed to the all female graduating class of Spelman College in May of 2011. Her words profound and piercing all at once. She called on not just the graduating seniors that day, but she called on all black people everywhere to understand how interconnected we still are, and how far we have yet to go in terms of access, equality and opportunity in America.
I covered that commencement speech and it was powerful beyond measure. The former First Lady herself a history maker by becoming our nation's first African American "First Lady" was clear that day that black women, and black men alike have a special calling on our lives. A special purpose. A unique history that forged a great people. She called on us to take care of each other. To push each other. To look out for each other. To want more for each other. To build with one another. And to be kinder to each other.
As we close out Black History month 2017, I was reflecting on our former First Lady and her words that day at Spelman ( watch here: Michelle Obama Spelman Commencement ) and I felt a sense of disappointment about where I see we are as black women and black men when it comes to how we love, honor and care for one another. We are not in a good place. Maybe I am just nostalgic for the Obamas in a world of President Trump. Maybe. But the truth is when I saw twitter trending hashtags about #RemyvsNicki #Blackwomendecoded this past weekend, and when I experience the coldness and cruelty of what we do to each other professionally and personally I am concerned about "us" grasping "We are all we have."
Let me say this to my fellow black journalists, attorneys, clergy, media personalities, celebrities, athletes, educators, corporate leaders, and everyday hardworking black people:
Black History month has to mean more to us than just a celebration of our past accomplishments and legacy. If we are the heirs of our great ancestors, the slaves, who came here, were dehumanized here, raped, and beaten here then we owe them better then who we are right now. Look at us—always fighting each other. Competing with each other. Never really lifting others as we climb. Always worried about "me" versus "us". Wanting to always be the head negro or negris and leaving behind those who need our help so that they too can move forward. Fighting each other for the same small sliver of nothing, while our white peers (and now Hispanic, others) have more wealth, more status, and more than us by every economic measure. We hold tons of meetings with our sororities and fraternities, our organizations, and yet we still have nothing. No black hotels. No black banks. Our black colleges hanging on by a thread. Economically we have been left behind in the world's richest nation. Our young men killing each other in the streets and what they don't do to one another, the Police seemingly make-up for in droves.
I am saddened by the blocking we do. The blackballing. The name calling. The destroying with gossip. The abject meanness for no reason. I have been on the receiving end as have all of you—of unkindness. Ungodliness. Personal attacks and barbs that sting for a lifetime. And it makes me want to holler and throw up my hands (quoting Marvin Gaye). My question to us as we end another "Black History Month" is who are we? And who do we want to become? Because our communities are in distress. Our families in severe decline. Black women and black men at war in real time on social media, and in real life. Instead of our men respecting us for the loyal, hardworking, faithful women we have always been they mock us, write books about us, and tell the world how they prefer everyone over us. It's a shame. And it has left our young women and men rudderless. Lost. Clueless as to the great legacy of true black love and black family.
We have allowed ourselves to "assimilate" into nothing. What works for them does not work for us. Our ancestors understood the value of family and the value of sticking TOGETHER. We built this country for free. We built its institutions for free. We built our own colleges, hospitals, hotels, and farms. We knew how to work together. We looked out for each other. We took food, we prayed, we intervened, we opened our homes and our hearts. Where did those black people go? Yes, there are still good among us. Of course. But not enough of "us" who love and like us. My prayer for us for the rest of 2017, and for the rest of our lives is that we as a people will begin to live out and heed the words of our former First Lady: We are all we have.
Calling all HuffPost superfans!
Sign up for membership to become a founding member and help shape HuffPost's next chapter
This post was published on the now-closed HuffPost Contributor platform. Contributors control their own work and posted freely to our site. If you need to flag this entry as abusive,
send us an email
.