Someone dies from gun violence every 16 minutes in America.

YOU CAN DO SOMETHING ABOUT IT is a series of frank interviews with passionate men and women who are leaders, activists, experts and mentors on the subject of illegal gun violence in America. All of them are warriors on this very complicated and emotional mission.

Some are friends and some I have admired from afar for their bravery, audacity and indomitable commitment to the cause. Although our backgrounds are vastly different, and the experiences and challenges we face in our work and lives are as complex as the causes and the solutions to this insidious problem, each has shown through their actions that there is more that can be done to end this senseless loss of human life.
I am proud to introduce you to them and share their insights into how you can help Raise The Caliber of your community and help our efforts to end illegal gun violence in America.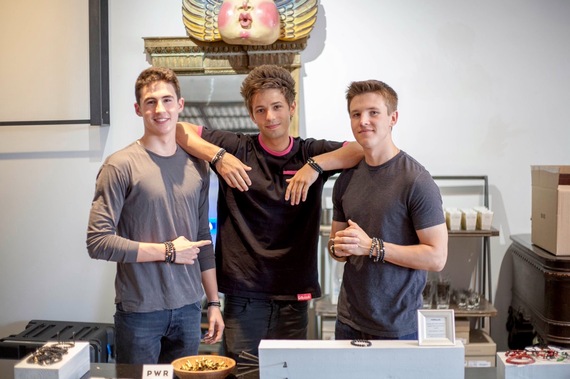 Interview No 2. WE ARE DOING SOMETHING ABOUT IT
Name: Chase Rosett, Grant Gilbert and Devin McIntyre

Occupation/Title: Co-Owners of PWRdetroit, High School seniors
http://www.PWRdetroit.com

Age: 17yrs old (Chase) 18yrs old (Grant and Devin)
Nationality: American

Where do you live?
Metro-Detroit

What quote do you live by?
"As we express our gratitude, we must never forget the highest appreciation is not to utter words, but to live by them." - John F. Kennedy

What are you most proud of about your work?
We are proud that with every piece purchased from PWRdetroit, there is a deeper meaning than just style and fashion. Every bracelet we sell supports a cause that has the ability to change lives; specifically with our PWRcaliber collaboration ten percent of the proceeds is donated to the Caliber Foundation which supports the victims, families and communities devastated by illegal gun violence in America.
What is the biggest challenge you face in your work?
Working so closely to a controversial issue, it feels at times like we're obligated to fix it. Sometimes we have to take a step back, remember that we're still so young and we're working with a complex and deep rooted issue. It's not something that can be fixed overnight, however badly we want it to be. Supporting the efforts to combat illegal gun violence in our beloved city takes diligence, perseverance, hope and most frustratingly, patience. As high school seniors, we still have school and extracurriculars and friends, and balancing it all isn't easy. Juggling business and adolescence, we have lost nights of sleep and sanity, but we've also found ourselves in a rewarding storm of loyalty and confidence and seen what a difference we can make, even at such a young age.
Why do you think we have such a problem with gun violence in America?
We have to remember that real people are affected by illegal gun violence. We become distracted by the "noise" surrounding the issue, and forget that this person is someone's child or someone's parent or someone's friend. We need to change our focus from debating 'why we have an issue' to asking 'how can we fix it'. Every day that we waste debating the why of illegal gun violence is another day we lose lives.
What do you think is the biggest misconception about why we have such a problem with gun violence in America?
People often think that illegal gun violence is an open and closed issue. In order to get to a solution, you will need to make compromises - there is no one step solution to ending illegal gun violence.


Do you think there is a law that the government could enact that would really make a difference in reducing gun violence and building safe communities?
There is not one piece of legislation that will eliminate illegal gun violence. The process must begin with a grassroots initiative approach. You need members of each community to bring light to the issue. Start with education on the topic and work from there. Each community is unique and needs to combat illegal gun violence the way that best fits the needs of that community.


What are three things the average American citizen can do to "Raise The Caliber" of their community?
1. Become educated.
2. Listen.
3. Don't be afraid to speak.
Understanding how and why illegal gun violence affects every community is essential to effectively combating this issue. Listen to what the facts tell you - and speak up! People are scared to speak about their thoughts on controversial topics because they don't want to offend the person next to them. If no one is willing to put themselves on the line to discuss this issue, change will never come.


Is there a must read book or article on this topic that has educated and inspired you?
Through articles and books, we have become educated on the topic but, it's not an article or piece of writing that inspires us - it's the fact that this issue is so prevalent within the city of Detroit and destroying so many lives of Detroiters. It's for the people that have lost loved ones to illegal gun violence that fuel our fire to continue this fight. We love Detroit and we want to help it succeed - we want to be a part of the change.
About the Editor: Jessica Mindich began the Caliber Collection in January 2012 as a collaboration with the Mayor of Newark, NJ, Cory Booker, as a way to turn illegal and unwanted guns from our cities' streets into jewelry. Their vision was to create a virtuous cycle by funding gun buyback and amnesty programs from the proceeds of the sales from the Caliber Collection. The jewelry is made with the serial numbers from illegal guns and the metal from shell casings. The Caliber Collection donates 20% of the net proceeds to fund voluntary gun buyback and amnesty programs in some of the toughest cities in America. To date, they have taken over 1,000 illegal guns off the streets and have raised approximately $100,000 for police departments in Newark, Hartford, the San Francisco Bay Area and Detroit from the sale of Caliber products to customers in over 85 countries.
From the success of the Caliber Collection, Jessica created The Caliber Foundation, which offers support to victims, families and communities who have been affected by illegal gun violence. The Caliber Foundation is the proud recipient of grants from MTV, Shepard Fairey/Obey Giant and The Serena Williams Foundation. Jessica is also the founder of the Raise The Caliber initiative, a National advocacy campaign to end illegal gun violence. Proceeds from partnerships under Raise The Caliber are donated to the Caliber Foundation.
Calling all HuffPost superfans!
Sign up for membership to become a founding member and help shape HuffPost's next chapter