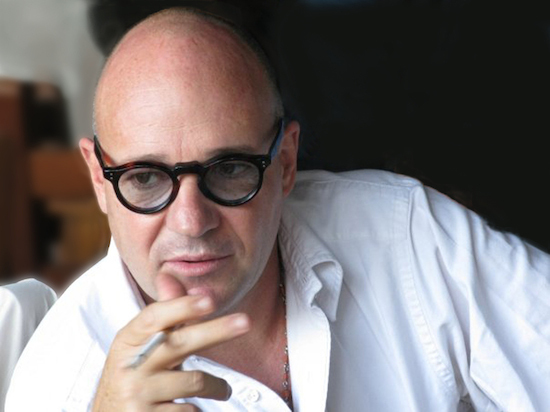 Can a film change the world?
If we believe in the power of one, that ability each human being carries around to make the environment around them better by simply adjusting their behavior, then films have the potential to change the world. I'd like to believe so. I know violence in movies seems to change my very essence, so perhaps great cinema can make our DNA just a little more kind towards our fellow humans.
Italian filmmaker Gianfranco Rosi's latest masterpiece Fuocoammare (Fire at Sea) was awarded the top prize at this year's Berlinale and jury president Meryl Streep declared the film "urgent, imaginative and necessary filmmaking," when handing him the Golden Bear. Fuocoammare also received the Ecumenical Prize and that jury released a statement saying that Fire at Sea is "a film that refuses to allow the status quo to go unquestioned." If that isn't changing the world through cinema, then I give up.
But perhaps the beauty of Rosi's film is that it is, first and foremost, a great work of art, something wonderful, heartbreaking and spellbinding to watch. It's a bit like photorealism, where you can look at the images from a distance and think they are a photograph, but when you get closer and try to decipher their pixels, you are surprised by masterful brushstrokes instead. Rosi appears like a documentary filmmaker but he's really a wondrous storyteller, one who has created a genre all his own, and in the process changed us, the audience, to fit around it. To truly comprehend his genius I'm reminded of a quote I heard earlier this week.
While Italy has been mourning the death of Umberto Eco, the author and philosopher who is best known in the US for his novel-turned-movie The Name of the Rose, a lot of his wisdom has been published in the media. The one befitting of Fuocoammare, and all of Rosi's touching work actually, is his statement about serving his readers. "I don't know what the reader expects," Eco said, "I think an author should write what the reader does not expect. The problem is not to ask what they need, but to change them ... to produce the kind of reader you want for each story."
Rosi produces the kind of audience his movies crave, to satisfy a very specific narrative of changing the world.
If you think that in person Gianfranco Rosi is haughty and grand, strutting his intelligence around as someone of his artistic excellence very well could, you're wrong. When I meet him in Berlin, inside the Palast at the end of his day filled with long TV interviews and various photo calls, he's kind, generous with his answers and surprisingly soft-spoken. Himself the product of migrations that have carried him from Eritrea to Italy, to the US and from NYC back to Rome, I find his citizen-of-the-world ease not only refreshing but incredibly inspiring. Where Fuocoammare made me cry, and look at news headlines as the humanitarian crisis that it is, on all sides, Rosi himself manages to refresh within me the need to stand up for this world of mine. And do something.
You seem prophetic in your film, because you had to have started filming before the recent migration crisis began...
Gianfranco Rosi: Yeah, one and a half years ago.
Did you know you were being prophetic then?
Rosi: No, when I started the film, the problem of migration, if we call this a "problem" was only on Lampedusa. Everything was there, happening from there. Now all this awareness has been created since this summer, basically the Balkan crisis, people arriving from Syria to Greece, discovering new paths and avoiding the sea. Because the sea has been a tomb for for these people, in the last 20 years. I say in my film 15,000 people but I've been told there are more, maybe 20, maybe 30,000 people who died. That 15,000 is a number that is "official" but who knows how many are the dead. So somehow we are facing a sort of disaster, an hecatomb, it's also like a slaughter. I believe that after the Holocaust, this is the biggest tragedy that Europe has ever faced.
But this is a slaughter of which we are aware, and therefore also responsible for it, since we don't do anything to stop it.
The people of Lampedusa do a lot!
Rosi: On Lampedusa they say, "we are fishermen, we are people of the sea and we do accept everything that comes from the sea." Italians, they are doing a lot but this is a crisis that needs to be solved politically, it cannot be taken care of by a single country. This is something the whole of Europe, actually the whole world should join in on. They were able to join forces when they were talking about the climate crisis so they should be able to put together the forces that we have politically in order to face this as a global problem. It's not a problem about how Lampedusa is handling that, it's a problem of policies in the world. The United Nations have to intervene with a real policy, not just talk.
But you see my film is not a political film, the issue is political. Mine is a film about sensations, it's a film about emotions, it's a film about encounters, it's a film about people and their small stories.
Why are you the director, the cinematographer and the sound man on your films?
Rosi: Because for me it's important to create a single element and being alone I can create a very close intimacy with what I'm filming. If I had a sound man, a cameraman, an assistant, you know people around, I would break that intimacy. I always want to be invisible when I shoot. I'm able to create a relationship with all the characters by spending time, a long time there. Some people ask me "what is the difference between your film and a BBC documentary, or the news we hear every day?" You know, I arrived in Lampedusa not filming a tragedy, and I arrived at a tragedy after a year I was there... At that point, I stopped shooting. Usually people arrive just to film the tragedy and they stop there. So, I start with an emptiness and slowly, slowly it builds towards something in the film.
I heard you talk about the film and you say you don't want to offer a solution. But you do present a catalyst, because after watching Fuocoammare, there is no turning back...
Rosi: This is what I hope it can create, an awareness. But you know I don't think filmmakers can change the world, the policy has to change the world. Politicians can change the world, they have the power to. This has to become a political fight. And policies have to change, we can't solve anything by building walls. Walls, they never resist in history, they always collapse sooner or later. Now we are building mental walls, people are afraid, which are more dangerous than real walls.
If you could get your wish, for your audiences to walk away with one message from your film, what would that be?
Rosi: Hopefully say it's not possible that people die crossing the sea, escaping death and they have to face death within the sea because they are victims of human traffickers. Why don't we create a human corridor?
**The theatrical rights for Fuocoammare (Fire at Sea) were just acquired by Kino Lorber for a US release later this year.
Photo courtesy of Berlinale, used with permission.
Popular in the Community