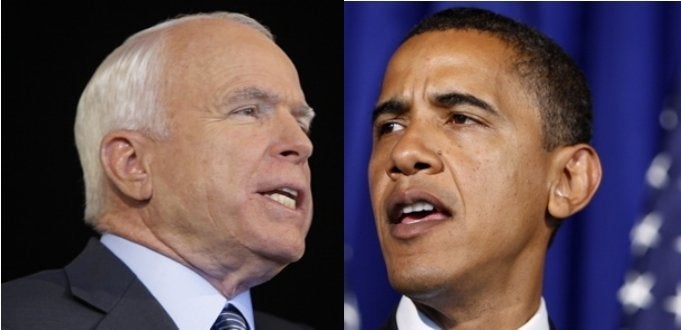 Putting aside policies, choices, maneuvers, America is implicated, if only because it is on display.
We are like a city on a hill. This image or myth is political and religious, as in John Winthrop's warning to his fellow Puritan colonists: you're on display, not in so many words, but you get the point.
So if we're on display, what would happen if we set our gaze outward?
Baghdad, September 13, 2008, 4 Journalists, 9 Others Killed in Iraq Violence Four Iraqi journalists were among at least 13 people killed in several incidents Saturday in Iraq, officials said.

Baghdad, September 15, 2008, Iraq Bombings Leave 30 Dead
More than 30 people were killed in bombings in Iraq on Monday, including one in Diyala province in which a female suicide bomber attacked policemen gathered to celebrate the release of a fellow officer from a U.S. detention facility, Iraqi officials said.

Pakistan's border region, September, 20 2008, Deadly attack on Pakistani convoy At least six people are reported killed in a suicide bomb attack on an army convoy in Pakistan's border region.

Pakistani capital, Islamabad, September, 21 2008, Rescuers comb Pakistan bomb hotel Rescuers in the Pakistani capital, Islamabad, search for survivors of a suicide bombing at a hotel, which killed at least 54 people.

Algerian capital, September, 29 2008, Deadly suicide attack in Algeria
A suicide attack east of the Algerian capital has killed three people and injured six, state media reports.

Baghdad, October, 02 2008, Baghdad shaken by suicide attacks Suicide bombers strike two Shia mosques in Baghdad, killing at least 16 people and wounding more, police say.

Baghdad, October 02, 2008, Attacks Belie Steps on Reconciliation Suicide Bombs at Shiite Mosques, Shooting of Sunni Family Come a Day After Sects Pray Together. A pair of suicide bombers struck around 8 a.m. Thursday, as Shiite worshipers streamed out of morning prayers at two mosques in Baghdad, killing at least 16 people and injuring more than 50.

Northern Sri Lanka, October 06,2008, Military: Suicide bomber kills 27 in Sri Lanka Military says suicide bomber kills 27 including former army officer in northern Sri Lanka. A suspected rebel suicide bomber blew himself up Monday inside a crowded opposition party office in northern Sri Lanka, killing a former army general and 26 others.

Pakistan, October 07, 2008, 20 in Pakistan Die in Bombing Suicide Blast in Central Region Targets Shiite Opposition Leader

India, October 07, 2008, "One hundred sixty-eight people were killed in a stampede when someone screamed 'There's a bomb!' at a crowded religious celebration in Jodhpur, India.

I suppose you could say, well, I'm glad I'm in America and not there.
Indeed. But what is the world saying to us?
As Harper's this week reports: "'Nobody expects anything like this,' said Jamal Tawfiq, a 28-year-old Iraqi who gathered body parts in a plastic bag." People are living under pressures and circumstances we can only imagine; what if this is just a slice of the desperation outside our walls?
It stands to reason that this chaos can come back our way. Mother Jones magazine reported last year that terrorism has increased sevenfold, thanks in large part to the Iraq War.
But also, even acknowledging this problem, what then? What type of leadership is really needed?
The next president must be equipped to understand why these mysterious things are happening.
And the American public will have to discern whether or not they will provide political cover for that leader. This election will show the public's choice, its mandate for the type of leader it wants to deal with complex issues, like why people use terrorism as a tactic to dialogue with those in power.
I was trying to think of something amusing that might capture our imaginations about this strange moment in time. Like in a fairy tale:
After a long and "dark" reign, there is a light, like the opening of a cave, or when you open your eyes in the morning, and a flicker of daylight comes in.
The people of this land are not stupid. They know the old ways don't work so well. Their leader is misshapen by stress and misdeeds. But he was once young and even funny.
He stays alone now in his castle and no one listens to him anymore except to laugh at how ridiculous he is. A corrupt court of hidden advisors circles him all day, all night.
One day a prince arrives. He has good looks and new ideas. People feel strange: like a pain in their neck is either coming or going. Hard to tell which: Am I in pain? Is this possible? Can he really be a prince? Why had we not thought of his ideas before? How did we lose our way so easily? What happened?

An old lord, who has a legal right to lead, reminds the public that he too has ideas. But he's crooked with age and something else he won't reveal. He hides his secret with an anger, like when a tree branch snaps you in the face.
So a fight ensues. This cannot be won so easily prince, the old lord says.
It's a fight from within and without. The prince will not hit an old man, but he laughs at the old lord's marbled ways and ties him in a knot. Unfortunately for the old lord, he does not do yoga.
But we don't know the end of the story yet.
And by this I mean, and I suppose it's evident, the public will have to choose. So what I am really trying to underline is the importance of this choice.
Once the vote is over, there will likely be even tougher times ahead. This might require curbing some old ways (like provincialism, wastefulness, selfishness . . . okay, now I'm just talking about myself). Who knows how these decisions will change our culture?
But these are the moments to decide, as the hill becomes surrounded.

REAL LIFE. REAL NEWS. REAL VOICES.
Help us tell more of the stories that matter from voices that too often remain unheard.