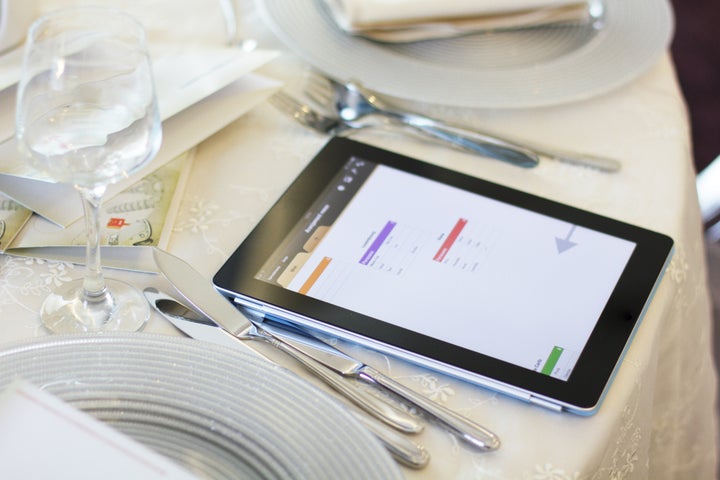 Planning a wedding is stressful. Period. After the initial engaged glow wears off, couples are left to manage expectations, budgets and deadlines. Lucky for us, we live in the digital age and technology is our champion. However, choosing the right tools to help plan your wedding can be just as tricky as the planning itself.
In an effort to eliminate the need for you to make yet another decision (because it's hard enough already to choose between chocolate or vanilla buttercream... both?), we wanted to highlight our top picks for the tech savvy planner.
Setting the Budget... and Sticking to It!
After you say yes and before you start planning, experts suggest setting a budget for your big day. Talking finances is not exactly the language of love, but it is a necessary step down the path to "I do." There are a ton of digital tools for creating and tracking your budget that can take some of the stress out of the process. Mint.com is one of our favorites because it allows you to customize your budget, link to your bank account and set reminders for when bills are due. Mint can alert you when you go over budget and also help you avoid late fees. Additionally, it easily interacts with your day-to-day expenses to provide a complete picture of your budget as it aligns with everything else going on in your life.
Say goodbye to binders and folders and hello to the cloud. As you go through the planning process, you are going to become inundated with information that you want and need to save from magazine tears to menus. Storing everything you like in one place can become a challenge and no one wants to revisit middle school and the reign of the three-ring binder and color-coded dividers. Evernote will allow you to save everything all in one place from digital inspiration images to printed vendor contracts. And you can sync Evernote across all of your devices. This way you will never be somewhere without the information you need.
There's Always Something To Do
A never ending to-do list can be daunting and keeping track of the items you have accomplished or forgotten even more so. Remember the Milk is the "to-do list" for the 21st century. You can create multiple lists and tasks, set deadlines and reminders, and our personal favorite, delegate. You can also share tasks as well as search through your to do list. Nothing is more satisfying than checking off an item with the click of your finger or seeing something you delegated actually get done. And for those members of the planning process that haven't embraced the digital revolution yet, Remember the Milk also generates printer friendly to do lists and reports.
Simplifying the Guest List
From beginning to end, the guest list is commonly noted as one of the most stressful parts of the entire wedding process. Whether trimming the list, managing the RSVPS and, last but not least, deciding on the seating chart, couples are faced with challenges right up until the end. All Seated, however, has got your backside covered (no pun intended!). Not only can you manage your guest list, but also you can create and track your entire seating chart digitally. White boards and Velcro be gone. The best part is you can send your seating chart with the click of a mouse to your venue or wedding planner.
While these tools won't take all the stress out of wedding planning, hopefully they can help simplify the process and maybe even give you a few extra moments to enjoy being engaged!