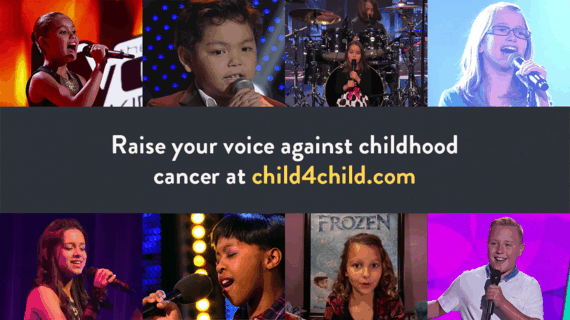 Every now and something magical happens. Something that, amidst all the bad news that gets thrown at us every day, lights up our lives like the sun suddenly breaking through the clouds on a grey rainy day.
Today, kids everywhere will start singing along to a new song,
Renowned composer Christophe Beck, composer of the Disney movie Frozen, has created a new song for Childhood Cancer International entitled, "We Are One." The website child4child.com features fourteen child singer celebrities from various parts of the world, each with huge YouTube followings. These child celebrities will guide other children on how to participate and record their very own version of the song using their own computers and built-in cameras. The site is set up like a karaoke (singalong) room.
Children from around the world can visit the website from January 11th until early February. Then on February 15th, International Childhood Cancer Day, the chorus version of all of the children who had recorded themselves singing will be launched on global music platforms.
A music video will also be released on YouTube with clips of the children who have helped record the chorus.
Join the chorus of children around the world in solidarity with those battling cancer.
And we will sing this song together
We won't give up the fight until the night