Yesterday, a group of Planned Parenthood of New York City patients and health care providers joined hundreds of fellow advocates in Washington, D.C., where they met with legislators to urge them to protect access to health care.
Now more than ever, as we face unprecedented attacks by federal lawmakers seeking to defund and shut down Planned Parenthood health centers and repeal the Affordable Care Act, it is urgent that our elected officials stand with the millions of people nationwide who rely on Planned Parenthood for care.
The "We Are Planned Parenthood" Capitol Takeover came shortly after supporters around the country stormed town halls and showed up at district offices to tell politicians that they will not stand for attacks on access to care. It also came days after a leaked draft of House Republicans' bill to repeal the ACA included a provision to "defund" Planned Parenthood — the only provision not directly related to the ACA.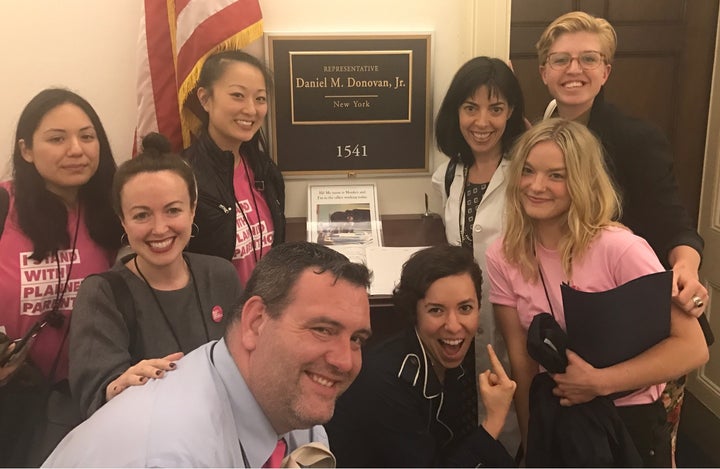 Below are some of the #WeArePP stories we shared with elected officials yesterday:
"When I was 18 I had my first abortion and I remember feeling alone, scared and overwhelmed. Planned Parenthood supported me through the process and reinforced their commitment to the community. After graduating from nursing school I searched for meaningful work I believed in. Eventually I found myself once again back at Planned Parenthood, but this time as part of the team. Working at Planned Parenthood has been a privilege and I look forward to many more years to come!" –Hanna, PPNYC Provider
"When I became sexually active at 15, and didn't feel that I could go to my family for the resources I needed to be safe, I went to Planned Parenthood. Last year, at age 24, after a couple years of seeing a private OBGYN, I returned to Planned Parenthood when I faced an unintended pregnancy, which happened while I was using an intrauterine device for birth control. There was no judgement, there was only love and support, complete and unwavering understanding." –Nadine, PPNYC Patient
"In the years that I lived without health insurance, Planned Parenthood provided me with regular access to doctors and quality care. PPNYC has been the most trusted health care provider I have ever had. I always walk away feeling that I was listened to, that my needs were met and that I received good care. PPNYC has been there for me and I want to be here for them." –Raquel, PPNYC Patient
"I have been a provider at Planned Parenthood for almost 13 years. I became a sexual and reproductive health care provider so I could help people live their best lives. I feel so lucky that I get to meet new people from all different neighborhoods in NYC and have a small part in helping them live the lives they want for themselves." –Rebecca, PPNYC Provider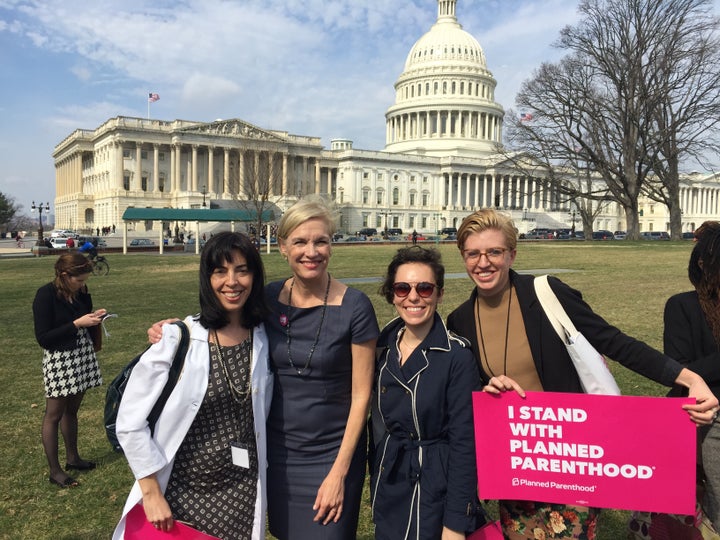 Every year, millions of people like the patients above rely on Planned Parenthood for compassionate and affordable care. In New York City alone, PPNYC health centers serve 60,000 New Yorkers per year, regardless of immigration status or ability to pay. Defunding Planned Parenthood would have a devastating impact on the thousands of people who rely on us for reproductive and sexual health care services, including birth control and wellness exams, as well as life-saving services such as cancer screenings and STD testing and treatment.
Yesterday, we shared our stories in DC, but we urge you to add your voice to the conversation and share yours as well. Regardless of where you are, you can call your Congress Members, including your US Representative and your Senators, to let them know you stand with Planned Parenthood and the communities we serve.
You can also share your story by using #WeArePP and tagging us @PPNYCAction. Make sure you tag your Congress Members so they know why you #StandWithPP.
People don't come to Planned Parenthood health centers to make a political statement—they come to receive great care. Our elected officials have the responsibility of keeping all people healthy and able to lead empowered lives, and they must reject any attempt to cut people off from their trusted provider and access to life-saving care.
Today we are on our way back from DC, but our fight doesn't stop when we arrive in New York. We will continue to make our voices heard, because everyone, regardless of how much they make, deserves access to health care.
Popular in the Community