I've written a lot about how healing can be hard. Painful. And I mean like really lonesome, and overwhelming, excruciating from deep in our bellies all the way on up through our bodies.
The personal is political and the political is the personal.
When there is so much racism and violence surrounding us (all the time), when Charlottesvi happens just a couple weeks after 45 attempts to ban trans folks from electing to serve in the military; when Trayvon Martin is a prayer we still hold on our tongues. When our grandparents remember white supremacists marching like it was yesterday. When some (more privileged) folks are surprised and shocked at the state of this country, while others voice that this is nothing new.
Whatever your position may be, we are in it together. We are in a collective healing process right now. And it's not the easy kind. It's the hard kind.
Like all of us, I'm doing my best to find my breath. To stay centered. To continue creating a life I love as the most resistive act of freedom I can attend to. As a queer, mixed-race, femme of color with Ancestors coming from all kinds of backgrounds and histories, I know I need to take care of myself as I reflect on how I can best contribute to a world in which everyone is free. This has looked like having conversations with my beloveds, sleeping more, drinking more water/tea, remembering to move my body, caring for family members and friends, asking for emotional support, laughing, Netflix, and feeling sad when I need to.
I want to share some thoughts with you that have emerged for me, so that we can take the best care of ourselves in times like these. Here are 10 ways to care for yourself in times like these:
1. Hold those boundaries. Your energy is YOUR energy. It is sacred, and it is a limited, treasure of a resource. Right now, the boundaries between ourselves and the world may feel a little softer, more permeable. We may be feeling one another way more than usual, and that's not a terrible thing (our empathy is a gift). BUT! We must take better care of ourselves and one another in times like these. Here's a self- and collective-care google doc shared by People's Movement Center that may support you.
2. Cleanse. As we may be holding energy that isn't ours, let's do our best to cleanse that energy from our embodied space. That might look like using sea salt as a body scrub in the shower (salt is a great physical and energetic cleansing ally), taking a bath with Epsom salt, going to the ocean and letting the water cleanse and hold you. It might look like asking the soil/Earth to take whatever energy isn't yours to hold. Or cleaning out a space in your bedroom that is feeling cluttered. Might look like using your selenite wand, sage, or Reiki energy to clear out your physical (body, home) space. There are an array of cleansing tools you can use, so if you need support on this, comment below or email me.
3. Remember we are resilient! We have been here before! What's happening now is not new, it's old. Our Ancestors have been through all of this and more, and have survived, and thrived. We get to feel joy, even in times like these. Remember how resilient the Earth is, too. Our human species is young on the planet (we're just toddlers learning our way). Tune into ancient time, the Earth's time, a time before us and long after us. And bring more compassion to our human species as we grow through this, which we will. It is through struggle that we often grow into new ways of being. Healing through pain (personal and collective) makes way for new wisdom and genius in ourselves and our communities. Remember this.
4. Bring your beloveds closer. Cuddle. Snuggle. FaceTime. Check in with each other. Ask for support. LOVE. (While still keeping your boundaries strong. Some of our beloveds nourish us and some might drain us. Move to the ones that nourish!). #interdependence
5. REST! Recently I met Angela Davis while vacationing on an island in Brazil. She is a revolutionary, legendary, Black abolitionist feminist. She is part of the legacy I live from and live into. And you know what we were doing there? RESTING, hiking and enjoying nature. Because RESTING is part of our liberation-based practices. YOU DESERVE TO REST.
6. Do What Makes You Feel Happy. Make Art. Cook. Go on a walk. Have an orgasm. Dance. Go to the spa. You also deserve this.
7. Continue to show up to your life. Do all the things you usually do, as you are ready, as much as you can (being sure to rest if you are tired). These national crisis will continue to happen. They've been hitting us extra hard every few months for the last few years (and in many ways, longer, but social media has amplified our experiencing of these events, I think). TAKE CARE of yourself and one another and try your hardest to stay focused on you / what and who you love. (As Toni Morrison wisely offered, "the function, the very serious function of racism, is distraction"). Oppression works to unhinge us. Let us find our resilience and not let it do so.
8. Take a social media break (for real). Feel into your freedom to tune out of social media and to be quiet. Breathe. It's not a requirement for you to do more work than you already do to dismantle all the isms of the world (especially if you are from a targeted group). You get to take a break.
9. Trust the Unknown. Trust the process of healing and liberation as it emerges. Know that the answers will come when they need to, especially when asked in love and humility.
10. Ritual. Taking 5-10 minutes to sit in meditation or journal goes a long way. A journal prompt I use with my clients a lot: "what do I need to know right now?" (one of my teachers, Karen Hager, taught me this).
We are necessary. Each and every one of us. What we can make possible together is beyond what we can imagine. YOU are necessary. Your gifts, your talents, and your skills are necessary to this life.
Our Healing is Political is a free resource for you that I offer. It's a private, community-based Facebook group that's meant to uplift and inspire queer + trans folks / BIPOC / femmes / radical artists / makers / creators and our allies as we find magic in our lives. Use it as needed. Be in the collective space and let our togetherness give us power.
Let us continue to reflect on our lives and how we can can best use our talents, skills, and breath to create a world we haven't seen yet; a world in which everyone is free.
We are enough. We always have been. We always will be.
Sofia Rose Smith is a queer femme of color intuitive coach, guide and channel. She writes and facilitates circles focused on healing as liberation. To connect with her, visit her website or follow her Instagram.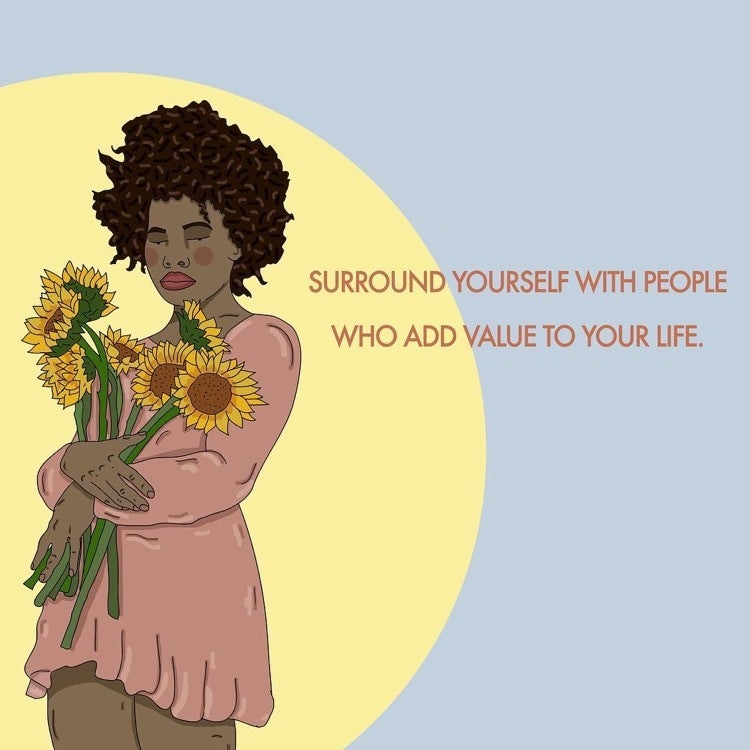 Calling all HuffPost superfans!
Sign up for membership to become a founding member and help shape HuffPost's next chapter
This post was published on the now-closed HuffPost Contributor platform. Contributors control their own work and posted freely to our site. If you need to flag this entry as abusive,
send us an email
.