Poet June Jordan Will Be Saluted by Medgar Evers College and Brooklyn Public Library in a Homecoming for the Voice of a Generation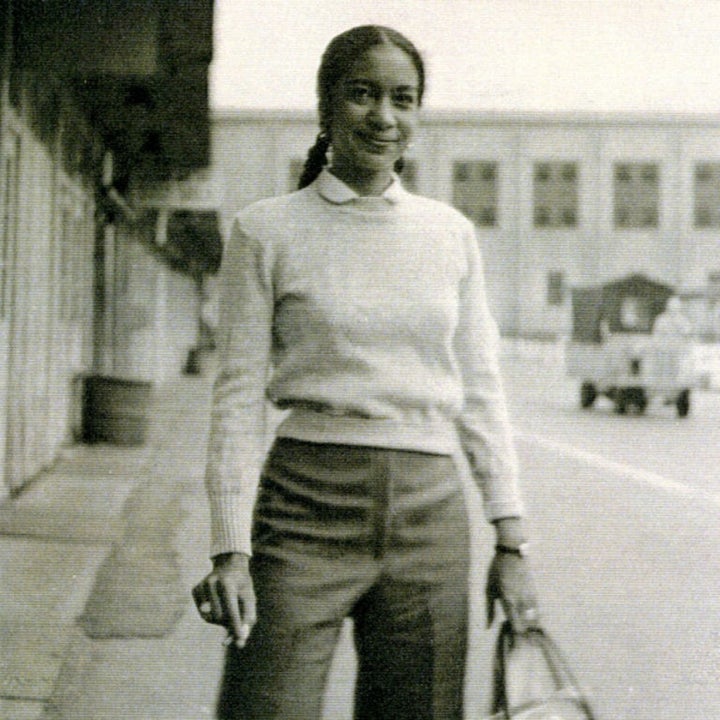 "we are the ones we have been waiting for"
June Jordan, August 9, 1978
A young June Jordan spoke those lines into being in 1978 at the United Nations. The poem was called the "Passion". The occasion was a commemoration of the 40,000 women and children who presented themselves as a wall of protest against apartheid. That quote is often taken out of context but has become a clarion call for a generation of Millennials.
In 2006, Pulitzer prize-winning author Alice Walker used it for her New York Times best-selling book, "We are the Ones We have Been Waiting For - Inner Light in a Time of Darkness" (The New Press). At the very least, it has become a self-fulfilling prophesy for a generation that elected the first and only Generation Xer (Barack Obama) of the nascent 21st century and new millennium. President Barack Obama famously announced to a nation giddy with hope and aspirations of change, "Change will not come if we wait for some other person or some other time. We are the ones we've been waiting for. We are the change that we seek."
Since then, the phrase has taken on a life of its own. "We are the ones we have been waiting for" is at the zeitgeist of American pop culture. In fact, June Jordan's work is in songs, movies and books. It is the modality of expression for a new power generation who are quite unlike any preceding generation. For example she is the author of "Oughta Be A Woman" by Sweet Honey in the Rock sung by Bernice Johnson Reagon and her group Sweet Honey In The Rock.
See, before there was candidate Barack Obama, "Yes We Can", "Si Se Puede", the Resistance, there was poet June Jordan. Before there was Senator Kamala Harris, fly author Zadie Smith, #BlackGirlMagic, Afrofuturism, Afropunk movement or #BlackLivesMatter, there was June Jordan. Hers was a life dedicated to journalism, vision, total liberation and protest by poetry and activism. She was the future, mango sweet and peppa' hot, arriving before its time. Her spirit of resistance and renaissance is one of the many great spirits that have given rise to the current mode in a nation governed by a power contrary to the spirit of an invigorated new coalition. She is regarded by thought leaders, activists and the literary class as one of the prominent figures of the 1980's African American social, political and artistic culture. Straight up? June Jordan was fly. She was bright. She was on point. And she will forever be a women before her time, a visionary leader to a generation NOW. You may say she, her life and her gifts were reality sculptor and masterpiece, bending the moral arch of the universe toward justice and freedom for all Americans.
"In political journalism that cuts like razors, in essays that blast the darkness of confusion with relentless light; in poetry that looks as closely into lilac buds as into death's mouth….she has comforted, explained, described, wrestled with, taught and made us laugh out loud before we wept…I am talking about a span of forty years of tireless activism coupled with and fueled by flawless art." --Toni Morrison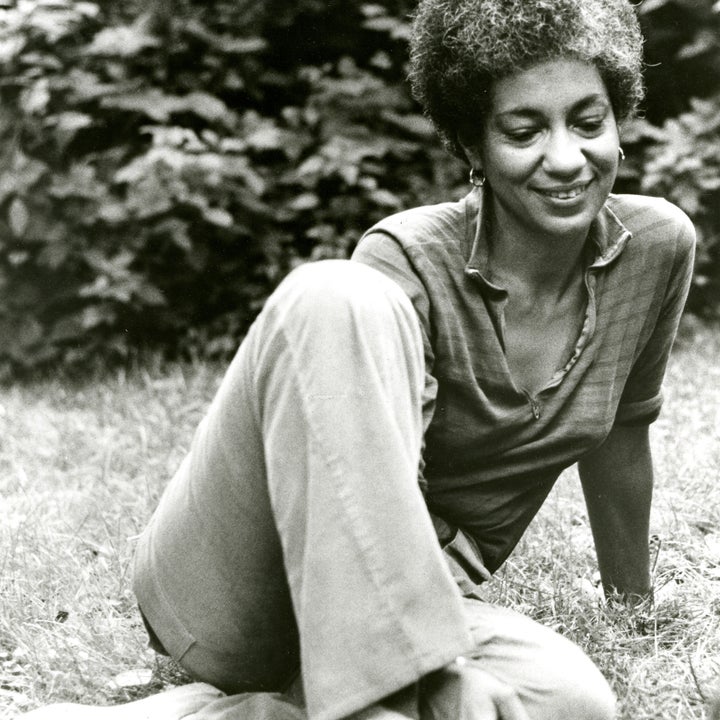 June Jordan was born in Harlem to Jamaican immigrant working class parents but grew up in Brooklyn and later went on to teach at Yale University, New York-Stony Brook and the University of California at Berkeley. Her presence loomed larger than life on the Cal Berkeley campus. She was a pied piper for literary aficionados, African American students, poets and activists alike. Her courses were always overbooked by twenty somethings in the 1990s trying to get hip. Her spirit loomed large on a campus of superstar academics, authors, world shakers and those well versed in the art form of the revolt and personal renaissance. She was and is revered by the spectrum of the American experience - woman, LGBT, African American, Asian American, Latinos and so many other "voiceless" groups all take their cues from her brilliant life and soul.
She passed away in 2002 and her website says of her, "[she] wrote on the front lines of American poetry, political vision and moral witness." Millennial activist and writer Darnell L. Moore has said of June Jordan, "I do recall calling upon June Jordan for wisdom when traveling through Palestine. I wrote the first rough draft of a collective statement the group I traveled with later edited and adopted as its official statement on the occupation. The clarity, power, courage, and love that was present when writing those words on a small bus in the West Bank is owed to June Jordan."
In books such as Some Changes (1971), Living Room (1985) and Kissing God Goodbye: Poems 1991-1997 (1997), June Jordan took a conversational tonality to talk about issues that were not en vogue or politically correct at the time. She wrote, lectured and recited her work tirelessly. Her work is a canvass upon which those issues of family, bisexuality, children, African American identity and racial inequality are painted pointedly in a hip folksy sing song lilt. June Jordan is the best friend the loneliest most marginalized minority ever had. But she also spoke of the stuff of life - memory, love, her grandmother and clean white shirts. Below, is June Jordan poems, Poem For My Love and Song of the Law Abiding Citizen:
How do we come to be here next to each other / in the night / Where are the stars that show us to our love/ inevitable/ Outside the leaves flame usual in darkness / and the rain / falls cool and blessed on the holy flesh / the black men waiting on the corner for/ a womanly mirage / I am amazed by peace / It is this possibility of you/ asleep / and breathing in the quiet air
"Jordan makes us think of Akhmatova, of Neruda. She is among the bravest of us, the most outraged. She feels for all. She is the universal poet." --Alice Walker
Jordan's love for children, particularly African-American children, was a constant theme in her work. In the early 1970's, she encouraged young African Americans and Puerto Ricans to write essays and poetry in their own idiom and cultural expression. Her 1971 young adult novel, His Own Where, explored Jordan's visionary commitment to environmental design. The protagonist, his-16-year-old Buddy tries to create of his own environment in an abandoned house near a cemetery. Jordan said of her work in the book: "Buddy acts, he moves. He is the man I believe in, the man who will come to lead his people into a new community." June Jordan's other work for young adults includes Dry Victories (1972), New Life: New Room (1975), and Kimako's Story (1981).
June Jordan explored her own youth in Soldier: A Poet's Childhood (2000). In an interview with Elizabeth Farnsworth of NewsHour, Jordan said: "I wanted to honor my father, first of all, and secondly, I wanted people to pay attention to a little girl who is gifted intellectually and creative, and to see that there's a complexity here that we may otherwise not be prepared to acknowledge or even search for, let alone encourage, and to understand that this is an okay story…a story, I think, with a happy outcome."
The book Life as Activism by Litwin Books is the first complete collection of the columns June Jordan wrote for the Progressive Magazine from 1989 to 2001. UCLA professor and iconic activist Angela Davis noted in the foreward "What is remarkable about these articles is their resonance on our contemporary political landscape."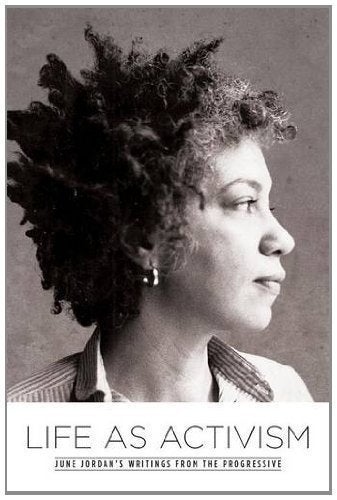 "Whatever her theme or mode, June Jordan continually delineates the conditions of survival—of the body, and mind, and the heart." --Adrienne Rich
Of her self-awareness as a poet, Jordan said at the NYS Writers Institute in 2000 , "I thought I was a poet very early on and I thought I would probably stay a poet. The writing part of it, other than poetry, came very much later. I never thought of myself as other than a poet, whether I was writing libretto or a political essay or even the one novel that I put out. I was writing but it was a poet doing these things... I had that idea because poetry was the first kind of literature that my father gave me to read and to memorize... Then I won a contest in school for Flag Day poetry (laughing) and I thought that was easy.... I wrote one and I won and I thought I must be good at this. So I felt officially encouraged (laughing some more). I was never encouraged by my parents certainly to be a poet. Certainly not. The other kids in my neighborhood - they liked that I wrote poetry and I would write poetry for them on demand. So I had peer support."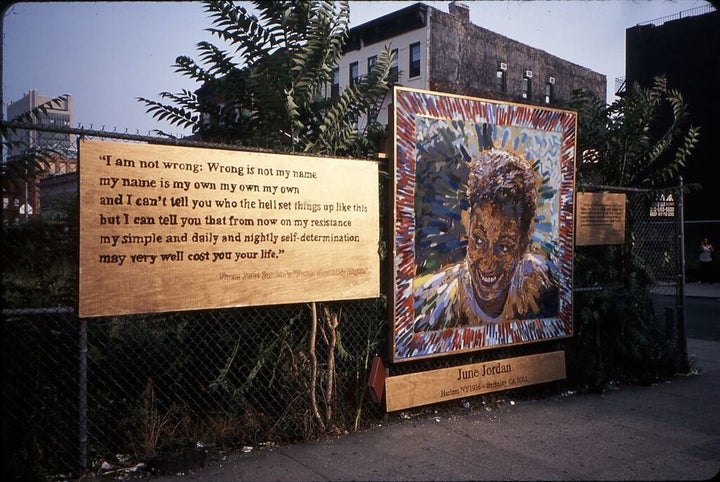 Although June Jordan was born in Harlem, when she was five, she and her family moved to the Bedford-Stuyvesant area of Brooklyn, New York. Those peers that encouraged June Jordan to begin writing poetry at the age of 7 were little African American boys and girls. I imagine they were future Americans in hues of Latin, Asian, Muslim and LGBT citizenry giving rise to the voice that would represent us all. Those little boys and girls would give rise to the pretext of the context to the Resistance. So it is fitting that Brooklyn's Center for Black Literature, in partnership with the Center for Law and Social Justice at Medgar Evers College and Brooklyn Public Library will celebrate the icon's work in a celebration of National Poetry Month.
"June Jordan was one of the best. She was a beautiful writer and an influential and daring voice in Black literature. It's important that we continue to honor and recognize those voices that have shaped our literary culture," says Clarence V. Reynolds, director of the Center for Black Literature at Medgar Evers College. E. Ethelbert Miller, poet and literary activist, will participate at the event on June Jordan's life and work. The program will also feature biographer and scholar Valerie Kinloch, author of June Jordan: Her Life and Letters. Attorney and justice activist Joan Gibbs will also participate in the event as a respondent.
Poet E. Ethelbert Miller said for this piece, "She was fierce. I'm looking forward to the event because it will be held at Central Brooklyn Public Library at 10 Grand Army Plaza Brooklyn, a location that is dedicated to me in her collected work. I wrote a poem and she wrote a poem that were essentially a call and answer response to one another. It is a very important poem and she uses the words 'civil war' to deal with all these sort of battles we have amongst ourselves. Questions dealing with Jewish American relationships, the Palestinian question, LGBT rights."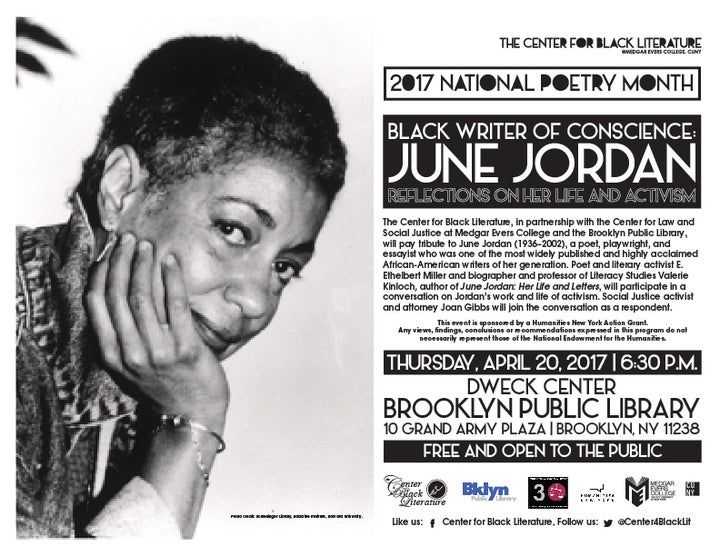 Our own shadows disappear as the feet of thousands/ by the tens of thousands pound the fallow land/ into new dust that/ rising like a marvelous pollen will be/ fertile/ even as the first woman whispering/ imagination to the trees around her made/ for righteous fruit/ from such deliberate defense of life/ as no other still/ will claim inferior to any other safety/ in the world
The whispers too they/ intimate to the inmost ear of every spirit/ now aroused they/ carousing in ferocious affirmation/ of all peaceable and loving amplitude/ sound a certainly unbounded heat/ from a baptismal smoke where yes/ there will be fire
And the babies cease alarm as mothers/ raising arms/ and heart high as the stars so far unseen/ nevertheless hurl into the universe/ a moving force/ irreversible as light years/ traveling to the open/ eye
And who will join this standing up/ and the ones who stood without sweet company/ will sing and sing/ back into the mountains and/ if necessary/ even under the sea
we are the ones we have been waiting for
from Passion (1980) and from Directed by Desire. The Collected Poems of June Jordan. Copyright 2005 by the June M. Jordan Literary Estate Trust
Related
Popular in the Community