Finding delicious Latin food can be difficult, especially in a place as big as New York City.
So two of my HuffPost co-workers and I selflessly volunteered to food-crawl through New York City on a noble search for authentic tacos, Mexican street corn and as many versions of fried cheese as possible. We hit up three spots and rated each restaurant based on authenticity, decor, tastiness of food offerings and the overall experience.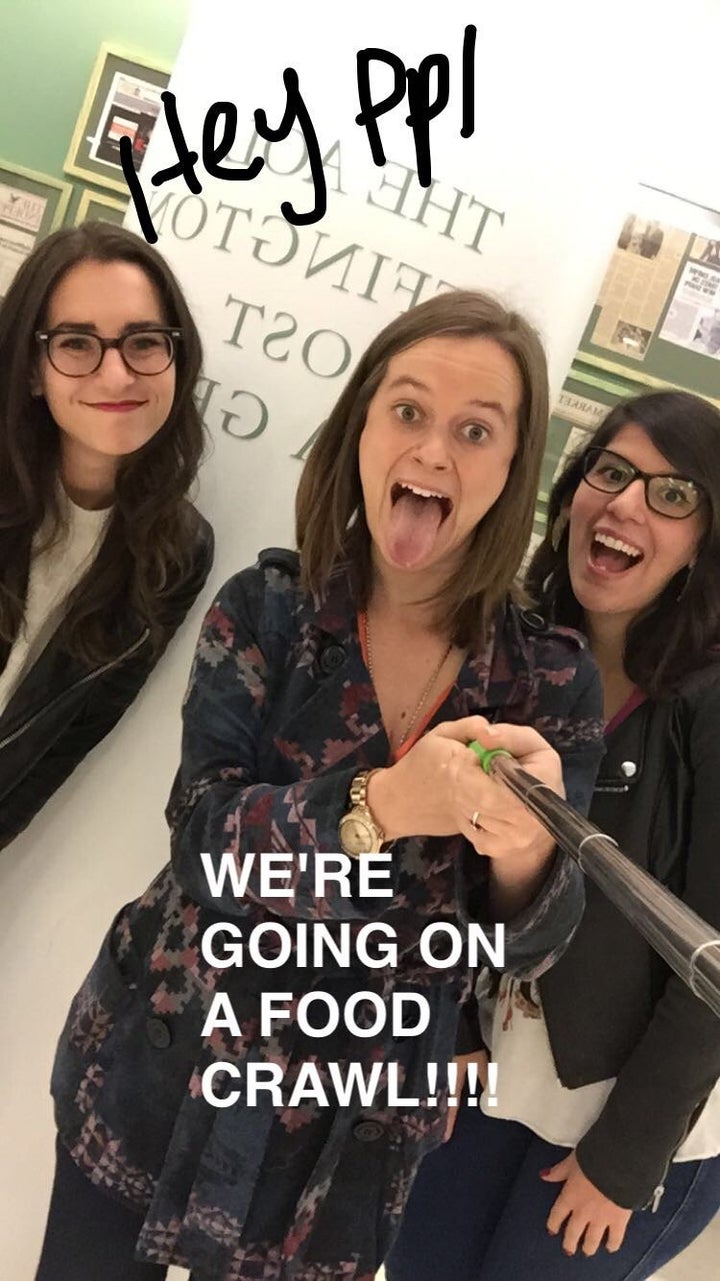 Dorado Tacos is a tiny little taco haven in New York City's Greenwich Village. This place is definitely aesthetically pleasing with its vibrant papel picado decor on the ceiling, and then next to the checkout line is a fridge full of colorful Jarritos sodas and Mexican Coca-Colas.
We ordered three tacos (grilled steak, grilled fish and a veggie taco) with a side of elote (Mexican street corn) to split.
After the tacos arrived, we dashed to nearby Washington Square Park to unwrap and devour them on a park bench.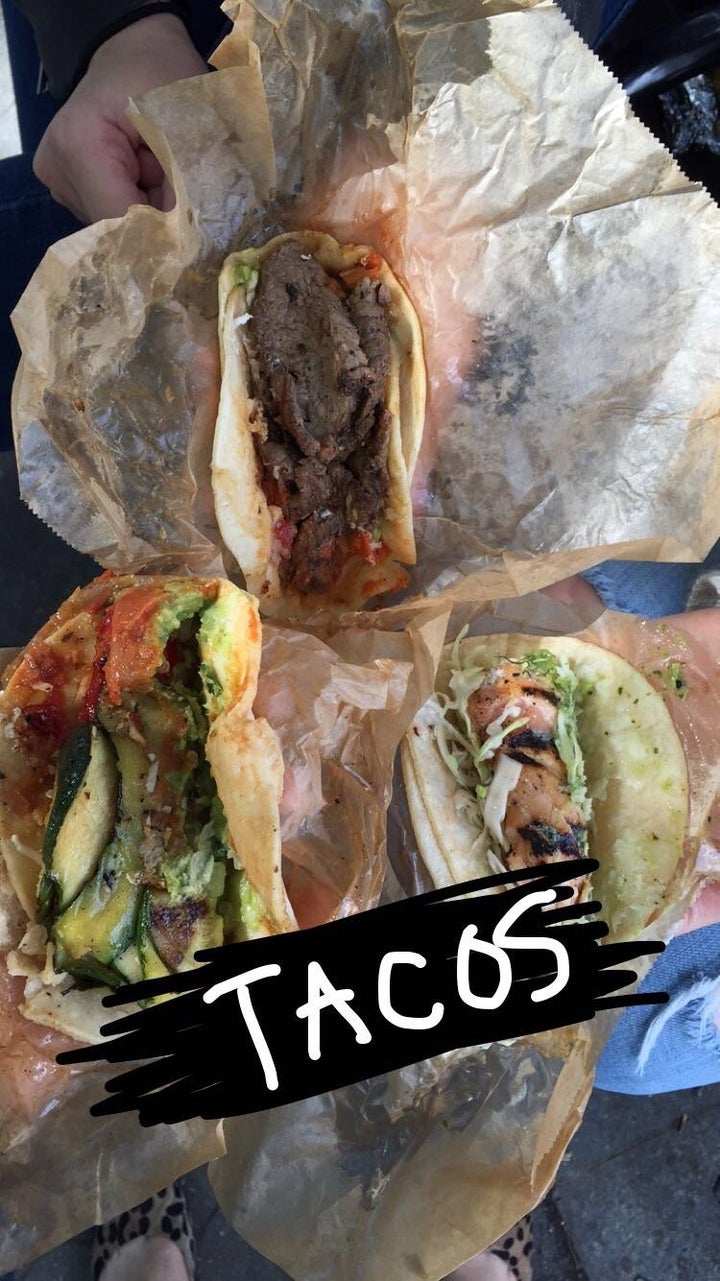 Even Martha Stewart had more photogenic tacos, but it's all about what's on the inside, right? For these yummy tacos, the salsa was the best part. Dorado packs on the flavor with a specific blend for each taco, from the classic salsa fresca to pineapple salsa.
The strips of zucchini and red pepper inside the veggie taco were deliciously charred, and the grilled fish and steak tacos were both excellent, too. Our key takeaway: Grilling every ingredient is the only way to go when whipping up a yummy taco!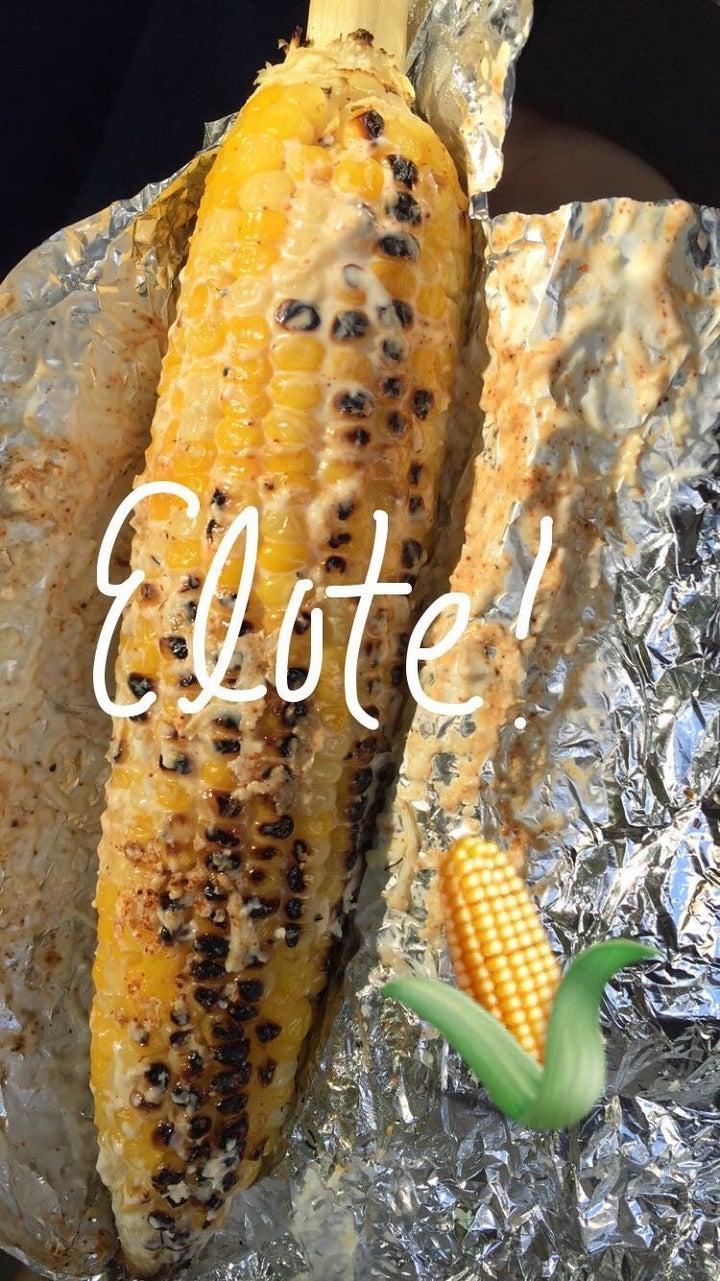 Next up, we tore into our elote. The grilled corn smothered in lime juice, mayo and chili powder is exactly as perfect as you'd imagine. We sacrificed our lipstick and dignity as we viciously devoured the delectable corn kernels off the cob.
In response to our Snapchat picture, one user told us elote is even better with a little more chili powder, some cheese and cherry Jarritos. Because we neglected to properly indulge, a few points were docked from Dorado's score.
Since we're selfish and wanted to eat all the food slash celebrate all the people, we expanded our crawl to include a stop at Favela Cubana which specializes in Brazilian and Cuban food.
We ordered pão de queijo and ropa vieja for the table.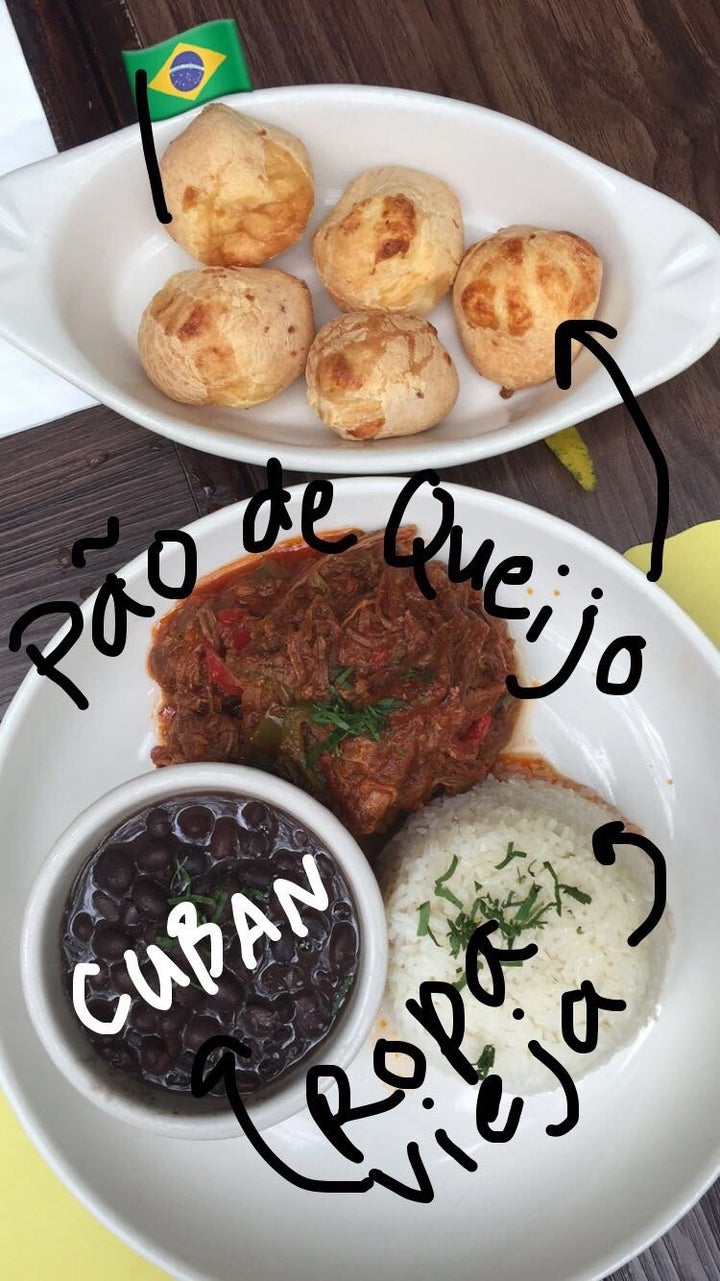 Thank goodness we decided to include Brazilian food because HOLY PÃO DE QUEIJO. The cheesy, carb-y goodness was soft and fluffy inside. It was like a classy, refined version of cheesy breadsticks.
Ropa vieja, which is Spanish for "old clothes," is a Cuban beef and vegetable stew named after its resemblance to torn rags. As the food crawl's only vegetarian, I can't comment on the beef, but I can confirm it didn't smell anything like old clothes.
If I have any food-crawl regrets, it's that I ate way too much of the very bland white rice and black beans at this stop.
The takeout half of this Venezuelan bar was closed, so we took a seat in the colorful dine in section. We ordered one coconut smoothie (called cocada) to split, a basket of tequeños (basically, more fried cheese) and two arepas or sandwiches with grilled and baked corn flour buns.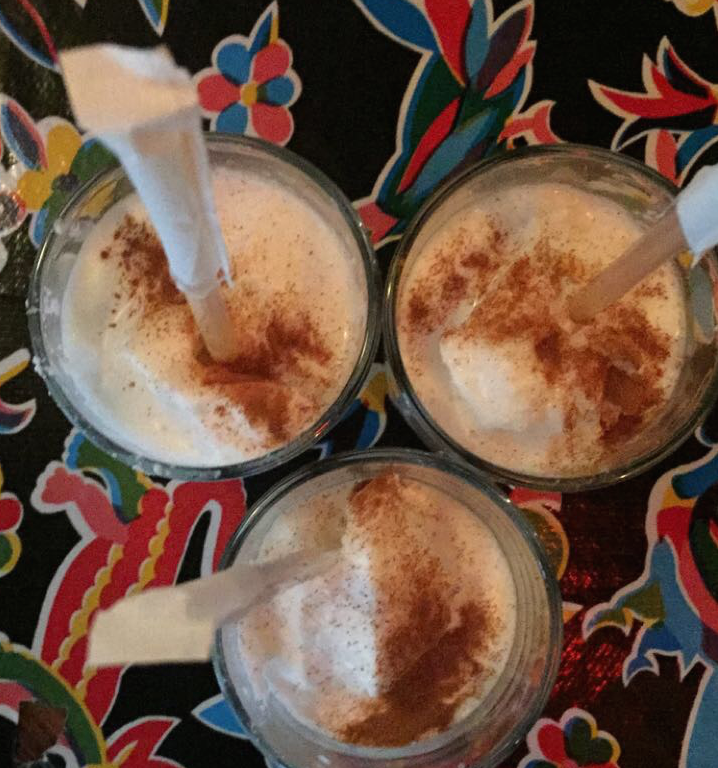 Cocada, or cinnamon-dusted coconut smoothie, was the perfect precursor to the best meal of the crawl.
The tequeños, aka pastry crust wrapped around salty queso blanco were melty deliciousness, and I'm glad they were the second form of carbs-and-cheese we consumed because they definitely won the prize over Favela Cubana's pão de queijo.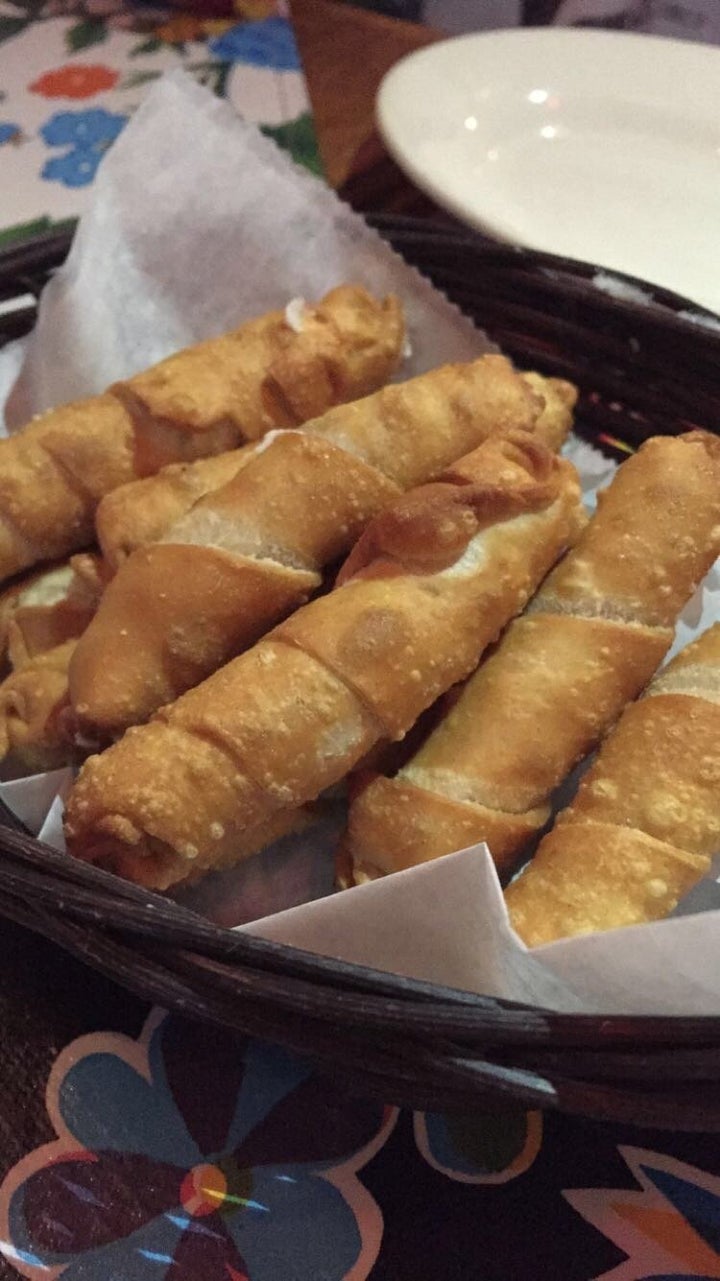 Our final dish was the heaviest (another food crawl regret). The three of us split two stuffed arepas. It took all our willpower to get through most of these, even though they were filled with tender shredded beef and fried plantains. YUM!
Watch our entire adventure below, then add "HuffPost" on Snapchat to follow along on our future food crawl endeavors!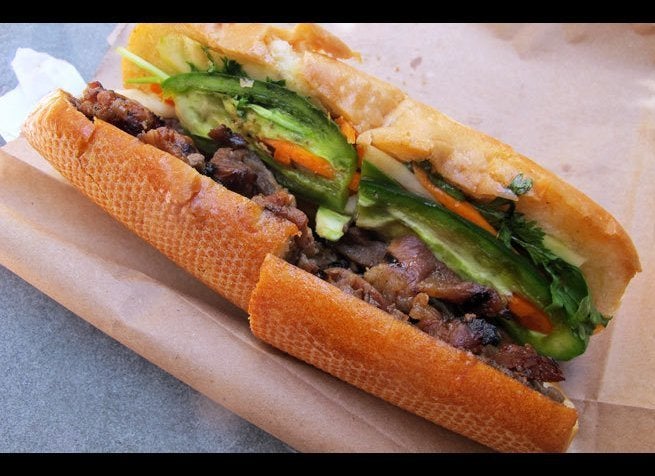 20 Must-Try Street Foods Around the World
Popular in the Community