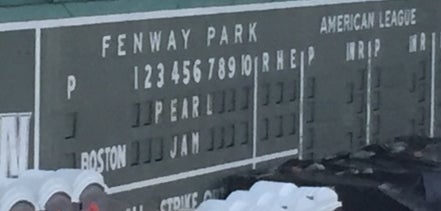 As Pearl Jam lead guitarist, Mike McCready, began to play the opening riff of Yellow Ledbetter during Sunday night's concert at Fenway Park, I was overcome with emotion. For Pearl Jam fans, the first sounds of this well-known McCready riff are a tell-tale sign the show is coming to an end.
It was hard to believe that it was that time again – the end of a highly anticipated Pearl Jam weekend. 
One last time, I began taking mental snapshots, soaking in the beauty of my surroundings – Fenway Park, the fans, the music, and of course - the band.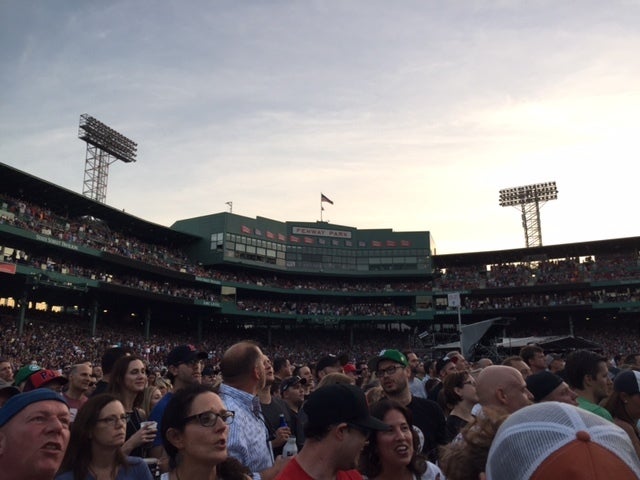 Suddenly, my heart beat faster, and my chest felt heavier. And as McCready transitioned from "Yellow Ledbetter" to his typical Jimi Hendrix-inspired "Star-Spangled Banner" to conclude the night's phenomenal setlist, I knew I was a goner.
Soon the words I dread hearing at the end of every Pearl Jam show came from Eddie Vedder's mouth – "Thank you. Goodbye. Goodnight." Those final words officially brought the show to an end, and the tears officially flowed.
They didn't flow just because 2 epic Pearl Jam shows were over - but because the entire experience was over – the excitement and anticipation of the shows, the excitement of being in Boston, the excitement of being in my favorite ball park – Fenway – witnessing history as "the boys" played the venue for the first time.
Bud the saddest part of it all had to be the thought that precious moments of laughter, friendship, and passion shared with our "Jamily" were about to come to an end.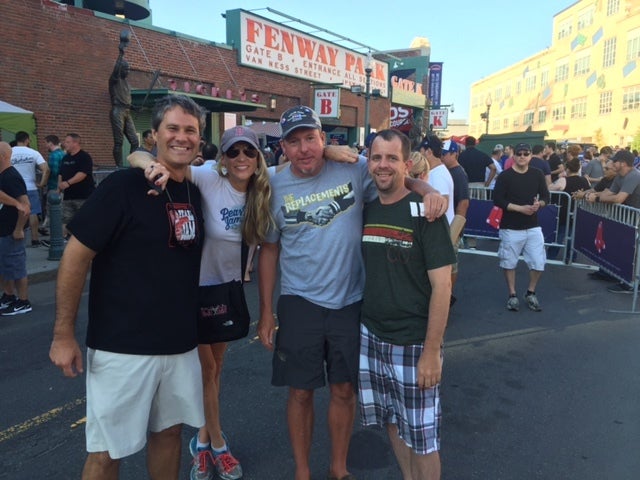 The Pearl Jam experience is incomprehensible for many non-Pearl Jam fans. People wonder how we can look forward to seeing the same band over and over again. They wonder why we would "waste" our money to pay for something "so silly." They wonder how we could possibly leave our responsibilities and/or our children behind to see yet another show in another city.
Why can't we get enough of Pearl Jam?
Well, my first response to all of these questions would have to be – "We follow them because they are the greatest band of all time, and they just keep getting better."
After 25 years of sensational albums and unforgettable tours all over the world, Pearl Jam has aged like a fine wine.
Eddie Vedder's voice is clearer and more mesmerizing than ever, and band members – McCready, Matt Cameron, Jeff Ament, Stone Gossard, and Boom Gaspar take their talent to another level – making any young child want to sign up for guitar, drum, or keyboard lessons. "The boys" have a great passion for what they do, and they give it their all every time you see them.
We come back time and time again, not just because the band always plays a new setlist and a mind-blowing concert, but Pearl Jam works hard to make the world a better place.
Since the band founded the Vitalogy Foundation with their manager in 2006, $3 from each concert ticket sold has been a charitable donation to the Foundation - which "supports the efforts of non-profit organizations doing commendable work in the fields of community health, the environment, arts and education and social change."
Following in Pearl Jam's footsteps 10 years ago, a few very passionate fans - who wanted to support the band's efforts to make a difference - founded The Wishlist Foundation. The Foundation, which is 100% fan run, has raised over three quarters of a million dollars over the years through a variety of fundraising methods to support Pearl Jam's charitable and philanthropic efforts. 
Because of the hard work and dedication of many Wishlist Foundation volunteers, including the most familiar faces - Laura Trafton and Eric Long - Pearl Jam fans have had a place to gather in every city where Pearl Jam is playing. Most importantly, while we are all having fun reconnecting - Laura, Eric, and others are working hard raffling and auctioning off Pearl Jam paraphernalia to raise money for charities.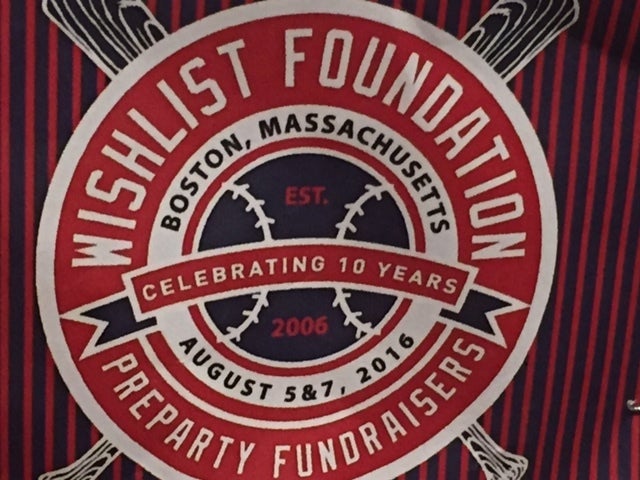 Inevitably, at every show, Vedder encourages us to take care of our planet and those in need, but also to take care of our Pearl Jam community.
Pearl Jam has taught us that we are all in this together – this thing called life – and the most important thing we can do is take care of each other. Because of these constant words of encouragement and our passion for the music created by the same loyal band over the past 25 years, Pearl Jam has created something beautiful. They've created a community. A culture. A family. 
At every show, we meet up with old friends, and then we meet new ones. And our community grows.
We make memories together, share our best Pearl Jam stories and band member meet-and-greets, and we belly laugh and jam our way through the few days we all have together.
For a moment in time, Pearl Jam helps us to forget the sadness of the world and the difficulties in our personal lives. And as if it is all some form of therapy, we sing at the top of our lungs to every song that seems to penetrate our souls.
As the journey continued in the years that followed, my husband and I have attended shows when we've needed some Pearl Jam therapy. As a result, we have seen some of the most beautiful cities in the world. And we have witnessed some of the most phenomenal Pearl Jam shows, with some of the most jaw-dropping setlists we've ever heard. But most of all, we have met some of our greatest friends along the way.
Some people like jewelry or fine restaurants. Others like to travel to exotic places or have spa weekends. Some have a passion for a certain sports team and go to as many games as possible to see their favorite team play. But for me and my husband - and our music family– any spare change that we may have will continue to go toward the Pearl Jam getaway.
What does Pearl Jam do for us?
They bring us together. They make us appreciate music. They stir our souls. They make us laugh. They make us cry. And they help us to appreciate life. Because life is short and these memories are ours for the taking.
REAL LIFE. REAL NEWS. REAL VOICES.
Help us tell more of the stories that matter from voices that too often remain unheard.
BEFORE YOU GO
PHOTO GALLERY
Phish Baby Products