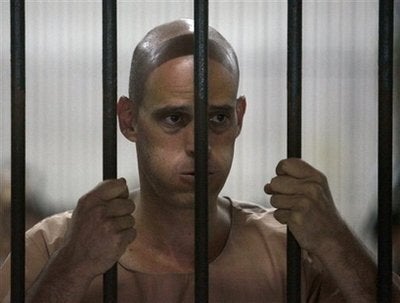 Australian writer Harry Nicolaides, who has been in Thai prison since his arrest in August for insulting the royal family, is safe at home in Melbourne, his family and lawyer report.
In an e-mail to the Huffington Post, Nicolaides' brother Forde thanked Thai King Bhumibol Adulyadej for pardoning Harry, who had been sentenced to three years in prison for lese majeste.
"The Nicolaides family is grateful to his Majesty the King for the decision he has made and to the relevant Thai authorities who dealt with the pardon application in an expeditious manner. Harry has been released from prison and has arrived back in Melbourne today," Forde Nicolaides wrote. "For a short time, Harry will not be speaking to any media as he will be initially focusing on regaining his health and rejoining with his family in Melbourne. "
"The last 6 months has been an extremely difficult and trying time for my family and our mission is now accomplished - we brought Harry home. I would sincerely like to thank everyone who has supported the family's efforts and in assisting with encouraging the Australian government to take affirmative action to secure Harry's release."
The pardon came through just two days before Nicolaides' homecoming, his lawyer said by telephone at about 3:30 p.m. Saturday, Australian time (4:30 a.m. GMT). He said Nicolaides had arrived about two hours earlier.
"Harry was pardoned Thursday and he's now home in Australia," lawyer Mark Dean said. "The case is finished."
The case began Aug. 31, 2008, when Nicolaides, who had lived in Thailand teaching English for about five years, arrived at Bangkok's Suvarnabhumi Airport to catch a flight to Australia to visit family.
At the airport, Nicolaides, then 41, was arrested for insulting the royal family. The charges stemmed from one paragraph in a self-published novel Nicolaides had written three years earlier. He had printed only 50 copies and sold seven.
The paragraph related to rumors Thais tell about an unnamed crown prince's love life.
Nicolaides was held for 81 of the 84 days the government could legally hold him without filing charges.
"It's an assault to the health and the senses," Nicolaides said of prison conditions during a November interview. "I've seen dead inmates carried out in hospital beds, cause of death unknown."
He was denied bail four times. On Jan. 19, he pleaded guilty and asked for leniency. He received the minimum sentence -- three years in prison.
Under Thailand's strict lese majeste laws, a person can be sentenced for up to 15 years for insulting the royals. Days after his sentencing, his family applied for a royal pardon.
"We're very happy Harry's home," Dean said.
In 2007, the king pardoned a Swiss man convicted of drunkenly spray painting over posters of the king after being denied alcohol on the king's birthday.
However, Harry was only one of an unknown number of people arrested in 2008 on lese majeste charges. Although reports vary, most if not all of those arrested were Thai.
"He doesn't really represent the real issue," Thai activist and political science professor Giles Ji Ungkaporn said of Nicolaides during a December interview. "[Lese majeste's] main function is within Thai society, not against foreigners."
Ungkaporn himself was charged with lese majeste on Jan. 20, the day after Nicolaides was sentenced. He has reportedly since fled Thailand, a popular vacation destination that bills itself as "The Land of Smiles."
In its history, the kingdom has banned the 1956 musical "The King and I," a 1999 movie version of "Anna and the King" (the original source material for "The King and I"), the unauthorized royal biography "The King Never Smiles" and, for a period in 2007, YouTube. Videos mocking the king could be viewed on the popular site.
More recently, more than 2,300 Web sites were blocked for mocking the crown.
Among those arrested in 2008 were two young activists who refused to stand during the national anthem and Daranee Chanchoengsila-pakul - also known as Da Torpedo - a reporter who turned activist after a 2006 coup.
As many as 42 people could be held on lese majeste charges, although the government has not released the yearly crime report -- which would detail the figures -- since 2005. The previous year with the most lese majeste arrests was in 1977, when 36 arrests were made.
Dean said Nicolaides' arrival was a major media event.
"There was a lot of media there," he said. "A lot of people were interested in the case."
Although the media made Nicolaides' case a cause celebre, with online videos showing the paparazzo-style flashbulbs when Nicolaides was escorted in chains from his sentencing, the mass coverage only followed major events.
During Nicolaides' nearly five-month pre-trial imprisonment, many Bangkok-based members of the foreign press said they were reluctant to give more than the cursory details of the case.
One Australian reporter said Thai staff members were given friendly warnings by sources within the police. Thai reporters feared imprisonment and foreign reporters feared losing their work visas, the reporter said, speaking only under a condition of anonymnity.
"They said, 'You repeat the charges [Nicolaides made in the book], we can come after you,'" the reporter said.
"We certainly are not as free as reporting the monarchy and its role here as we would like to be. And that's a fact," said one Bangkok-based British journalist who did not want his name used.
The British journalist said he was satisfied with his coverage of the case, but said his role as a journalist is to report, not to crusade.
"It's not cowardice; it's reality," he said. "The law is reality. It's a bad law, we all know that, but we have to live with it."
Related
Popular in the Community