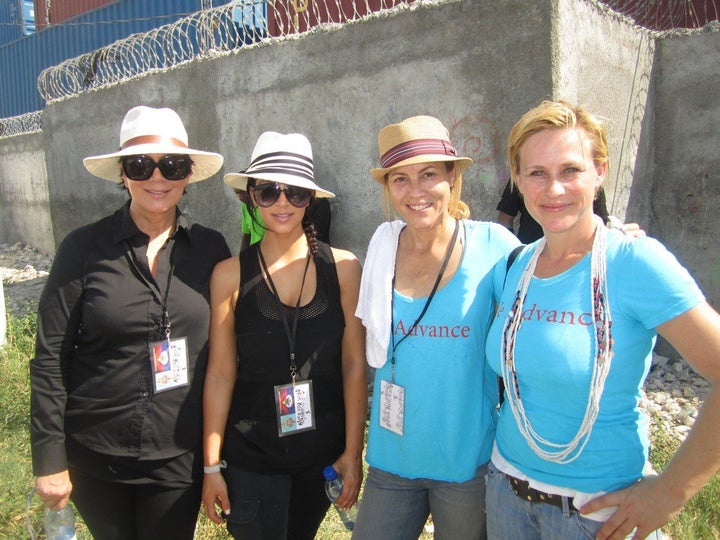 Who knew a woman who runs around on TV with a gun and another who runs around in heels would have so much in common? We were brought together through a bizzare turn of events, and we discovered our mutual goal of empowering women using our own unique voices. We decided to journey together with Kris, Farouk Shami, Patricia Arquette, Suzanne Lerner, and a few of their friends to experience the Haiti that Maria has come to know and love through her organization, We Advance.
We Advance was started after the earthquake in January 2010, as a direct response to the increase in gender-based violence and poor health care for women in the poorest areas of the country. We Advance works with and represents the voices of over 40 micro-organizations working in the most desperate situations and communities in Haiti.
This is who we celebrated:
Danielle St. Lot: Danielle has been a women's rights activist in Haiti for 35 years. She galvanizes women to stand up for economic, political, and social justice and equality with her organization Femmes en Democratie. She launched the women's trade fair in Haiti this past weekend with women artisans and designers from all over the country to promote their products and to show their beautiful fashions. As a former Minister of Commerce, Danielle knows that it is through not only charity but creating employment that Haiti will rise.
Claudia Apaid: Claudia is the daughter of a Haitian entrepreneur, who went to an orphanage to give toys to kids for Christmas, and, seeing the appalling conditions that the children lived in, founded Sow a Seed in 2004. Sow a Seed is an organization that collaborates with partners with orphanages all over the country to give better care to their children. She threw a Christmas party this weekend for 500 orphans, many of whom experienced their first Christmas ever.
Barbara Guillaume: Barbara is a women's leader, poet, singer, and co-founder of We Advance. She is running for mayor of Cité Soleil, the poorest slum in the western hemisphere, because, as she says, "If we can change the worst of Haiti, we can change all of Haiti."
Caroline Sada: Caroline is a beautiful, 37-year-old powerhouse who grew up in Haiti and was educated in the States. She worked as a high-level executive with an international makeup company and left it all after the earthquake to come back and rebuild her country.
Sophia Martelly: Before becoming the First Lady of Haiti, Sophia dedicated her life and energy to people in need in the slums of Haiti. Now she will launch her country's "12 by 12" initiative in January, which will enable thousands of households run by single mothers to buy food and send their children to school.
We came to celebrate the thousands of Haitian women who are working tirelessly every day to bring economic and social justice to all people in Haiti. So to them we say: we are humbled and moved to have been with you and to tell the world about your grace. We are proud to tell the world your stories.
The mission statement of We Advance is, "We are stronger together than we are alone."
We are grateful to partner with such amazing women and to have been on this journey together.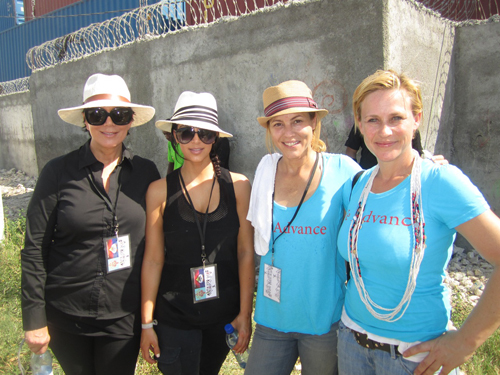 From left to right: Kris Jenner, Kim Kardashian, Maria Bello, and Patricia Arquette in Haiti (photo: Rachel Tanzer)
Calling all HuffPost superfans!
Sign up for membership to become a founding member and help shape HuffPost's next chapter