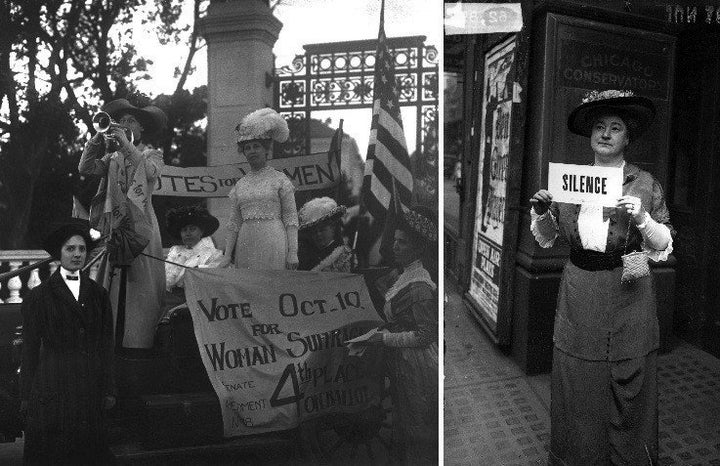 Who was Alice Paul? I'm the first to admit that if you had mentioned that name to me a short while ago, I would not have been able to answer that question. But now, after seeing Take What Is Yours at 59E59, I am happy to say that I will never forget this name again. Besides being a living history lesson, the filmic staging and virtuosic performance by Erica Fae make this play an incredibly important piece to see.
I am ashamed at how little I knew about the process of achieving suffrage for women. Most people (I would hope) have heard names like Susan B. Anthony, but how much do we as a culture really focus on this important part of our history? I can tell you that it boggles my mind that one hundred years ago I would not have been able to vote. Having said that, the cases that fill the recent news show that for all the progress women have made, we still have a long way to go.
Enter Erica Fae and Jill A. Samuels, who have written a piece about Alice Paul, the chairman of the National Woman's Party, who was imprisoned and force fed after picketing the White House in 1917. The script for Take What Is Yours is composed of Alice Paul's own words, along with other pieces of original source material. Add in a multimedia aspect that includes historic photographs and documents, and there is a wealth of information imparted to the audience member in a mere seventy minutes.
Of course, as important as it is to know about what these brave women did so that everyone could make themselves heard at the polls, this play also stands on its own as a piece of theatre. Both in terms of performance (especially Fae) and staging, this show is engaging and visceral from start to finish.
One quick look at the program for this show reveals that one of the reasons the production is so unified is that certain names keep coming up again and again. Erica Fae conceived, co-wrote and stars in this piece while Jill A. Samuels co-wrote, directed and conceived of the set design. The set itself, created with the assistance of Set Design consultant Deb O is a complex series of moveable panels. These move throughout the show, and they are visually utilized to create a multitude of frames through which we see Alice and "The Man," who has come to evaluate her mental state.
Alison Brummer's lighting design and Kristin Worral's sound design add to the distinctly filmic quality of the staging. Dramatic lighting often adds to the fragmentary effect caused by the panels in the set, therefore making an overall thematic statement about the ways in which Alice was compartmentalized by the government and segmented by society. My one comment here is that the underscoring did not need to exist throughout, as Fae's performance is strong enough to carry what is almost a one-woman show.
And carry it she does. Fae, who teaches physical acting at Yale and The New School, is a mesmerizing storyteller and performer. Her physical control of her body is matched by her ability to produce a visceral reaction in the audience member through her words. Throughout the descriptions of the horrendous things that Alice Paul was subjected to, Fae goes into graphic detail without ever showing a single instance of violence. The pure suggestion, in the hands of an excellent storyteller is quite enough.
Though I was happy to see a supporting cast, I was in fact happier not to see them. In other words, I found myself happy when Fae took on other characters, supported vocally but not physically by other cast members. Wayne Maugans does a decent job as "The Man," yet Fae easily outshines him. The supporting cast works well with the movement, and the only questionable choice I see is that of having one particular character appear in the flesh when Fae has been masterfully evoking him throughout.
If you would like to see a creative, historically sound and well-played piece of theatre, then Take What Is Yours is for you. It isn't laugh out loud funny, or easily entertaining, but it will engage you and remind you of what happened in this country not so very long ago. We need shows like this to remind us that we can do it.
REAL LIFE. REAL NEWS. REAL VOICES.
Help us tell more of the stories that matter from voices that too often remain unheard.