Recently we announced a major new finding - a simple way to save tens of thousands of lives.
Around 100,000 people die every year because of infections they catch in hospitals. This is particularly tragic because many of those deaths are preventable.
We can cut healthcare-associated bloodstream infections by nearly half if hospitals do just two things differently - first, wash patients with a particular soap, and second, use an antibiotic ointment.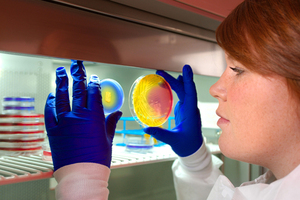 CDC microbiologist, Valerie Albrecht, holds up two plates of methicillin-resistant Staphylococcus aureus (MRSA).
MRSA, methicillin-resistant Staphylococcus aureus, is an important cause of healthcare-associated infections. I've taken care of many patients with life-threatening infections with this organism, including several who were killed by it. Reducing MRSA infections is critical because these bacteria are difficult to treat and are common in healthcare settings, especially among ICU (intensive care unit) patients.
In our study in the May 29, 2013 issue of the New England Journal of Medicine, researchers looked at three different prevention practices and found the easiest and simplest practice was the most effective. It not only reduced the spread of MRSA, but also prevented infections by other germs.
Some hospitals screen all ICU patients and isolate those with MRSA, a process that can be challenging for both caregivers and patients. But the study found eliminating that screening step and instead using chlorhexidine baths and nasal mupirocin ointment on all ICU patients reduced MRSA by 37 percent and bloodstream infections due to all pathogens by 44 percent.
This saves time, money and lives.
The study's findings are an exciting development. As the study's lead author, Susan Huang, MD, MPH, of the University of California, Irvine School of Medicine said, "For years, we have searched for new strategies to turn the tide against antibiotic-resistant pathogens in healthcare facilities."
Since this is a new strategy for reducing infections, we'll be carefully weighing any concerns before changing our infection prevention recommendations.
The study was developed and planned by CDC, University of California - Irvine, Harvard Pilgrim Health Care Institute, and the Hospital Corporation of America (HCA). The research was funded by CDC and the Agency for Healthcare Research and Quality and done in partnership with nearly four dozen of HCA's affiliated facilities across 16 states and approximately 74,000 patients.
In the past decade, many of our country's biggest breakthroughs in preventing deadly infections in hospitals and other healthcare settings have come from the great work of the scientists at the Centers for Disease Control and Prevention.
It's just another way CDC is working 24/7 to find ways to protect you and your loved ones.