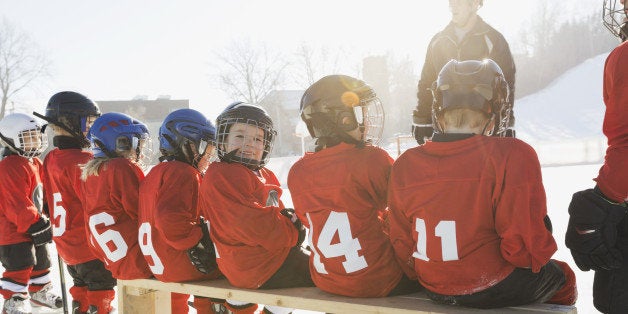 I was watching a Russian Pee Wee team play against one of our Mass Selects when I was reminded by the U.S. coach to tell the Russian coach that we don't allow checking at that level in North America. The Russian coach laughed.
"If the American kids can catch my players, they can hit us," he said.
To me, this said a lot about the ongoing differences in the Russian philosophy of hockey versus our own in North America. It says a lot about what is important in their game and what seems to be our focus. They use the wider rinks and their practices to stress skating, team play, passing -- skill levels encouraged in their almost non-stop practices.
We don't have a lot of Olympic-sized rinks but we can take something from their practices. For starters, players spending less time on one knee looking at a chalk talk and more time skating and moving the puck. For another, despite all the talk about how Russian players tend to be individualistic nowadays, the strong emphasis on a five-man unit (three forwards and two defensemen who work together almost exclusively) is still alive and well as young players develop.
I saw this one Russian player, who facially looked a little bit like the young Jaromir Jagr (complete with the long hair flowing out of his helmet), go end to end with the puck and score a goal. Then I watched as he went to the bench to do the flyby high-fiving reception line thing. The coach pulled him off and sat him on the bench.
When I later asked why later, the coach said,"We encourage great players to play greatly, but he had the chance to play with his four teammates and pass the puck several times. He did not, so he can sit until he understands that Hockey is a TEAM game."
I do not believe that Russians "do it better" than North Americans. However, I do know that we still have more we can learn from one another in this sport. The well of knowledge still runs deep on both sides.
Without question, the legendary Anatoli Tarasov learned from Canadian coaches watching them play and from the films they got to see after World War II. Viktor Tikhinov learned from Scotty Bowman. Oh, and I dare say, my Russian colleagues have learned something about officiating from me in these last three years...
My point is that we still need to think more globally in teaching our game. Think of the big picture and move the game forward. I think and I believe that the game is for everyone. If we all have a common goal to enjoy the game and help make it better, we all will benefit. Let the coaching get better and let elements such as clean body checking be the natural part of the game it was meant to be.
Paul Stewart holds the distinction of being the first U.S.-born citizen to make it to the NHL as both a player and referee. On March 15, 2003, he became the first American-born referee to officiate in 1,000 NHL games.
Today, Stewart is the chairman of the officiating and league discipline committee for the Kontinental Hockey League (KHL) and serves as director of hockey officiating for the ECAC.
The longtime referee heads Officiating by Stewart, a consulting, training and evaluation service for officials. Stewart also maintains a busy schedule as a public speaker, fund raiser and master-of-ceremonies for a host of private, corporate and public events. As a non-hockey venture, he is the owner of Lest We Forget.
Stewart's writings can also be found on HockeyBuzz.com every Monday, Tuesday, Thursday and Friday. He is currently working with a co-author in writing an autobiography.
Related
Popular in the Community