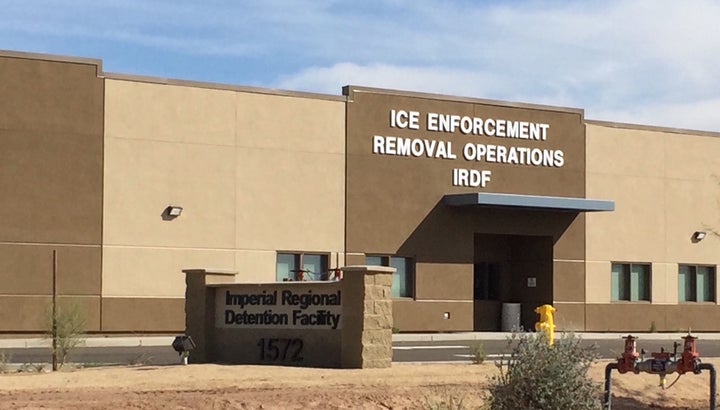 Trump's deportation force has already been built, and its name is ICE. ICE, or Immigration & Customs Enforcement, is the federal agency currently responsible for detaining and deporting immigrants. All Trump will need to do in order to act on his most extreme intentions is further fund the agency and recruit more officers. He already has supporters in people like David Duke of the KKK.
This weekend, House Speaker Paul Ryan said, "We are not planning on erecting a deportation force." But a few hours later President-elect Donald Trump contradicted Ryan, telling 60 Minutes, "[W]e are getting them out of our country or we are going to incarcerate them," referring to two or three million immigrants he labelled "criminal[s]," "gang members," and "drug dealers."
Trump has declared war on immigrants. He just appointed to his transition team the architect of Arizona's "show me your papers" law, which has been called the most racist (and not to mention, unconstitutional) U.S. law in modern times. In the first 100 days in office, Trump plans to construct a wall at the Southern Border, achieve border security "in whatever way is the most effective," cancel President Obama's executive actions that provided immigration relief to 800,000 young people, suspend immigration from certain regions of the world, and amass a deportation force to remove undocumented immigrants. This is not new information.
But make no mistake: this is the man that ICE's union endorsed, making it the first time ICE ever endorsed a candidate for President. Even before Trump has taken office, ICE has begun to do his bidding.
The U.S. government is detaining a record number of immigrants right now. About 41,000 asylum seekers, victims of human trafficking, and other immigrants with longstanding community ties are currently imprisoned in immigration detention facilities, up from about 31,000 just a few months ago. ICE is planning to expand, build or contract for at least an additional 10 detention facilities, including two private prisons that the Department of Justice (DOJ) severed ties with earlier this year.
ICE has increased the number of people in detention to provide the Homeland Security Advisory Council with an excuse not to follow in the footsteps of the DOJ and end all private immigration detention facilities. In August, the DOJ said it would end its use of private prisons, after the agency's investigation revealed private prisons to be unsafe.
This expansion is the first step in launching a Trumpian deportation force.
While we cannot forget that President Obama has detained and deported more people than any other president in history, Trump's intentions and plans are far darker.
We must take Trump seriously and assume that he will act on his most extreme rhetoric.
We must listen to the panic of our neighbors, and we must stand beside them. Many of us do not know the extent to which Trump will act on his bizarre rants; they seem too far removed from most people's realities to be taken seriously.
But every day, I speak to teenagers in immigration detention who have not spoken to their parents since ICE kidnapped them and locked them in a prison with no charges. I meet with mothers in detention whose U.S. citizen children were left alone when ICE raided their home and arrested them in front of their families. I fight for people like Chansa "Kapi" Kapijimpanga, a father of two U.S. citizen children and a small business owner in Huntington Beach, California. Kapi is one of the thousands of people that ICE arrested and detained since September to fuel the unnecessary expansion of our immigration detention system.
This Trumpian deportation force must be stopped. And it can be stopped.
President Obama's Homeland Security Advisory Council can start by recommending this month an end to all private immigration detention facilities nationwide. President Obama can stop the expansion of these 10 new detention facilities, and pardon people in detention to protect them from deportation.
The U.S. Supreme Court can uphold due process protections for people in immigration detention in Jennings v. Rodriguez, which will be heard later this month. Over the course of the coming years, Congress can choose to respond to migration humanely, replacing private prisons with meaningful community-based alternatives to detention that are less costly and do not rely on incarceration or electronic surveillance. States like California can pass legislation next year, such as the Dignity Not Detention Act, and fund community-based alternatives.
And all people of the United States ― including Democrats and Republicans ― can respond to Trump with an unprecedented wave of courage and opposition to shield people from detention and deportation.
REAL LIFE. REAL NEWS. REAL VOICES.
Help us tell more of the stories that matter from voices that too often remain unheard.