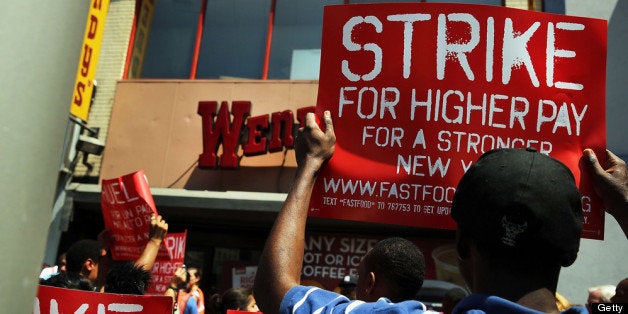 What started out last fall as a one-day walkout at fast-food restaurants to protest poverty-level wages and stand up for basic human dignity has transformed into a movement that has captured the public interest.
I've been privileged, especially in recent weeks, to talk to institutional partners, policymakers and media about why low-wage workers across the country are risking their jobs and forgoing a much-needed day's pay to work toward a better future for themselves and their families. We will be better off when hardworking people have enough money in their pockets to put back into their communities and generate more jobs, and SEIU members are proud to back these workers in their pursuit of economic justice and better lives for their families.
The courage of the strikers, such as Shay Kerr and Shakira Campbell of New York has given working people a platform to make their voices heard.

Shay has worked at McDonald's in East Flatbush, N.Y., for six months. She earns minimum wage and, because sometimes her hours are cut for no reason, she can't rely on a set pay every week. Since she cannot make ends meet on her wages, she has been bouncing around shelters. She's fighting for a union so she can make a better life for herself and her 6-year-old son. Shakira is leading an action tomorrow at her store to be put back on the schedule.
Shakira, Shay, and many others whom I have met in recent months are helping the public understand that, contrary to what some believe, fast-food and retail jobs aren't being filled by teenagers. Anyone who thinks they are is nostalgic for a time that no longer exists.
More than 4 million people work in the food service industry. Their average age is 28. Many of these workers have children and are trying to support a family. The median wage (including managerial staff) of $9.08 an hour still falls far below the federal poverty line for a worker lucky enough to get 40 hours a week and never have to take a sick day. According to the National Employment Law Project, low-wage jobs comprised 21 percent of recession losses, but 58 percent of recovery growth in the last few years.
This means middle-class jobs are disappearing while low-wage jobs are growing. If we simply accept this as fact, then the divide between the haves and the havenots will only grow worse. And that is just wrong.
We cannot build a strong, equitable economy on low-paying jobs. Corporate profits are at an all-time high. McDonald's earned $5.5 billion just last year; other fast-food restaurants and retail chains are similarly profitable. They can afford to raise wages.
Americans have a long history of sticking together to fight for something better. SEIU is fighting on so many fronts, from winning commonsense immigration reform, to delivering on the promise of the Affordable Care Act, to telling our elected officials to invest in vital public services, and to organizing in various sectors to make sure workers have a voice in the workplace. All of our members are involved in these campaigns to help workers strengthen and grow our union. As we do it, we know we have to reach out to the growing service sector of low-wage jobs in retail and fast food.
We are united to make a path to power for all workers; winning a just society; and leaving the world a better and more equal place for next generations to come.
Calling all HuffPost superfans!
Sign up for membership to become a founding member and help shape HuffPost's next chapter