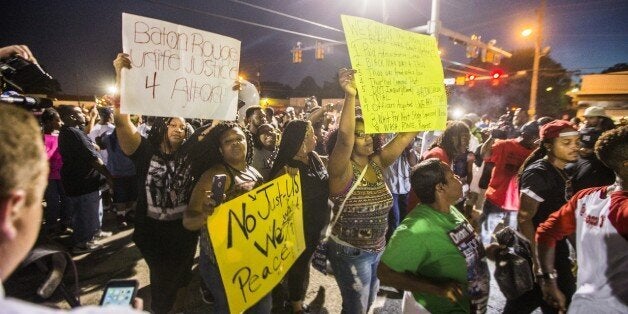 Alton Sterling. Philando Castille. We live in a place that relies on foreign newspapers to tell us how many black and brown persons are killed at the hands of police.
Vivimos en un lugar donde tenemos que depender en periódicos del extranjero para saber cuántos negros y latinos son matados por la policía. Eric Garner. Tamir Rice. We live among law enforcement chiefs that assert that smartphone video capacities are impede them from doing their jobs.
Vivimos entre jefes de policía que sostienen que la capacidad de videografía que tenemos en nuestros celulares no los deja a ellos hacer su trabajo. Sandra Bland. Freddie Grey. We live in a conflicted space where local prosecutors insist on investigating the law enforcement departments that they so heavily depend behind closed grand jury rooms.
Vivimos en un espacio saciado de conflictos donde fiscales locales insisten en investigar departamentos de policía aun cuando dependen completamente de ellos para cumplir con sus oficios detrás de salones cerrados del gran jurado. Ramarley Graham. Anthony Baez. We live in technological world where police body cameras mysteriously fail to function.
Vivimos con tantos avances en un mundo de tecnología donde todavía las cámaras instaladas en uniformes policiacos misteriosamente dejan de funcionar. Jessica Hernandez. Antonio Zambrano-Montes. We live within a contentiousness that circles the wagons of clearly documented unlawful police conduct to devise media spin and false justifications.
Vivimos entre niveles tan contenciosos que permiten la elaboración de justificaciones falsas y comunicados manipulados para la prensa aun cuando existe documentación clarísima de conducta ilegal por la policía. We live in America, and today we cannot stop until justice is done for the family of Alton Sterling. We cannot continue to live like this.
Vivimos en América y hoy no podemos detenerlos hasta que llega la justicia para la familia de Alton Sterling. No podemos seguir viviendo así. Because indeed, Black Lives Matter.
Porque, sin duda ninguna, las Vidas Negras Importan.
Popular in the Community