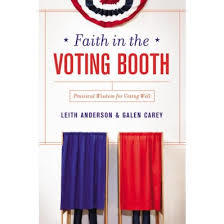 Joe Stalin said, it's not who votes that counts, but who counts the votes. Having been involved in political campaigns and politics at all levels of government for the past forty years, I can attest to another maxim that is equally as important on election day, in any election, and that is that the side that does the best job of getting out the vote (GOTV) usually wins.
Validation of this simple, yet sometimes seemingly overlooked rudimentary principle of election strategy is the recent off-year election in Virginia where the Democratic Gubernatorial candidate handily dispatched his Republican opponent by a margin of 9 percentage points, a margin not seen in over 3 decades in that state. Equally as important is the large margin for the Democratic ticket down-ballot that could very well reach the 17 seat turnover necessary to erase an almost 2-1 Republican supermajority. (Currently the count is 15, with three races yet to be decided).
As Democrats around the country joyfully break out in their victory dances, boasting that the results in Virginia and normally Democratic New Jersey signal a tsunami about to restore a Congressional takeover in either or both the House and Senate in 2018, it is wise to consider that celebratory antics may be premature. Sort of like predictable end zone choreography even though the scoring team is still 21 points behind in the closing minutes of the fourth quarter. It feels good at the moment, but you still go to the locker room with a loss. Democrats may find their victory lap cut short – if they do not take on the matter of an electoral system rigged by vote suppression.
Expect Republicans to ratchet up voter suppression efforts that have been spectacularly successful if not generally well known. These efforts will be led by Kris Kobach, Kansas Secretary of State, who is the architect of a little known voter purge program known as Crosscheck. Alas, Kobach has taken his show on the road, to the Nation's capitol where he is spearheading a Trump initiative known as the President's Commission on Election Integrity, whose major goal is to initiate stronger voter identification laws with the express purpose of purging the voter rolls of minorities. He very well may be the most dangerous individual in the Trump orbit and he is a virtual unknown to most Americans.
It is no coincidence that minorities overwhelming register and vote Democratic. It is not inconceivable that Kobach may be the most dangerous minion in the Trump orbit and may very well accomplish what the Russians have been trying to do for years: namely, to dismantle the integrity of the nation's democratic electoral process. The Crosscheck program was exposed by investigative journalist Greg Palast in a book and a documentary entitled The Best Democracy Money Can Buy here. For more information on Kobach and his work in restricting minority voting peruse GregPalast.com archives on the topic.
Lost in the midst of the investigations of Russian interference in the 2016 election is the serious allegation made by Palast that the 2016 election was stolen. Not by the "rigged" system Trump claimed but rather by the one Trump's cronies organized and implemented. Palast uncovered that your vote may not have been counted simply because you possess a common last name and thereby have been accused of voting more than once. Voters of color are the victims of this vote suppression tactic. Add in a little dash of the antiquated Electoral College and we have a toxic stew that threatens the fabric of our democracy.
Now, make no mistake, it is possible to overcome the efforts of those who wish to limit participation in the democratic process. We can simply swamp voting stations, but it is a crapshoot to have to rely on voter turnout efforts alone particularly as economic and social injustice worsens which discourages voting. Not counting votes violates the idea of "one person, one vote," the bedrock of representative equality, and it adds to an already unhealthy cynicism among large portions of the voting population that they, in fact, do not count. Voter turnout is crucial but it is meaningless unless those votes are counted.
In 2018, expect the minions of disenfranchisement to work overtime to falsely claim that voter fraud is rampant. There will be a full court press on voter intimidation and suppression schemes based on the notion that if you cannot win an election fairly and squarely, fix it.
Let the word go forth that all parties, all patriots should demand that we have a fair election process, one that reflects the will of we the people. Let us start with a review and national dialogue aimed at creating an election system devoid of a partisan or political agenda. This, surely, must be an integral component of a bipartisan renaissance that will truly make America great again. But first, we must make America good again!
Related
Popular in the Community