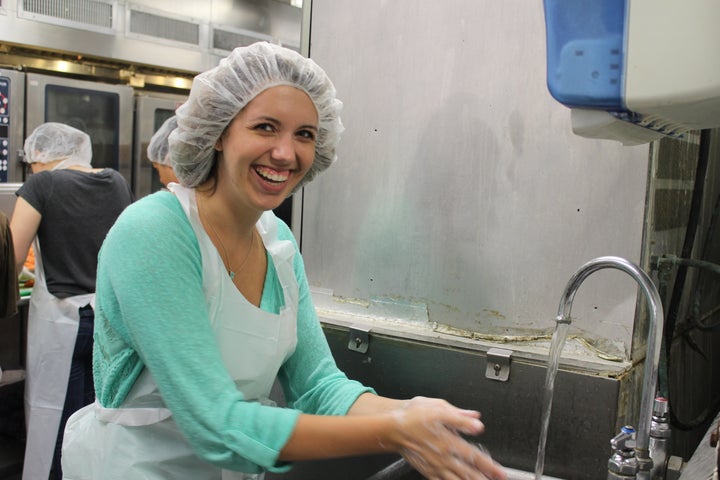 Hunger continues to be a growing crisis in America. Despite the tireless work of nonprofits fighting hunger and food insecurity, food banks, community kitchens, and even legislation to help redistribute wasted food to the people who need it the most, as recently as 2014, 14 percent of American households could be described as "food-insecure." But food insecurity is about more than just feeling hungry or not knowing how one will provide food for their family. According to the FDA, very low food security is defined as "reports of multiple indications of disrupted eating patterns and reduced food intake."
At The Campus Kitchens Project, the nation's leading nonprofit empowering students to fight food waste and hunger, we're working with young people on high school and college campuses across the country to recover wasted food that would otherwise go to waste and turning it into balanced meals for their community. Just last year, student volunteers with The Campus Kitchens Project recovered over one million pounds of food. And, since our founding in 2001, student volunteers have prevented the waste of more than 6 million pounds of food.
However, we cannot combat food insecurity simply by picking up surplus food when it's available in one place and then delivering it to another. That approach is tethered to boom-or-bust cycles of surplus, and fails to guarantee nutritional quality or ensure day-to-day access to food for those in need. Front-line agencies receiving food donations often have to improvise when quantities are too big or too small, or when their quality doesn't meet basic standards. Sometimes that causes them to discard donated food. Other times it forces them to turn away clients. Neither outcome is acceptable.
All too often, food waste is viewed as a transportation problem, when it's really a transformation problem. How can we convert these irregular donations into balanced meals delivered on a regular schedule? When we talk about 'balanced meals' at The Campus Kitchens Project, we mean two things. First, that each individual meal is nutritious, incorporating essential proteins and vegetables. And second, that our meals are balanced in their distribution throughout the week. Each week, hundreds of community organizations across the United States receive a set number of dignified, healthy meals from our local Campus Kitchen chapters—meals their clients can count on.
This level of consistency has real implications for health and wellness. Eating meals on a varied schedule is not only a leading indicator of food insecurity, but irregular meal schedules also contribute to obesity, energy imbalances, and poor metabolism. What's more, research has proven the linkage between increased eating episodes and decreased obesity. Most of us know that when we skip breakfast, our energy levels suffer, along with our ability to focus. At the same time, our appetites increase, potentially leading to increased food intake at the next meal.
Individuals who skip meals to stretch their budgets often overeat when food is available, thus promoting the storage of bad fats in the body that lead to obesity. When access to a basic necessity like food becomes this unpredictable, it produces dangerous levels of stress, further contributing to obesity and other chronic diseases.
Now imagine these same biological effects layered on top of the conditions that many people struggling with food insecurity face each day: a low-income child struggling to focus in school, a single mom juggling two low-wage jobs, or a senior citizen on a fixed income choosing between heating their home or eating their next meal. These are real people, facing real problems. Scattershot donations of bakery bread and day-old croissants aren't the answer.
So, while we're proud of the poundage we've spared from landfills, we're even more encouraged by the 3 million nutritious meals that The Campus Kitchens Project's volunteers have prepared and delivered, along with student-designed programs that are helping kids make healthier choices, seniors reduce their sense of isolation, and partner nonprofits maintain their services in a time of cutbacks. The meals prepared by Campus Kitchen volunteers are fighting hunger today, and the programs they create are addressing the underlying root causes of hunger in a way that fights hunger tomorrow. Our student volunteers have embraced the responsibility that comes from providing real meals that people can count on—and that's why 100 percent of our partner agencies across the country say that these students have improved the food security of their clients. That's a metric that matters.
Now on 53 high school and college campuses across the country, The Campus Kitchens Project utilizes available resources – student volunteers, idle cafeteria kitchens, and otherwise wasted food – to prepare and provide recurring, healthy meals for those in need. While much of the country is just beginning to recognize the interrelated crises of food waste and food insecurity, this next generation of hunger fighters is already ahead of the curve and hard at work with real solutions.
About The Campus Kitchens Project
Founded in 2001, The Campus Kitchens Project is a national organization that empowers student volunteers to fight hunger and food waste in their community. On 53 university and high school campuses across the country, students transform unused food from dining halls, grocery stores, restaurants, and farmers' markets into meals that are delivered to local agencies serving those in need. By taking the initiative to run a community kitchen, students develop entrepreneurial and leadership skills, along with a commitment to serve their community, that they will carry with them into future careers. Each Campus Kitchen goes beyond meals by using food as a tool to promote poverty solutions, implement garden initiatives, participate in nutrition education, and convene food policy events. To learn more about our work or bring The Campus Kitchens Project to your school, visit www.campuskitchens.org.
This post is part of our "Reclaim" initiative, which showcases solutions to the issue of food waste and engages our readers to take action. You can find all the posts in this initiative, as well as feature pieces, investigative stories and video, here. Follow the initiative on Twitter at #Reclaim. And if you'd like to add your own thoughts to our series, sign up here for a HuffPost blog account.  
Calling all HuffPost superfans!
Sign up for membership to become a founding member and help shape HuffPost's next chapter
BEFORE YOU GO
PHOTO GALLERY
Women Are Key To Ending Hunger