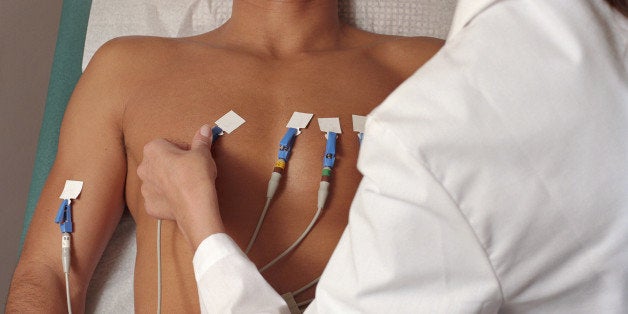 For many Hispanics, family is paramount. Yet heart disease and stroke, this nation's number one and number four killers, are stealing our abuelitos and abuelitas at an unacceptable rate.

Providing culturally appropriate health care is vital to saving lives and preserving families, according to a scientific statement published Monday in the American Heart Association's journal Circulation. Strong and culturally relevant health promotion, prevention and treatment efforts on many fronts are the only ways we can make up this critical gap.
Hispanics are the fastest-growing population in the U.S. and will make up almost a third of the population by 2050. Heart disease and stroke affect Hispanics because of high rates of obesity, diabetes and high blood pressure. Yet survey after survey show that they're much less aware of their risks than non-Hispanic whites.
Here's what we're up against:
• Preschool-age Hispanic children are four times more likely to be obese compared to non-Hispanic white children. These children are more likely to develop heart disease and diabetes as young adults.
• Hispanic youths have higher smoking rates -- 28 percent of Hispanic eighth graders smoke compared to 23.7 percent of non-Hispanic white children. Smoking is the number one preventable cause of death in the United States.
• Roughly two out of three Hispanics have uncontrolled high blood pressure, often called the "silent killer." Left untreated, it can cause serious damage to the arteries, heart and other organs.
• Hispanics are twice more likely to be diagnosed with Type 2 diabetes than non-Hispanic whites. Left untreated, Type 2 diabetes can cause serious problems, including cardiovascular and life-threatening kidney disease. Where you find diabetes in Hispanics, you will find heart disease.
• Mexican-Americans are more likely to be hospitalized for a heart attack compared to non-Hispanic whites. And they're twice as likely to have an ischemic stroke (caused by narrowed arteries) before 60 compared to non-Hispanic whites.
One way to start getting healthy is with Life's Simple 7, which outlines seven important behaviors and factors that can improve heart health. The behaviors are avoiding tobacco, eating healthy, being physically active and maintaining a healthy weight. The factors are healthy blood pressure, cholesterol and blood glucose.
As for cultural appropriateness, understanding the diversity of the Hispanic population is a big part of slowing the devastation of heart disease and stroke.
Much of what we know about Hispanic cardiovascular health reflects the fact that most Hispanics in the United States are of Mexican origin. But we need a more complete understanding of cardiovascular health and the factors that affect it in Hispanics of Caribbean, Central American and South American backgrounds.
We need to better understand how risk factors vary in different Hispanic subgroups. We also need engaged, aware healthcare providers who appreciate cultural nuances and who ask patients the right questions about country or countries of origin, cultural norms, family history, belief systems and diet in the patient's preferred language.
We must do this for the young and the old -- the abuelitas and abuelitos, the preschoolers and everyone in-between. Only then can we help keep them healthy for many more years to come. ¡Salud!
Dr. Eduardo Sanchez is deputy chief medical officer at the American Heart Association.
Popular in the Community