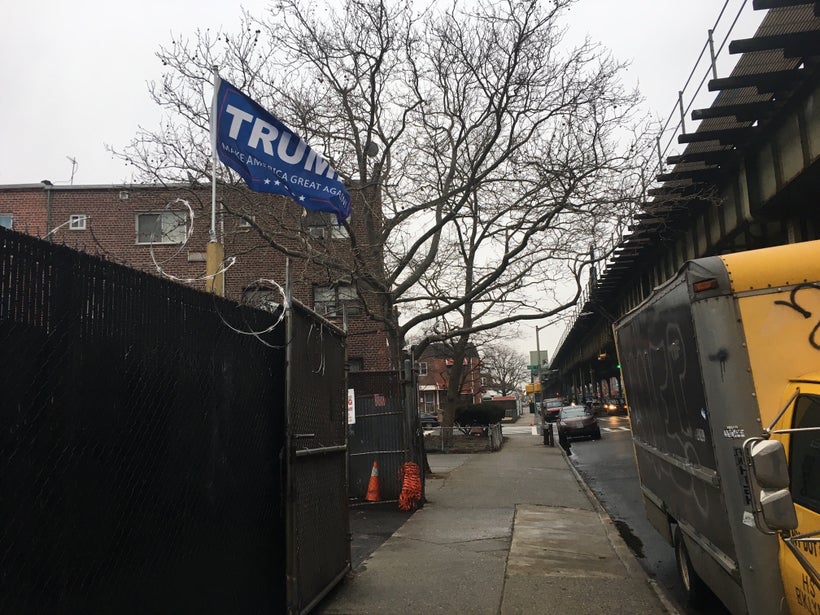 Many outer-borough New Yorkers argue that Executive Order makes a lot of sense
"America is a very good country, the best, first country in the world," said Nick Gogsadze, standing behind the counter at his McDonald Avenue food market, Tatuka. "It's a strong country and I like that."
"About Muslim people, there are good ones too, not too many bad," the 51-year-old shopkeeper from the Republic of Georgia continued. "Democracy is for Christians, Muslims, and Jews. I want for [all] people to be happy."
Gogsadze immigrated to New York City 19 years ago and has permanent residency. His wife and children are all citizens.
"I'm in love with this country. It's down and I want it [to] go up. Trump is good," he concluded bluntly. "He's the man."
Much of south-central and southern Brooklyn in the dense areas on either side of McDonald Avenue is populated by demographic groups that lean Republican and tend to have voted for Trump in November. Many residents from the former Soviet Union, Orthodox Jews, and socially conservative Italian-Americans are supportive of the new president's immigration policies.
As the United States Court of Appeals for the Ninth Circuit prepares a ruling on whether a stay by Judge James Robart of the Federal District Court in Seattle is upheld, President Trump's executive order banning immigration from seven mostly-Muslim countries awaits final sanction.
At TrainWorld, a model trains distributor in the Kensington neighborhood, Frank Cabrera says he's completely in favor of the temporary ban on new arrivals from the designated set of troubled countries.
"It should be expanded," the Trump voter said, adding how he prefers an immigration policy that only admits those who can support themselves or provide a rare skill. He explained how economics, rather than culture or religion, should dictate the laws. "It's not a 'Muslim ban'. It's not just a question of which people."
"We have enough people in this country without a job. I have friends my age who will never find a job again," said Cabrera, 62, who believes technology companies are the main source of opposition to immigration restrictions. "[The government] will enforce this policy, and [Trump] has the right to do that."
"If he's not good enough, he goes in four years. That's why we have elections," he said. "But [Trump] is trying so far. I'm giving the guy a chance. There should be law and order no matter what. We need a wall. We can't just have an open border and let people walk in."
Bangladeshi immigrant Mohamidun Arrif, 46, doesn't agree.
The manager of Desi Bazzar Supermarket said Trump's policy is "not a responsible thing for the Muslim world. You need to do it a certain way. This is his ignorance. All Muslims are not guilty terrorists...He needs to show more respect."
"People migrate — from [the time of] Adam till right now," Arrif, whose children were born in the U.S., declared emphatically. "Trump's father's family was German, and his mother from Scotland."
"I depend on the American judicial system," Arrif said, referencing the checks and balances provided by the courts, as the policy drama plays out. "Let [Trump] develop the country and not deny all these things to people. It doesn't matter if you're Republican or Democrat."
'Going in the right direction'
Tzivia Margolis, 39, lives in Gravesend and was patiently waiting for her ride after visiting a corner bakery.
"I'm not crazy about the ban but I understand about protecting our country," Margolis said. "It's so there aren't any casualties, not only here but in other parts of the world." Many others in the neighborhood cited prevention of "another 9/11" and failure by Muslims to assimilate as justifications for the ban.
Having voted for Trump, she said, "So far I trust he's been staying on top of things, and we're going in the right direction."
A bit further south on McDonald Avenue, as the street becomes more commercial and less gritty, Simon Swed, a 37-year-old shipping manager, was running errands with a colleague.
"Basically it's too early to tell how good of a job Trump has done," said Swed, a religious Jew born in Syria. "He could be the best, could be the worst.
"The U.S. is not the only solution [for those fleeing war]. As long as other countries are absorbing refugees," the Trump supporter said, the temporary ban was fine. "That is, unless every country adopts [Trump's] attitude."
Calling all HuffPost superfans!
Sign up for membership to become a founding member and help shape HuffPost's next chapter
This post was published on the now-closed HuffPost Contributor platform. Contributors control their own work and posted freely to our site. If you need to flag this entry as abusive,
send us an email
.