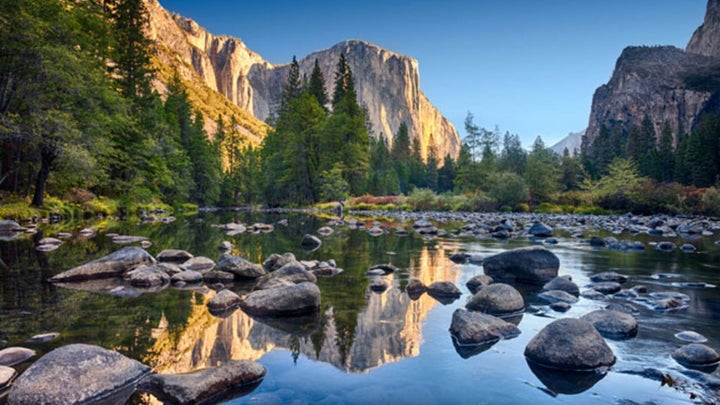 President Theodore Roosevelt once said, "The nation behaves well if it treats the natural resources as assets which it must turn over to the next generation increased and not impaired in value."
It is not surprising that the father of American conservation would believe this. His steadfast and tireless advocacy on behalf of our country's natural wonders gave rise to our national parks. And even now, his legacy reminds us of our responsibility to care for places like Yellowstone and Everglades so they are there for our children and grandchildren to explore.
From now through April 23rd, we celebrate these incredible places with National Park Week. It's a time to get out and enjoy free admission days this weekend, ranger-led hikes and battle reenactments—and to be reminded how fortunate we are to have these 417 sites that have been protected for us, and for all those who will come after us.
Interior Secretary Ryan Zinke describes himself as a "Teddy Roosevelt" Republican and has repeatedly stated his commitment to protecting our national parks during his tenure, including ensuring parks are better funded.
However, the President's proposed budget blueprint calls for sweeping cuts to domestic spending. If enacted, the impact on national parks could be devastating.
The budget calls for a 12 percent cut to the Department of the Interior, which funds the National Park Service, an agency that has already suffered from years of underfunding. While it proposes boosting funding for park maintenance, it does not specify how much. Even so, that increase won't make up for damaging cuts elsewhere in the Park Service budget, including cuts to land acquisition and the elimination of funding for National Heritage Areas.
The budget's proposed 31 percent cut to the Environmental Protection Agency (EPA) would cause further damage. National parks rely on the EPA to implement and enforce laws like the Clean Water Act and Clean Air Act so visitors can breathe healthy air, swim in clean water and enjoy scenic vistas unmarred by haze pollution, but the massive cut to the agency's budget would jeopardize those efforts.
Our parks, which welcomed a record-breaking 331 million visitors last year, face many challenges that require more funding, not less.
One of the biggest challenges facing the Park Service is its $12 billion in deferred maintenance. Park rangers have had to make due with shoestring budgets, putting off repairs year after year. And we are seeing the effects. The Grand Canyon has an aging water system that breaks multiple times a year. The Yellowstone Loop Road, built in 1905 for horse-drawn carriages and not the millions of visitors that traverse the park in cars and buses every year, is crumbling. And Cades Cove and Sugarlands wastewater treatments plants in the Great Smoky Mountains, one of the most visited sites in the park system, are in desperate need of repair.
Some infrastructure projects like restoring a trail or fixing a bathroom would cost just a few thousand dollars, while others like repairing the Arlington Memorial Bridge would cost hundreds of millions of dollars.
Low funding by Congress is chiefly to blame for this ever-growing backlog, as well as the roughly 10 percent less staff at the Park Service now than just a few years ago.
Last year, the National Park Service celebrated its centennial, but this is no way to carry on a century-old legacy. We've been entrusted to care for natural wonders like Yosemite and pieces of our history like Independence Hall. We cannot fail in this charge now.
In March, Senators Mark Warner of Virginia and Rob Portman of Ohio introduced bipartisan legislation that would dedicate funds to address the $12 billion backlog. The National Park Service Legacy Act (S. 751) is the kind of solution that we need for parks, and the president should work with Congress to swiftly enact this bill.
This would be the boost the National Park Service needs, but we can't stop there. Congress and the President need to work together to make sure agencies charged with protecting some of America's greatest resources, from the National Park Service to the EPA, have the funding they need to carry out their mission and maintain our parks well into the future.
From the towering peaks of the Grand Tetons to hallowed grounds of Gettysburg, national parks represent who we are as a nation. We must all come together to ensure they are protected, just as we've done for the last 100 years. Only then will we heed the advice of Theodore Roosevelt and leave the next generation national parks that are "increased and not impaired in value."
Theresa Pierno is President and CEO of the National Parks Conservation Association.
Calling all HuffPost superfans!
Sign up for membership to become a founding member and help shape HuffPost's next chapter