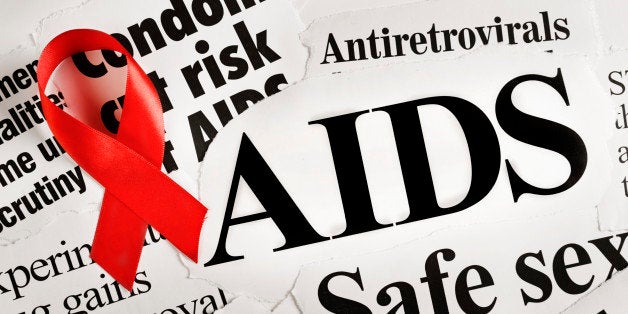 Last week, UNAIDS issued an ambitious new set of global AIDS treatment and prevention goals to reach by 2020. In a report issued ahead of World AIDS Day, the agency wrote that by reaching these five-year goals, the world will be on track to effectively end the AIDS epidemic a decade later.
Some of these "Fast Track" goals debuted earlier this year. At July's International AIDS Conference in Australia, UNAIDS launched 90-90-90--a goal for 2020 that aims to have 90 percent of people with HIV aware of their status; 90 percent of them receiving antiretroviral therapy; and 90 percent of those on therapy having their virus suppressed so they can stay healthy and avoid transmitting HIV to others.
Last week's report includes a welcome addition -- the five-year goal of reducing annual HIV infections to 500,000, and reducing stigma and discrimination to zero in the next five years. The goal to reduce new infections would be a dramatic decline from the 2.1 million people who became newly infected in 2013. It's inspiring and is, indeed, achievable IF all the right steps are taken.
But something big is missing from this picture: how to get there.
UNAIDS has draft versions of prevention and non-discrimination targets that could answer some of these "how" questions. The comment period for these documents recently closed, but we are told that final versions of these targets are expected soon. AVAC has argued that there needs to be more precision in the prevention targets, which lay out a range of coverage targets for condoms, oral pre-exposure prophylaxis, cash transfers for young girls and other interventions.
These goals are thought-provoking, but they aren't backed by clear plans, strategic thinking or technical support for how countries should implement combinations of interventions for maximum impact. We hope the final versions of both target documents address this gap.
Unfortunately, there is a real risk that these targets will be unmet (and even irrelevant) because of a yawning resource gap at the global level -- and because targets can seem detached from the reality of HIV/AIDS programming on the ground in hard-hit countries.
The big-picture messages about what to aim for are right. But the success or failure of efforts to break the AIDS epidemic will be determined by the funding and the details -- not just over the next five years, but over the next six months, 12 months and two years. We just can't wait five years to see if the AIDS response is on track. We need ambitious, yet feasible, short-term targets and strategies to be just as well-defined, and just as rigorous, as the longer-term goals that UNAIDS has worked to advance.
In a new AVAC briefing paper issued today, Prevention on the Line, we describe what's needed to ensure that a comprehensive response is driven by smart planning, sufficient resources and accountability. We argue that there are three critical elements of a more coordinated, effective and accountable AIDS response between now and 2020.
First, prevention programs need to respect human rights and the realities that communities face. Today, AIDS programs are increasingly focused on specific "hot spots" of HIV transmission, and among the often marginalized populations most affected--young women, gay and bisexual men, transgender women, sex workers and injecting drug users. This shift is welcome, but it could backfire if the relevant communities are further stigmatized or aren't active partners in prevention.
Second, we need to invest in global scale-up of oral PrEP. Daily oral PrEP for HIV prevention will never be for everyone. But the past 12 months have seen a groundswell of discussion, demand and data that show how PrEP can transform HIV prevention. For example, it turns out that many of the people who have high rates of unprotected sex and are using PrEP can be highly adherent.
Moreover, these investments will not only increase the impact that PrEP can have today but will also lay the groundwork for eagerly anticipated ARV-based microbicides, if and when they are demonstrated to be efficacious in clinical trials that will report out over the next year or so.
Third, we need to keep driving ahead with research into additional new prevention and treatment options. The simple truth is that we do not yet have all the tools needed to end the AIDS epidemic. And just like the rest of the AIDS response, research needs its own short-term targets, aligned to long-term goals like the development of an effective AIDS vaccine, long-acting antiretroviral prevention and treatment, and a cure.
Our report also outlines clear examples of targets that have driven change that impacted the epidemic. The WHO "3 by 5" initiative for ART is one. More recently, the PEPFAR target of 4.7 million voluntary medical male circumcision (VMMC) procedures achieved by 2013 helped propel a surge in resources and innovative delivery.
These targets worked because they reflected evidence and were backed by resources. Their impact can be evaluated in terms of the absolute numbers -- people initiated on treatment, men undergoing VMMC -- but also in the way that they changed the sense of what was possible as part of the global AIDS response.
The bottom line is that the stakes for HIV prevention are as high as they have ever been. In this radically new environment, HIV prevention is "on the line" in two senses of the phrase. First, it is fundamental to achieving the profound changes in the epidemic that current modeling says are possible with sufficient investment and acceleration of delivery of key services. In any figure charting hoped-for declines in HIV infections, prevention is quite literally causing the line to curve towards zero. But since most of today's models focus mainly on ART, prevention is also "on the line" in the sense of being inadequately and inaccurately defined, resourced and implemented.
UNAIDS' global goals offer a meaningful vision of what the "end of AIDS" might really mean. Now it's time to sit down, roll up our sleeves, write the plan to achieve them -- and implement at scale, with increased pace and with urgency.
For more about AVAC, visit www.avac.org and follow AVAC at @HIVpxresearch. Prevention on the Line along with an accompanying slide set for World AIDS Day events or talks is available at http://www.avac.org/report2014-15.
Related
Popular in the Community