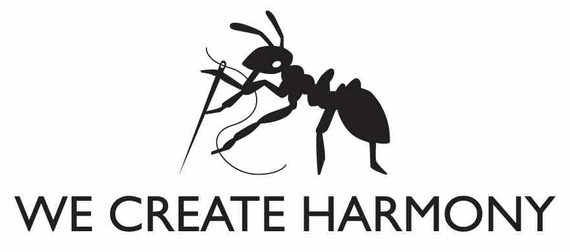 One of the toughest obstacles new designers face is how to successfully market their label so that it produces a sustainable profit, allowing them to survive in the saturated marketplace. From experience, I know that this can keep designers awake at night and be the source of that constant nagging thought that accompanies each new sketch and dampens the thrill of each new sample. They might have a great product that people would love. However, the question on most new designers minds is, how can they reach those people? I would like to introduce We Create Harmony.
It was founded in 2013 by three friends, Thanassis Sofianos, Michael Peratikos and Petros Voutsinas, because they saw this need and knew that their backgrounds in online marketing could provide the solution. "We had many friends who were designers and saw what a difficult time they were having with marketing and various other key logistic elements that we could help them with," Thanassis tells me from We Create Harmony's loft-like headquarters. "What we decided to do was collaborate by using our internet knowledge and give them a platform through which the designers would see more of a profit," he says.
In the two short years since its founding, the start-up has seen steady growth, with 5,000 - 10,000 unique visitors daily and a customer base spanning 30 countries. It's definitely a passion project for its founders who began with the solid desire to give back in more ways than one. Up to 10% of each sale is donated to an NGO, but that's not the only way they reach out. Thanassis says, "Our 'good cause' is the whole package -- from helping the designers we stock by ensuring them a bankable livelihood; to reaching our customers with a platform they can trust; and, finally, that sale percentage that's automatically donated to the NGOs."
Currently, We Create Harmony is running a Kickstarter campaign to raise funds which will enable the production of their own garment line, starting with... the Harmony Hoodie. Why a hoodie? "We like hoodies," Thanassis says honestly which is why he and the WCH team have gone the extra mile to ensure that the hoodie they offer is the best it could possibly be. From the 100% cotton fabric, to the environmentally friendly dyes, each hoodie is handmade in Greece, therefore employing skilled artisans with much needed work. "We didn't invent the wheel with it, but this product is a means to communicate what we've done so far and where we want to go," Thanassis says as he shows me the samples and finds one in my size for me to try on (Note: it's super comfy!).
Other than the obvious -- promoting their brand and raising funds for their own line -- the reason WCH turned to Kickstarter was so that they could introduce people worldwide to who they are and raise awareness for what they're trying to accomplish. WCH focuses on creating a solid, dependable name for itself by cultivating customers' trust and earning their loyalty through the use of responsible best practices any international brand would be proud to boast. "Our name has to be spotless. This is what we aim for and what we try to achieve every day," Thanassis says, emphatically.
We Create Harmony is very aware of the difficult reality of unemployment facing many people which is why they chose to build their brand around combating the phenomenon. From the get go, they've focused on projects that aim to "teach people how to fish," so to speak. From teaching 50 unemployed people online marketing (certified by Google) therefore giving them a skill which would make them instantly employable, to awarding a fashion design scholarship to a multitalented individual (who WCH also hired to film their Kickstarter campaign video,) they aim to help people by giving them the tools to be able to help themselves in the long run. "We're not going to change the root of unemployment," Thanassis shares. "But we're trying to help some of the people who need it."
And people are taking notice. Not only has WCH been approached by investors who are interested in taking their brand and good causes global, but they are on the radar of other widely established brands that have mastered the blend of fashion and philanthropy. To note, TOMS Greece contacted them and the two are currently in the process of a joint special project aiming at helping disadvantaged youth.
This brings me to the We Create Harmony logo. A single, humble ant, which is cleverly embroidered on the back right shoulder of the Harmony Hoodie. It might seem a very unique choice... until one stops and considers what it represents. "A single ant can't survive," Thanassis says. "But if a colony works together in harmony, with collaboration, then they can thrive."
We Create Harmony -- the metaphor, the reality, the symbol, the passion. Be sure to check out their Kickstarter campaign and join the movement!
Note: This is not a sponsored post. The writer found out about the Kickstarter campaign and admired what the brand is aiming to accomplish through it.