Co-Authored by Frederick Hill
Hunger is an epidemic that occurs all around the world. Although it is something we may hear about more often elsewhere, the truth is, millions of Americans suffer from food insecurity right here in our own backyard. According to Feeding America, in 2011 more than 50 million American households struggled to feed their families. In a classroom of 20 students, more than 4 of them will suffer silently from hunger. They will go to sleep hungry, wake up hungry and go to school hungry. The World Food Programme sustains that hunger kills more people every year than AIDS, malaria and tuberculosis combined. One in six Americans go hungry. More than one in five are children.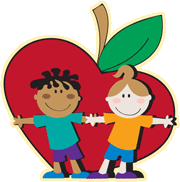 One woman, appalled by these statics, has moved to do something about it. Based in Alaska, Bettsie Wild founded and executively directs Dare to Care, a nonprofit school lunch program that helps provide children with food that are unable to bring lunch or money to purchase it. The organization began almost seven years ago, which was inspired by Wild's daughter Lena, who, a first grader at the time, generously and compassionately began sharing her lunch with a friend. "She was only six years old," says Wild, "and her awareness of someone in need made me very proud. But I was also very sad that a little girl, like my baby, could be going hungry every day."
Then an issue arose which hindered Lena from continuing to assist her friend due to the no-share policy their school (as well as many other schools) enforced due to food allergies. "It was very upsetting that there was a little girl going hungry and a peer wasn't allowed to help," shares Wild, "We ending up visiting the principal to see how we could help this girl and learned of the bigger problem."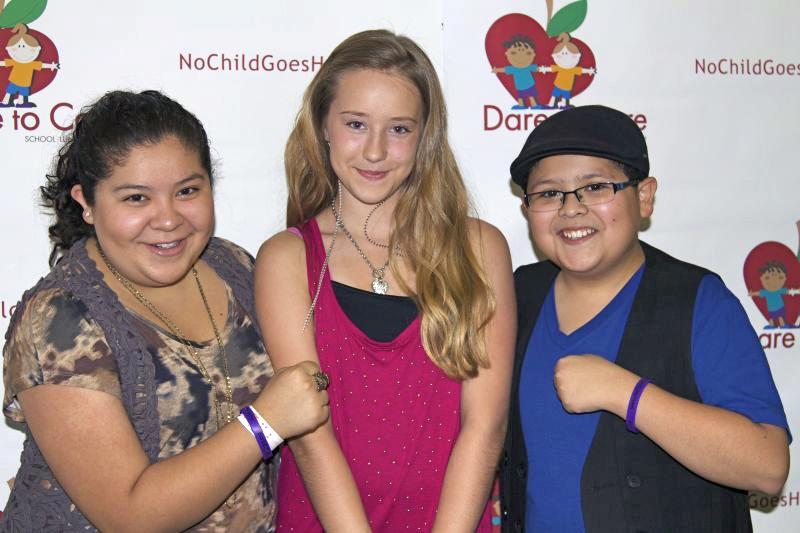 Lena at a gifting suite with brother and sister actors and advocates, Rico and Raini Rodriguez.
Although Alaska is known for its fresh air, rugged beauty and friendly people, the largest state in America has a more insidious situation they are forced to deal with: child abuse and neglect. Being in one of top nations for reported cases, and because of different circumstances surrounding them, Dare to Care ensures that money is put into the student's lunch account anonymously and has made it their mission to avoid drawing attention to the children who need help and at the same time, not break any confidentiality rules. Wild's main objective is to continue providing hot lunches for students without painting a scarlet letter on their chests. "The best part of the program is NOBODY knows!" Says Wild, "There is no special line, ticket or food being given out. Kids go eat with their peers and eat the same thing everyone else is eating."
Wild and her team have fed more than 2,500 children in multiple school districts. Although it takes a toll, Wild and her team find the strength to persevere in making a difference in children's lives. The foundation orchestrates fundraising events and welcomes new ideas to help raise money. "I think the worry and fear comes with fundraising. It's always a worry that the program will run out of funds before the end of the school year," Wild continues, "That would break my heart and that fear stresses me out a lot."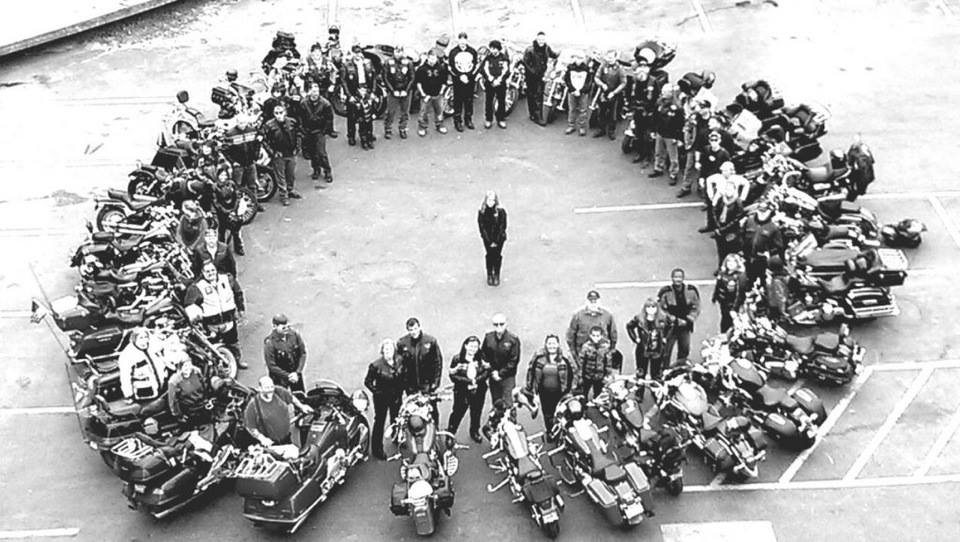 Lena at a Riding to End Childhood Hunger event with the Blue Knights, law enforcement personnel who ride.
With dreams of a nationwide program, Dare to Care depends on donations and word of mouth to help raise awareness. Their tag line, "No Child Goes Hungry," was inspired by the national educational campaign, "No Child Left Behind." Wild declares, "How can we expect them to be
able to focus, learn and not be left behind when they are consumed with hunger pains?"
Aside from Dare to Care facilitating anti-bullying assemblies at schools to help teach and promotes tolerance and not judging others, they are starting a media campaign to bring awareness and also encourage people to visit their website for more information and hopefully sponsor a child. They have set up their website so people can sponsor a child for a week, month, semester or a full year. "Twenty dollars will feed a child for a whole week," Wild says. "That would make a huge difference in a child's life."
REAL LIFE. REAL NEWS. REAL VOICES.
Help us tell more of the stories that matter from voices that too often remain unheard.