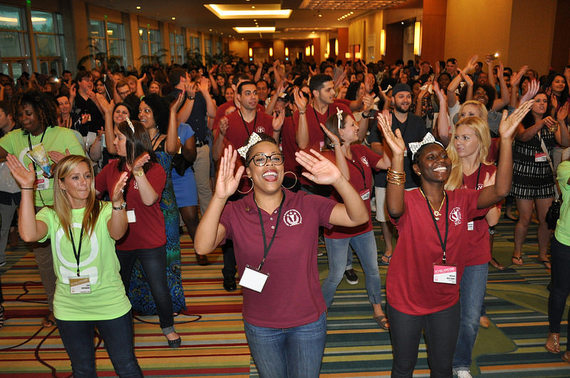 Did you know that neuroscience now shows critical parts of the brain involved in decision-making are not fully developed until you are 25 years old? This means that for the average college student, his or her emotional maturity, self-image and judgment are still coming into focus as the prefrontal cortex of the brain is fully developing.
All the more reason that summer is so important for students, especially high-achievers. I'm just back from ScholarCon, which is the largest gathering of high-achieving college students who belong to multiple honor societies. I saw firsthand that they have a lot on their minds.
While there are reports this is the best economy in recent years for recent college grads, anxiety about finding that first professional job runs high. The resume writing and career building sessions were packed. Dozens of attendees also presented creative ideas and solutions around their social entrepreneurship initiatives to peers and professionals, who selected nine presenters to receive over $20,000 in scholarship prizes.
On another front, students are very focused on sexual assault and relationship abuse issues. We heard from Kyle Lierman, the associate director of the White House Office of Public Engagement, who spoke about the "It's On Us" campaign. He encouraged attendees to take the "It's On Us" pledge, "a personal commitment to help keep women and men safe from sexual assault." There was also a special screening of the film The Hunting Ground, followed by a passionate facilitated forum on what these high achievers can do to make a difference as they return to campuses this fall.
We wrapped up the event with remarks from closing speaker Kal Penn, actor and former White House staffer to President Obama. He was even asked to do an imitation of the president; he passed on that opportunity and instead told fun and insightful stories about what it's like to work for the most powerful man in the world. He also explained how seeing the passion of young people on the campaign trail inspired him to become more involved in civic engagement.
Being around so many young people reminds you that their dreams are still forming -- it's exciting and encouraging. In a world that sometimes seems so increasingly divisive, it was wonderful to see so many scholars come together to acknowledge, celebrate and put into action the plans they have to leave their mark.
Calling all HuffPost superfans!
Sign up for membership to become a founding member and help shape HuffPost's next chapter