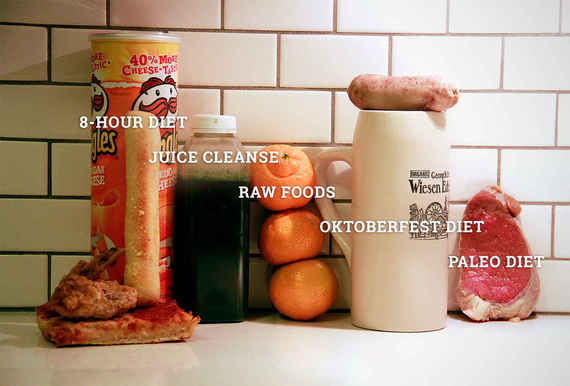 Here at Thrillist, we're committed to a certain (low) standard of healthfulness, and are willing to try anything to achieve it. And we're seemingly faced with a different fad diet each day, something promising to give us washboard abs and healthy hearts through some tinkering with what we put in our body. But which is the best?
WHAT IT IS
Basically, you eat food made only of stuff that cavemen had access to. That means meat, fish, veggies, fruit, and nuts. And no fun stuff like grains (bread, rice), dairy, refined salt, sugar, or processed oils.
FEELING AT THE START OF DAY 1
Bright-eyed and bushy-tailed.
DIET LOG
I start the day in a bad place: a coffee shop. No self-respecting Cro-Mag would eat a croissant, even if it was covered in Brontosaurus guts. So I get a dressing-free side salad and some OJ. Obviously, I'm still hungry. Luckily, I live in Portland, so of course there's a Paleo cart called the Cultured Caveman. Scored some tasty Paleo chicken tenders coated in coconut flour, plus a cup of bone broth served in a coffee cup. It's caveman Starbucks.
For a diet based around a caveman, things seem a little too foofy, so I decide to start a fire in my backyard and roast an unseasoned steak using a stick. I keep dropping it in the fire, and when it's done it's half well-done and half raw. It tastes like victory.
FEELING AT THE END OF DAY 1
Primal.
WHAT IT IS
Invented by a national treasure known as Evo Terra (not his real name!), the diet dictates that you subsist solely on a diet of sausage and beer for one month, averaging six beers and four sausages daily. He claims to have lost 14 pounds and a huge portion of his cholesterol each year.
FEELING AT THE BEGINNING OF DAY 2
Girlishly excited.
DIET LOG
Breakfast in bed is four sausage links and a blueberry lager that I realize is 8 percent only after the fact. Breakfast is AWESOME. But it turns out that sausage with no bread, onions, or cheese isn't very filling.
I have two beer brats and a porter around 3 p.m., and quickly realize that I'm not allowed to eat any more sausage for the day. Ugh, I'm starving. I head out to a karaoke bar, where I down an IPA and a huge mug of Dos Equis. I stumble through "Semi-Charmed Life." In goes more IPA, out comes Backstreet Boys lyrics, and before I know it I'm in a cab home.
FEELING AT THE END OF DAY 2
Huh? Starving. Also, you're pretty.
WHAT IT IS
A steady, daylong diet of nothing but organic, fresh squeezed juices formulated to act as Liquid-Plumr in your intestinal tract.
FEELING AT THE BEGINNING OF DAY 3
Miserable, tired, and hungry.
DIET LOG
My fingers still smell like sausage and beer, but this bright-green bottle marked "Prana" smells like a freshly mown lawn... probably because it's made of romaine, collard greens, cucumbers, cilantro, and lemon. It tastes like chores. So does the next one, made of kale, spinach, parsley, and celery. Also, I can't get off the couch. I feel terrible and need Domino's.
Drink three is a nice change of pace, since it's apple, beet, and carrot. It looks like stage blood, but tastes sweet. But my stomach isn't happy, and I soon find my college basketball game interrupted by a howling deep inside of me. The good news is the green stuff has definitely gone through my system. The bad news is that this will happen 11 more times over the next eight hours -- representing the entire color spectrum -- and the cayenne that dominated the carrot/red pepper/broccoli juice really makes its presence known.
Luckily, the last juice is almond, cacao, vanilla bean, nutmeg, and sea salt. It tastes like chocolate milk, and lulls me to sleep like a baby (a baby who desperately needs to switch to Cottonelle).
FEELING AT THE END OF DAY 3
Vacant and dead-eyed.