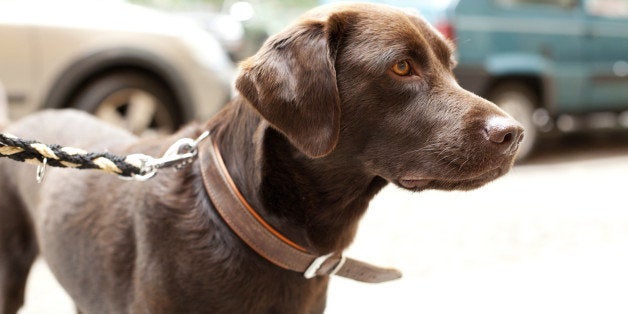 I know plenty of people who have successfully found love through online dating. I even know some folks who have grown their families by starting the adoption process or the search for a sperm donor online. It never occurred to me that we would fall in love online, but we did.
To complete our family, I had envisioned a picturesque sunny day, our whole family walking into a shelter and playing with pups until the perfect little girl -- playful, sweet, tough, but not mean -- would shine through the rest. That never happened. Instead, as I dreamed of the pitter patter of little paws and the giggles I knew I'd hear as my children played with our future family member, I stumbled onto petfinder.com and shared pictures of cute canines with my husband (who wasn't yet 100% on board). On the third or fourth night I spent on the site, I fell in love at first sight with the cutest little brown-eyed face, and I couldn't get her off of my mind. Andy felt the same tug at his heart and I jumped at the chance to make something happen.
It turns out that this sweet girl was a rescued pup, staying with a foster family in Tennessee. The rescue organization was really helpful. We all wanted to make sure that this pup was placed with the right family. We had three children and two cats and needed everyone to be happy and comfortable. Not only did they send photos and video via email, but Ginger's foster mom and I had several phone conversations, and then we received more video footage. Because she had been in a foster home, the organization was able to tell us a lot about her temperament and confirm that she was good with cats, small children and other dogs.
On November 19, 2011, we drove to NH to meet the truck transporting Ginger and the other dogs who were rescued from high kill shelters. She instantly became part of our family -- snuggling and playing with the kids, enjoying long walks and hikes and eliciting endless giggles from ALL of us with her silly antics and playful personality. My son would snuggle her after a long or hard school day and feel better about whatever had been bothering him, and since we lost Josh this summer, she has helped us all through. She's extra snuggly when she knows we need the extra love and she's silly and playful to make us laugh and smile. I can not say enough how thankful I am to have this sweet pup as part of our family.
If your family has a little more love to share and you're thinking of adopting a dog, consider adopting through a rescue organization. Check some out here or use PetFinder, Rescue Me or Adopt A Pet.