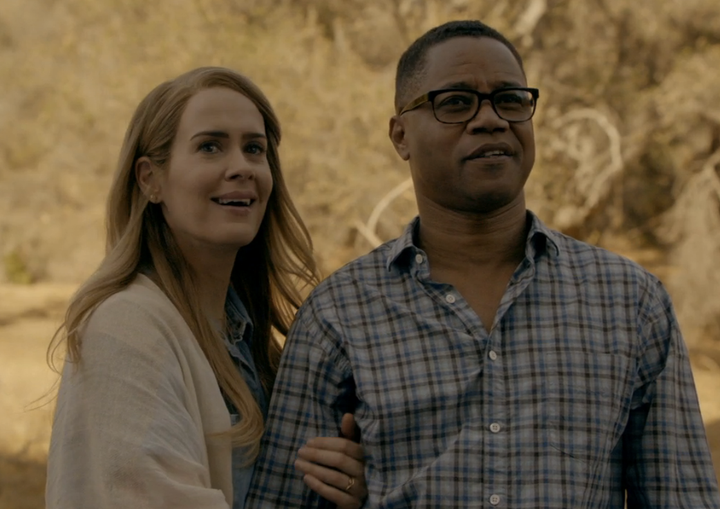 Warning: Spoilers below for "American Horror Story" Season 6.
The lost Roanoke colony! Now, after over two dozen teaser trailers and months of fan speculation, we finally know what it's all about.
In the first episode of this new installment of FX's anthology series, a Southern Gothic-tinged true crime mockumentary with a strong flavor of "Murder House," we meet three key characters ― or, in a way, six. 
Confusingly, there are two sets of actors playing Matt, Shelby and Lee. One set ― Cuba Gooding Jr., Sarah Paulson and Angela Bassett ― plays the characters as they live out their horrifying experience. Another ― Andre Holland, Lily Rabe and Adina Porter ― plays the characters as they recount that experience in the style of a documentary. Between commercial breaks, the title "My Roanoke Nightmare" flashes onscreen, which smells a lot like documentary shows such as Lifetime's "I Survived." 
Matt works in Raleigh, North Carolina, coincidentally the same modern-day state where the lost 16th-century colony was once located. His partner, Shelby, is a yogi who suffered a miscarriage after Matt became the victim of a "knockout game." To get a fresh start, the two buy a suspiciously inexpensive 18th-century house in the middle of some woods that look like they've been the scene of more than their share of crimes. And soon, the couple is plagued by frights ― enough that Matt calls his sister Lee, a newly sober former cop, to stay with Shelby while he's away for work. Even if it is just hillbillies picking on an interracial couple in the South, no one is taking any chances.
Especially not when a massive web of creepy dolls shows up in the foyer. 
But here's the rub: By the end of Episode 1, this little family already wants to run away from their "Murder House." What could possibly get them to stay?
That's not our only question for Season 6: Why does the ground move? Who will Lady Gaga play? What are the "elements of children" that Ryan Murphy mentioned back in March? Is Kathy Bates someone who ought to be long dead ― again? Can Evan Peters please be playing Charles Manson?
There's just one thing we know for sure: Matt and Shelby had better hope that Jessica Lange isn't living next door.
Calling all HuffPost superfans!
Sign up for membership to become a founding member and help shape HuffPost's next chapter
BEFORE YOU GO
PHOTO GALLERY
A Ranking Of Wise TV Narrators