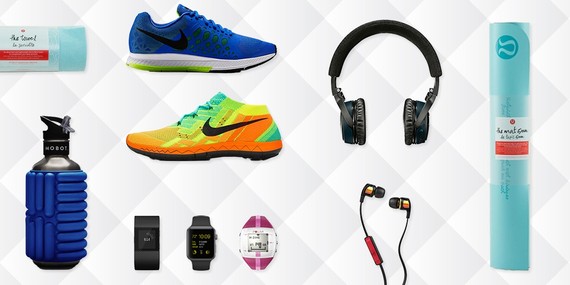 Oy vey, it's already that time again! Well, once you get over the fact that you're getting another year older, take a moment and be grateful that you have someone to share the holidays with (in which case, check out our innovative list of Christmas gifts for her). So instead of stressing on what to get your foxy lady, take a deep breath and remember that this, like your relationship, should be fun!
So you're dating a "fitness-minded girl"? That's awesome for you, and because you picked a girl who takes care of her health, the gift giving should be easy!
What's her style of sweat? Here are a few ideas:
If you want to bundle the gift but wrap the presents separately (after all, the best part is unwrapping), Lululemon's new yoga mat Loop strap is amazing! The old velcro style is outdated and annoying when you're trying to be quiet in yoga because people are deep in meditation. (Photo: Lululemon)
...the Nike Free 3.0 Flyknit (the molded sock liner mimics her foot's shape for added support)...(Photo: Nike)
Crossfitters are constantly building and straining muscles and so their recovery is very important. Despite how good it feels to be sore, it is important to remember that a healthy muscle is never a sore muscle. That's why I suggest the Mobot Foam Roller & Water Bottle. It's the ultimate multitasking tool, allowing for hydration and foam rolling -- not to mention a huge space saver, if you're traveling to get your sweat. Although foam rolling seems like an inconvenience, it is essential to recovery. It helps with soreness and flexibility, and is a great self-myofascial release. The combo of water bottle to foam roller will make it convenient to roll and hydrate on the go!(Photo: Mobot)
There are many different styles of fitness tracking devices, all of which will take your fitness game to the next level. Some you wear on your wrist, others around your chest, some look like watches and some are simply apps on your phone. Whether she's interested in the physiology or anatomy of what's going on, she'll learn about her workouts and their efficiency on a whole new level -- when she's in an aerobic state, anaerobic, the fat burning zone, target heart rate, etc. The obvious pick is the Apple Watch (music, texts, calls, fitness tracking and more)...(Photo: Apple)
For more gift ideas from Pixie Acia, visit AskMen.