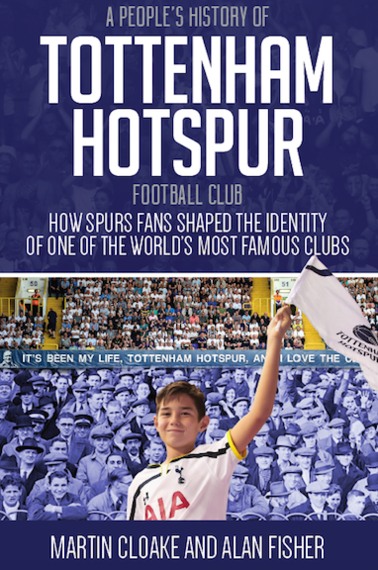 On September 14 at Wembley Stadium, England's Tottenham Hotspur Football Club and its hungry-for-success supporters will engage France's Monaco in both teams' opening game of the group stage of the Champions League, European soccer's elite club competition.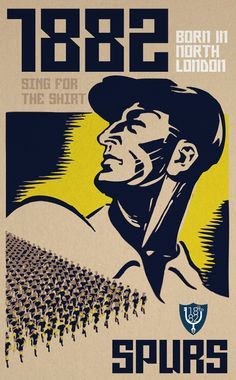 Founded in 1882, Tottenham or Spurs are one of the world's most venerated sports clubs, older than the Dallas Cowboys (1960) and New York Yankees (1901), the two most valuable American teams.
According to Martin Cloake and Alan Fisher, the co-authors of the superbly written and passionate new book, A People's History of Tottenham Hotspur, Spurs have actually never played a home match more than 600 yards from the second lamppost on the right down the Tottenham High Road -- the spot where members of the Hotspur Cricket Club originally formed the club way back in the Victorian era. I know, right?!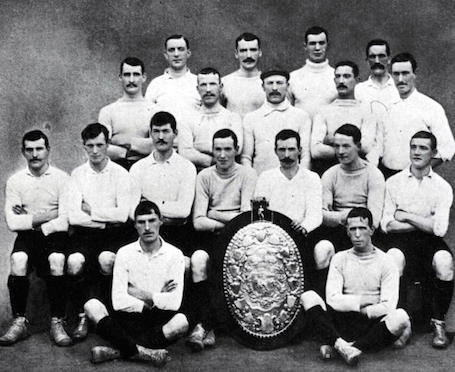 Spurs 1901 FA Cup-winning team - the same year the NY Yankees were established
So for the expected close to 90,000 fans, playing this home CL game at Wembley, while Spurs' new stadium is being built, will be a truly auspicious date. This game will probably break the record home attendance for an English team competing in the Champions League, and it underscores the theme of this new book -- How Spurs Fans Shaped the Identity of One of the World's Most Famous Clubs.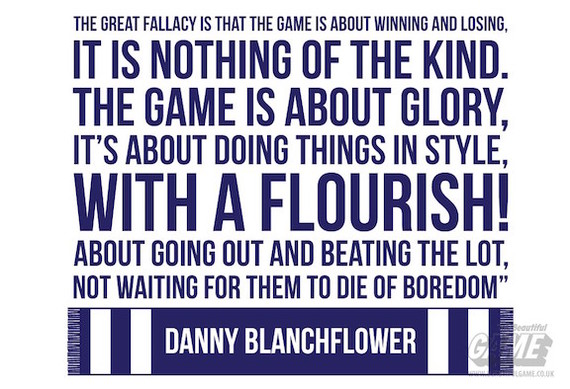 In their book, longtime Spurs fans and regular season-ticket holders, Cloake and Fisher colorfully tell of the neophyte club playing its first matches on public parkland in Tottenham Marshes, to now playing its home CL matches at Wembley, the shrine of English football -- we have come a long way, baby.
The authors narrate Tottenham's story through in-depth research and they highlight the worldwide voices of Spurs' fans, making the book perhaps the first full-length history of support and supporters for any British club.
We may indeed be paupers compared to today's millionaire athletes, but supporters are the very lifeblood of any sports team from the Far East to Europe to America, where 60% of people here say they are sports fans. So why do sports teams have such power over us?
Sociologists suggest that sport is like a civic religion, and that through fandom, like in religious worship, "our social connections are brought to life, in the stands as in the pews....(serving) as a reminder of our interconnectedness and dependency..."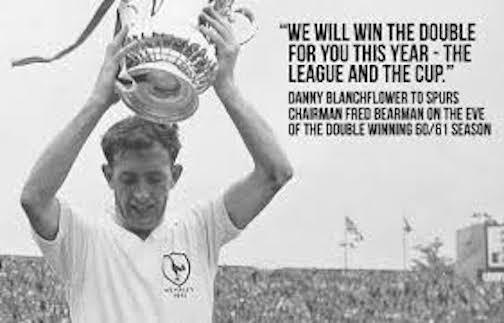 Being a fellow lifelong supporter of Spurs, I recently read a Tweet by Tottenham's 1960-61 double-cup-winning legend Cliff Jones: "The fans make the club and always will..." And then I read what present day Spurs star, Harry Kane, says, "You feel that energy around the stadium. We are doing all we can to give the fans back what they want to see."
I'm also chuffed to see myself quoted by the book's authors as to my own reason for joining the church of Tottenham when as a child growing up in South Wales, I saw the magic in the dazzling all-white of Tottenham's European kits under the night lights. I also explain how American fans are increasingly drawn to supporting Spurs and not to simply bandwagon onto one of the top-4 richest teams:
The ones who do come over to the Lilywhite side -- not the dark, other north London side (L'Arsenal) -- have done their due diligence. They've been supporting US teams in other sports all their lives, so they know about winners and losers and dynasties: like the Yankees in MLB...and the Cowboys in the NFL. So they know sport. They don't want to bandwagon...yet, they've wanted a team with potential. And, most importantly a team with a story. There are a lot of Uniteds, Cities and Reals in the world but only one Spurs -- as one newbie US fan told me, 'This crazy club with a crazy name was the one that finally roped me in.' And the cockerel with fighting spurs on the crest is also a big attraction. And so is our history from legendary Danny Blanchflower's famous quotes about playing football with 'style' to more recently the exploits of Gareth Bale and now of Harry Kane.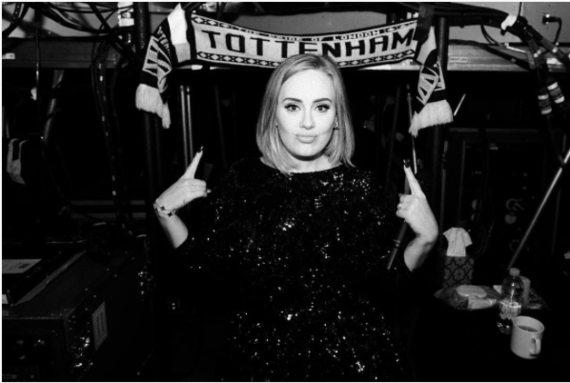 Music superstar Adele - a modern day Tottenham fan
In the Epilogue of their new book, Fisher, who composes the erudite yet pragmatic Tottenham On My Mind blog, writes about why football is more than just life and death to us fans:
Our lives are full of our stories, our stories are full of our lives. We tell stories about ourselves, about what we do, what makes us laugh and cry, happy or sad, what makes our heart beat faster. It's how we make sense of our world and our place in it...Our football stories are about meaning, a reason to be, reasons to believe, reasons to be cheerful, to turn up next week and the week after. They're an expression of what we feel when we see the game, feelings that cause a stir deep down and we're not sure quite why...Being a Spurs fan means something, something deeper and more profound than just wearing a shirt... Spurs fans come from far and wide, from different places, backgrounds and cultures, but come to a run-down part of north London they do, for magic, passion and the history...Now is the time for new stories to be created as we pass on the flame. There's only one Hotspur...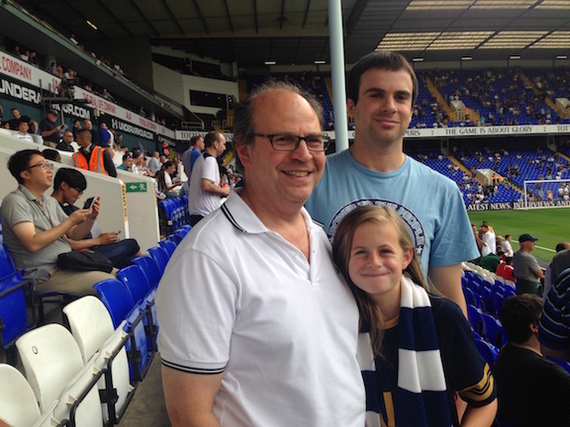 Co-Author Alan Fisher in White Hart Lane's famous Shelf, passing on the flame to his family
Here's to a night to remember on September 14, when the words from a famous, stirring song will gloriously resonate around Wembley: "Oh when the Spurs, go marching in/Oh when the Spurs, go marching in/I wanna be in that number/Oh when the Spurs go marching in..."

Calling all HuffPost superfans!
Sign up for membership to become a founding member and help shape HuffPost's next chapter