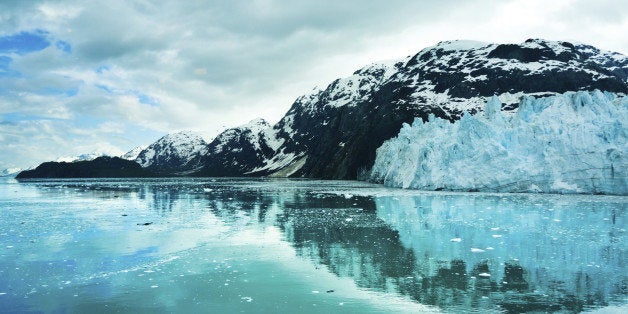 One degree is the difference between ice and water. Thirty-two degrees Fahrenheit is the magic number. For the people who live in villages on the Bering and Chukchi seas in Alaska, the difference is life-threatening.
Just south of the Arctic Ocean, these northern seas separate Alaska from Russia and freeze during winter. Blanketing millions of miles, sea ice forms when the water temperature dips below freezing. Fastening to the coast, the ice creates a seawall protecting villages from storm surges and flooding. September and October were traditionally the months when the Bering and Chukchi seas began to freeze for the winter. But now these seas may not freeze until December or later.
Increasing temperatures are transforming the Arctic landscape. In October 2015, the monthly mean temperature in Alaska was 37.5 degrees Fahrenheit, a significant 5.5 degrees Fahrenheit above the normal temperature - 32 degrees Fahrenheit. October's temperatures were not an anomaly. According to NOAA, eight of the ten months in 2015 are the warmest on record - 1.55 degrees above the 20th century average. In Alaska, 2014 was the hottest year on record in many communities across the state. Ice and snow, iconic elements of the land and sea in the Arctic, are disappearing. Arctic Ocean sea ice has decreased by 36 per cent in the last three decades. This extraordinary melting of sea ice in the Arctic Ocean contributes to the late freezing of the Bering and Chukchi seas.
Loss of sea ice causes coastal villages to be exposed and vulnerable when storms occur. Autumn is the time of year when the lack of ice can be terrifying and extremely dangerous. Typhoons do not occur in Alaska, but typhoon strength winds batter Alaska's west coast. In 2014, super typhoon Nuri traveled from Guam to the Bering Sea, making it the most powerful storm ever recorded in the Bering Sea with sustained winds of 100 mph.
Since September 2015, Alaska's west coast has been repeatedly assaulted by extreme winds and storm surges. October began with storm surges cresting at 30 feet in some west coast communities. In November, a storm intensified explosively causing bombogenesis - the equivalent of a meteorological bomb - and created wind gusts exceeding 90 mph. These storms are causing the Bering and Chukchi seas to swallow land, threatening lives and the critical community infrastructure upon which communities depend for their health and well-being.
Kivalina, Shishmaref and Newtok are three of the most imperiled communities in Alaska. Located on small barrier islands, erosion eats the shorelines of Kivalina and Shishmaref. On September 25, storm surges caused 10 feet of land to disappear in Kivalina, almost destroying the community airstrip, the only means by which residents can leave the barrier island.
In Shishmaref, erosion currently threatens the road leading to the landfill. In Newtok, located in the Yukon-Kuskokwim River Delta, the combination of erosion and thawing permafrost - permanently frozen ground - is causing homes and infrastructure to sink into pools of water. At the same time, the Ninglick River is consuming large chunks of land, surging closer to the homes of community residents. There are no evacuation routes and no higher ground to where community residents can easily evacuate. No roads lead to or from these communities. Safety is found in the buildings which are just a few feet above sea level. After the recent November storm, Newtok resident Stanley Tom wrote: 'We are doing fine! We made it again!"
Government agencies have spent millions of dollars building rock walls and using sandbags to keep land from falling into the ocean. Yet, these efforts are not providing long-term protection. In September 2006, after finalizing the construction of a multi-million dollar seawall, federal government leaders arrived to celebrate its completion. But before the celebrations could begin, a storm damaged 160 feet of an 1800 foot seawall. The celebration was, needless to say, cancelled. A year later, 250 Kivalina residents self-evacuated in the face of a storm with forecasted twelve- to fourteen-foot ocean surges that threatened this community that lives at a ten-foot elevation level. The danger in their evacuation so extreme that community residents stated they will remain in the community the next time a severe storm inundates their island. A new seawall built in 2009 has a projected lifespan of only 10-15 years.
Each community decided decades ago that relocation was the only long-term solution to protect community residents. Federal and state government agencies agree, yet relocation has not yet occurred. A quagmire of statutory barriers and the lack of a government agency that has the mandate and funding to relocate these communities demonstrate our inability to adapt to a radically changing climate.
Community leaders have taken extraordinary steps to protect their culture and heritage, traveling repeatedly to Washington DC to lobby Congress and meet with the White House. In presentations to government agencies and Congress, Shishmaref residents plead:
The no action option for Shishmaref is the annihilation of our community. We are unique, and need to be valued as a national treasure by the people of the United States. We deserve the attention and help of the American people and the federal government. Shishmaref, we are worth saving.
Due to intense and prolonged advocacy efforts, Interior Secretary Sally Jewell traveled to Kivalina to meet community residents in February 2015. In August, President Obama followed, traveling to Kotzebue, a few miles south of Kivalina, making him the first sitting U.S. President to travel north of the Arctic Circle in the U.S. Despite these visits, no community knows when or if it will be able to relocate to higher ground and protect their unique way of life and connection to the land of their ancestors.
We must cut to our carbon emissions immediately and cannot wait for the climate negotiators to create a binding agreement in Paris. To begin radical carbon reduction, each of us can stop using motorized transportation at least one day each week. Walk, ride a bicycle or stay at home. For those of us who have had access to extraordinary mobility, we must immediately alter our lifestyles to have a chance to prevent the worst of climate impacts and protect those who face the permanent loss of the land on which they live. The time to act is now.
Support HuffPost
The Stakes Have Never Been Higher
Related
Popular in the Community