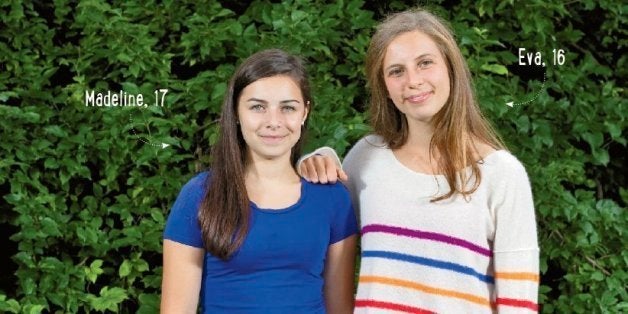 For years Madeline and Eva suffered in silence. Then they shared their secret with each other: "We have depression." It was only the beginning of an unlikely story of two teens determined to shine a light on depression—by opening up to the world.
Madeline Halpert and Eva Rosenfeld were bunking together at a student journalism conference last November when they found an unexpected connection.
On their first night there, Madeline caught a quick glimpse of a prescription bottle in Eva's suitcase and recognized a very familiar name: Prozac. It was the same anti-depressant that Madeline had been prescribed the year before, when her depression took hold.
Without thinking twice, Madeline opened up to Eva, and Eva spoke freely in return, revealing that she had been suffering from depression too—since eighth grade.
"I felt so relieved," explains Madeline. "I had never talked to anybody who could relate to what I was experiencing. It made a world of difference to know that I wasn't alone."
It's true: Depression isn't something you usually discuss with your classmates, but it's definitely not rare. Approximately 1 out of every 10 teens (of every race, gender, social group, and economic status) will suffer from it by the time they graduate from high school, and a survey released by the World Health Organization earlier this year found it to be the #1 cause of illness in teens worldwide.
But if it's so prevalent, what's with the hush?
And why do depressed teens feel so alone? Those are exactly the questions that set Eva and Madeline on a mission—as Eva explains it—"to put real faces on the illness." As co-editors of their high school's newspaper in Ann Arbor, Michigan, they proposed devoting an entire issue to personal stories from their peers who were suffering from mental illness.
Their goal: honesty with no anonymity. "The stigma surrounding depression makes people feel like they can't talk about it openly—or at all," says Eva. "And in turn, those people are not getting the help they need."
But in the end, school officials blocked the issue, citing their fear that the stories would provoke bullying or trigger recurrences in recovered students. Eva and Madeline were sympathetic to their viewpoint, but also believed that this reluctance to support a frank discussion about depression teaches teens that they should be ashamed of an illness they cannot control.
Fired up, they wrote an essay about it and sent it off to big-time newspapers. To their surprise, The New York Times agreed to publish their article as an op-ed, giving them a forum for their perspective on their school's decision—but not an opportunity to share the personal stories they had worked so hard to gather.
That's why we've teamed up with Madeline and Eva, who enlisted another friend—Caroline Phillips, a 17-year-old fellow editor—to help. Together, the girls chose classmates (or former classmates) whose personal struggles with depression show the disease for what it really is: difficult, diverse, and—most important—treatable. Here are their very powerful and incredibly brave stories.
"IN DARK MOMENTS, REMEMBER: IT ONLY GETS BETTER FROM HERE"
Evan, 19, has always been passionate about soccer, from playing it and watching it on TV to volunteering with TopSoccer (a program that helps athletes with disabilities play the sport). He also loves to fish, canoe, and read—up to three books a week—and hopes to one day settle down in New Zealand.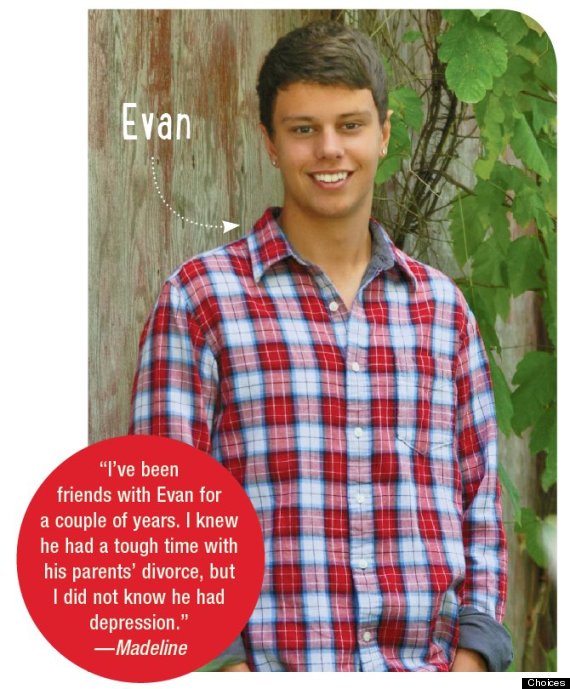 When Evan's parents separated junior year, he felt lost, unmotivated, and—for the first time ever— extremely depressed. "My dad, [who is] such a strong guy, was upset all the time," he says. "With him emotionally compromised and my mom gone, I had to be a parent to my younger brother."
Faced with that overwhelming responsibility on top of his depression, Evan struggled. "At my worst, I felt like nothing could make me feel better—not even my girlfriend or friends," he says.
But Evan eventually found a healthy way to cope—a therapist. "Therapy keeps me open and gives me feedback about how to help myself," he says.
Still, Evan is often frustrated by what he sees as a permanent illness. "It comes in waves," he says. "Some weeks I'll be happy, and then that weekend I'll be low for no reason. It always comes back."
While Evan cannot predict when his depression will hit, he has found comfort in one hopeful piece of advice from his friend Henry.
"At my worst point, he told me, 'The darkest times are behind you,' and it's true," says Evan. "Everything always works itself out, one way or another."
"MY DEPRESSION IS NOT A DISABILITY"
Diagnosed with depression and then bipolar disorder, Alice, 17, loves being outside, finding new music, and serving on the Ann Arbor Community Foundation's Youth Council, which grants money to youth organizations throughout her county.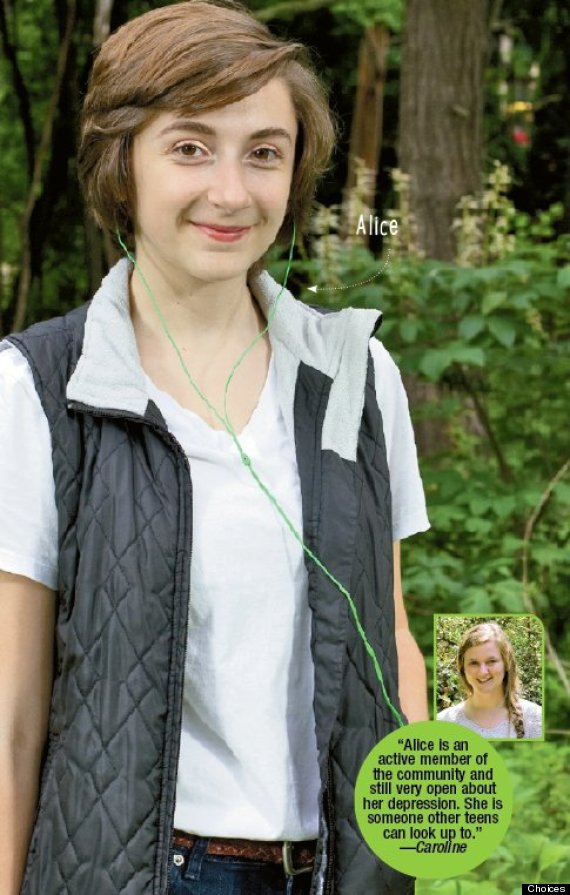 Alice first experienced depression in seventh grade: "It felt like everything was crumbling, and I didn't even care," she says. "I thought I was weird, and that most people weren't depressed at my age."
But now, five years later—after therapy, medication, and multiple diagnoses have caused this high school senior to cycle through periods of helplessness and hopefulness—Alice accepts her illness. "If I'm listening to the people around me and listening to my therapist, I'm OK," she says. "That acceptance was really important to me and for my progress as a human."
Instead of viewing her mental illness as a disability, Alice has now transformed her viewpoint. She is open with her peers and community and is able to speak with others about her struggles with no shame. This year, she auditioned—and was chosen— to give a presentation at the local student TEDxtalks. She also participated in the school's Depression Awareness Group.
"The stigma associated with depression can be so strong that it makes the situation—and your overall outlook—so much worse," she says. "But it really is nothing to be ashamed of."
Alice still occasionally has rough days, but she also has the strength and wisdom to see the power that living openly and honestly can have. "I've been strong," she says, "and now I can be grateful."
"YOU HAVE TO ACCEPT HELP"
Meet Lauren, 17, who was diagnosed with depression in sixth grade. She loves makeup, fashion, traveling, and animals—especially her bunny, Riley, and her husky, Kimba. Cool fact: She graduated from high school last year . . . a whole year early!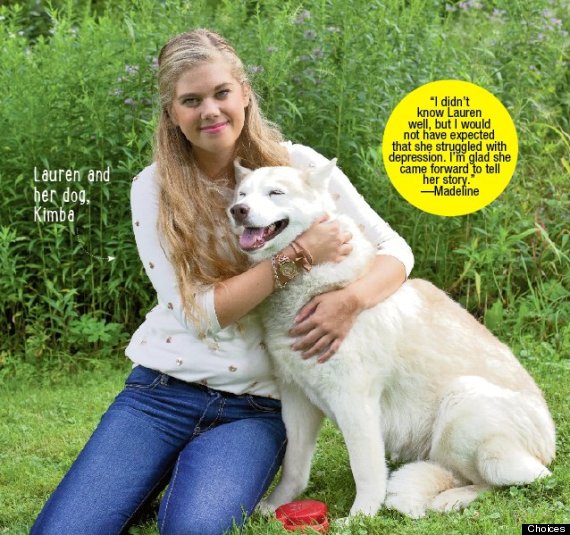 "You feel like you're drowning. No matter how hard you try, the waves push you down again. You feel empty and nothing seems to make you happy anymore. You're tired and done trying to be something you're not: happy."
This is how Lauren describes her darkest place—a feeling of being completely powerless: "Even though I could point out positives in my life, I still couldn't control that I wasn't happy."
While her friends, family, and therapist have helped to lift her up from these low points, Lauren says that the best coping mechanism has been talking to others who struggle with mental illness. "You can tell someone else what depression is," she explains, "but it's hard for them to understand why you're upset for no reason."
Lauren now feels like her life is stable. She knows her depression may not go away, but she has found a medication that works for her, and she is confident that she can handle the challenges her illness brings. "You have to let people help you to help yourself," she says.
Ali, 17, is a poet, guitarist, aspiring architect, and hockey fan who has had depression for over a decade. In his spare time, he likes to organize music shows at a local venue.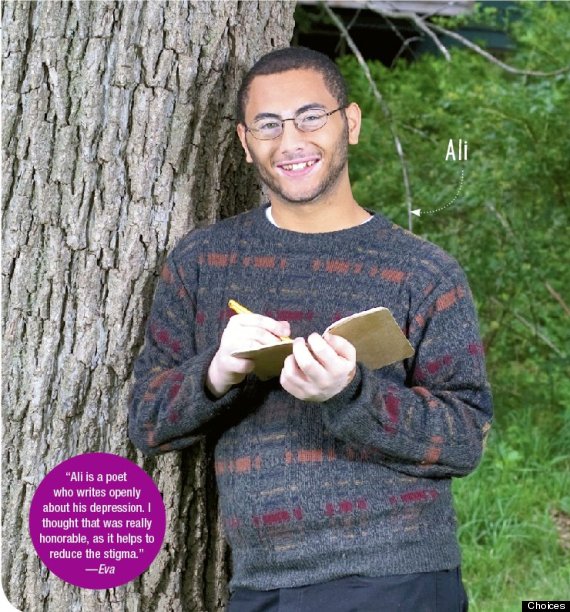 Losing one home at age 10 and a second at 16, Ali has adopted the mind-set that the only consistency in his life is a lack of it. Still, he has found methods for coping with his depression—and reasons to be optimistic.
"Part of me thinks nothing will ever be steady and firm," Ali says. "But part of me has a lot of hope that things will sort out too."
Ali has found talking about his depression through poetry to be instrumental in dealing with it. He wants people who are struggling to know that others are struggling as well, and he is willing to use his own story to carry that message.
"It's so easy to not be fully aware of what everybody has going for them in life—how everybody has a story about them," he says.
Despite Ali's openness, depression has proved detrimental in some areas of his life. At school, his grades and relationships with teachers have suffered. And while some friendships have been strengthened, Ali has lost some friends altogether.
"When [friends] see that I have sunk into my feelings, it agitates them," Ali explains. "I know that in their hearts they want to help, but it's really hard to help people with depression. It's not like you can just tell them it's going to be OK and they get better."
Ali tries to take life one day at a time, and he urges people not to be ashamed to tell their story—and to be accepting of others' stories too.
"Always keep an open heart," he says. "You never know what's hiding behind someone's eyes—or inside their heart."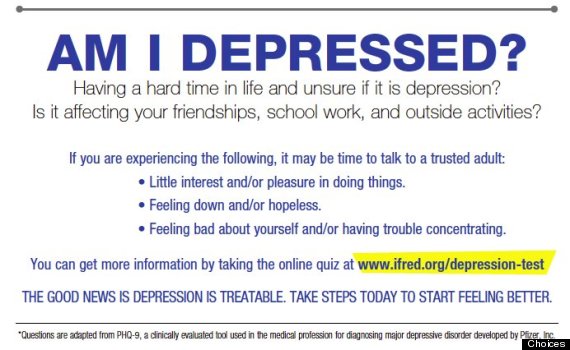 This article originally appeared in the November/December issue of Choices. For more information about the magazine, including how to subscribe, click here.
Before You Go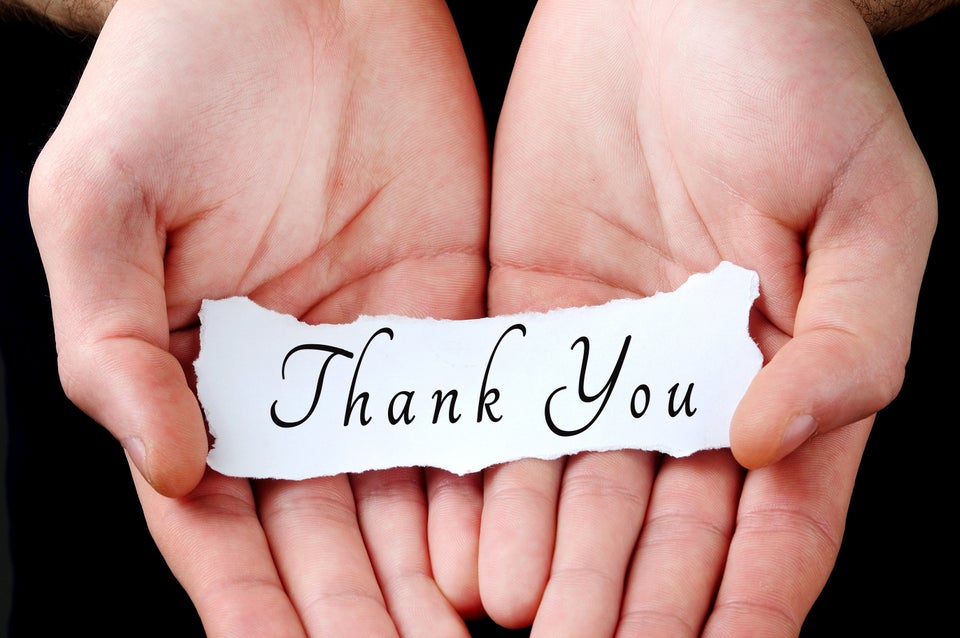 10 Habits Of Optimists
Popular in the Community