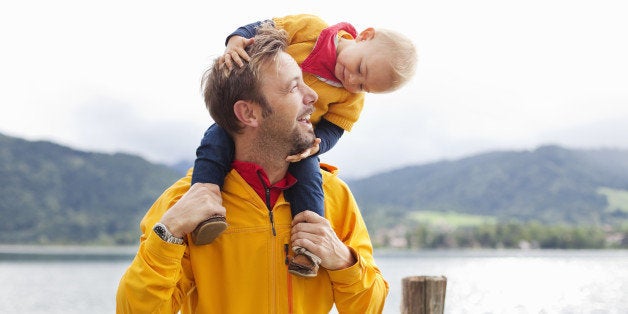 There have been two incredible fathers in my daughters' lives.
One of these men comes home to a houseful of women every evening after work, kicks off his shoes and slings his laptop bag down to the floor. He makes the rounds, finding each of his girls in turn, greeting them with kisses or tickles, or both. He's met in return with smiles and giggles and cries of "Daddy!". His labors take the form of healthcare and mortgage payments, family dinners around the table, ice cream treats, new shoes, sparkly headbands and delicious bottles of wine and craft beer. He stays up late to fend off scary monsters and tuck little bodies back into bed. Then, he gets up early and does it all again.
The other of these men has never even met my daughters, yet he is one half of all three of them. I can see him in them -- his nose on one, his eyes on another, his mouth on the third. The girls know stories of him and recognize his photograph. They call his mother Nana and his father is Pop-Pop. His sisters are Aunts, and his best friend is Uncle. He never held my daughters, but his imprint has been left on their young lives through his example of fortitude, of faith, of strength. He is spoken of often and fondly. He's remembered through smiles and through tears. He died too young, but managed to give me the joy of my children -- a gift for the rest of my life.
Raising my daughters to know two fathers is challenging. It is special, and it's joyous at times, and it's also confusing and heartbreaking. Much of the challenge I face from this task stems from the fact that my daughters are so young, but are old enough at the same time to want an explanation. How is one supposed to go about showing 3-year-olds who their father was when they already clearly know and love who Daddy is? Broaching the subject of death with a child so young is risky. What do you say that will help them understand what happened without frightening them? Children are so intuitive and they absorb so much emotion and knowledge. What is the best way to handle it all?
My approach from the very beginning has been honesty. When I met Matt after Sean had died, I was honest with him. He knew from the start how my life had been shaped by Sean's death. He honored me with the acknowledgment and acceptance of Sean's lasting presence in the lives of my children. To watch a man claim responsibility for another man's family is to witness an act of selfless giving. And Matt is amazing at it. Matt knew that Sean would always be in our lives, and he embraced his memory with more vigor and boldness than I ever could have hoped for or anticipated. Sean's family became Matt's family. Sean's children became Matt's children. And Matt somehow found a way to enable me to become his while still allowing me to belong to Sean. I want my girls to learn about love from Matt. I want my girls to learn about dedication from him. I want them to learn about benevolence from him. I want them to learn about confidence and faithfulness from him.
In the same regard, Matt and I have remained honest with our girls about Sean. What would we have to gain by hiding the man he was? We try and teach our girls that it was not what Sean accomplished that gives his memory life, but the way he embraced the life he was given with such gratitude, humility, strength and love. I believe in Heaven and I share this belief with my children. We talk often about what happened to Sean. The older girls know that he was sick and that his sickness became too great for him to heal from. They know that he died, and even though we are sad that he isn't here on Earth with us any more, he isn't sick any more, and he's in a beautiful place. There are moments when I can see the understanding deep in their eyes, and there are times when I have to acknowledge their youth. I often ask myself how I can help them better understand this incomprehensible part of their existence. They are alive because of a man who died before they were born. And they live out their days falling in love with their Daddy, who blows bubbles for them and makes them pancakes every Saturday. Time. I know understanding comes with time.
Matt is here with me every day, in the trenches, going through the worry and the struggle of raising three daughters. And Sean is manifested in the physical and emotional qualities of our children and their soulfulness is a reflection of him. Being a parent of multiple children teaches you that love does not split, but rather, grows. It is the same concept in our family when it comes to fathers. The love that we feel as a family for Matt is not divided to accomplish a love for Sean, but instead, that love is multiplied boundlessly.
Father's Day is all about celebrating the men who give us life, who make our lives meaningful and who show us love in its selfless form. This Father's Day, and for every year after, I will help my girls celebrate the incredible men in their lives. Both Sean and Matt are role models to my children. The example of how to embrace life that both of them show our children is nothing short of admirable. They have both loved me and have made loving me a priority over everything else. And my girls see that. And they hear about it. And they experience it too--their fathers' love for them is so plain and clear. My hope for my girls is that some day, when they are old enough to understand, they will carry that understanding of their fathers' love for them for the rest of their lives and that the love they have experienced will set a precedent for their future.
I know that not everyone has an amazing man to celebrate on Father's Day, so I am exceptionally thankful and grateful for the two extraordinary fathers that my girls get to honor.