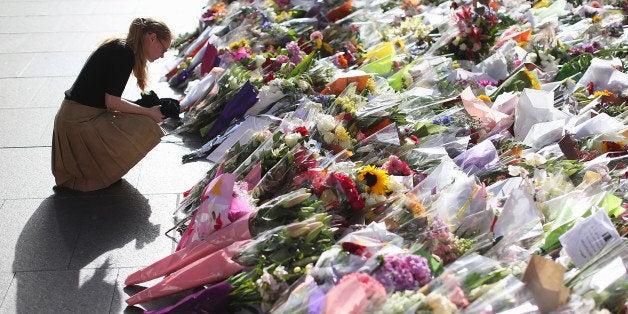 I've heard it said, "Fall down seven times; get up eight."
Resiliency is a defining factor of our humanity - the ability to overcome and push forward. We may stumble, but we get back up, not taking "no" for an answer, especially when we know we have something important to offer the world.
I have seen it firsthand so many times this year. My role at Susan G. Komen takes me around the world - literally. In fact, a week ago I was in Guangzhou, China, meeting with our partners to discuss new ways of combating breast cancer in the world's most populous country, and today, I write this from Marrakech, Morocco. But it was as I traveled from Guangzhou to Hong Kong that I learned about the tragic events that had taken place in Paris.
The world watched as people fueled by hate attacked individuals enjoying a beautiful Parisian evening, intent on destroying our collective sense of happiness, safety and peace.
But through the chaos, one thing was undeniable: good people are everywhere you look. In the midst of devastation there were flowers, offering hope for a better tomorrow.
There were many heroes that night (and many since), from those who opened their doors as people ran from explosions, to the French emergency responders who tended to the victims.
Reflecting on their selfless behavior gave me a profound appreciation for all the heroes in life. Those everyday champions who put others first, committing their lives to something bigger than themselves in hopes of a better future for everyone.
Men and women serving on active duty. Volunteers collecting food and clothing for the less fortunate. Scientists unlocking the mysteries of cancer. These are heroes who, each and every day, are fighting for all of us.
Sometimes it just takes one inspired individual to change the world. Such was the case with the widely used breast cancer drug tamoxifen (originally created as a contraceptive). For all its therapeutic potential, the drug was nearly thrown in the garbage after proving to be an ineffective contraceptive in humans. That is, until Komen Scholar Dr. V. Craig Jordan (just a young man at the time) fought for the opportunity to continue testing the drug, but for a different reason - treating breast cancer. A reason that now offers hope to thousands of women diagnosed with breast cancer each year.
Passion for others is also making an impact in Zambia - a country that overcame a health crisis with HIV/AIDS to then be stricken by cancer. In Lusaka, the country's capital, Komen grantee Dr. Groesbeck Parham and his team have had doors shut in their faces for the last 10 years as they sought to introduce cervical cancer screenings to public health care. People gave countless reasons why it couldn't be done (from limited infrastructure and resources to ample apathy), but in his own words, they "were not interested in giving up." Today, they are saving lives, and now working to introduce breast cancer screening in the country as well.
And sometimes, making a positive difference is much simpler, as it was with Daniel Fleetwood. I was astounded yet so encouraged by how even the smallest gesture - say, a tweet - can inspire a global effort to bring joy and serenity to someone's final days (which, as the events in Paris remind us, sometimes arrive all too soon).
I see the everyday heroes every time I meet a woman, man or family facing breast cancer. Parents determined to live to see children through milestones - weddings, graduations, first days of kindergarten. The men and women by their sides who fight with them, holding back their own fear to be strong for the ones they love. I see those with advanced forms of breast cancer who know that they may not survive this, but will use their experience for something greater, so that others may not have to go through what they are enduring. Their strength gives me strength, and I am thankful for it.
So, as we approach the time of year many of us are giving thanks, my hope is that we not only appreciate the moments at hand but also the men and women who are creating a better future for which we can be thankful. We have seen what is possible when dedication and resiliency come together, and we know it will take nothing less if we want to take on life's most challenging issues, like ending breast cancer, forever.
REAL LIFE. REAL NEWS. REAL VOICES.
Help us tell more of the stories that matter from voices that too often remain unheard.