The United Nations estimates the world population to reach 9.6 billion by 2050 and 10.9 billion by 2100. These billions of new people will need infrastructure to provide clean water, sanitary-waste removal, energy, transportation systems, data systems, and more. This infrastructure is the foundation necessary to achieve other global goals: promoting good health, clean water, and sanitation; providing access to quality education and jobs in a thriving economy; and supporting sustainable cities and economies.
Immense resources are required to expand infrastructure systems, and our business-as-usual approach cannot continue indefinitely. The Global Footprint Network reports that, world-wide, we are operating on our one planet as if we have 1.4 planets worth of resources at our disposal. The United States operates as if we have four planets to work with, and Europe operates as if they have two to three planets. If allowed to continue, this overuse of natural resources and reduction of ecosystem services will have devastating consequences worldwide. It's critical that the worst offenders develop new practices and that the current practices from these countries are not adopted by developing nations.
A new paradigm is necessary to support this growth and development in a sustainable manner. Sustainable-infrastructure development is about building stronger, more resilient communities, as well as providing safe and reliable services in a way that preserves what people value: the quality of their community, their environment, and their future. Sustainable infrastructure means many things: regional and trans-border inclusivity and collaboration, affordable infrastructure with equitable access for all, infrastructure that supports economic growth and development, resource efficiency, use of clean and environmentally sound technologies, and promotion of research and innovation.
Community planners, architects, engineers, and other infrastructure professionals have the opportunity to implement sustainable practices with each individual infrastructure project in order to build sustainable communities. However, the task of evaluating every type of sustainable technology, product, or process, and comparing those options, can be quite overwhelming. There are guidance and project-assessment systems available for specific types of infrastructure, such as buildings, roads, and landscaping (Leadership in Energy and Environmental Design, GreenRoads, and SITES, respectively) among others. There are also systems available for specific geographies (CEEQUAL in the United Kingdom and IS in Australia). While these are great resources, the not-for-profit Institute for Sustainable Infrastructure (ISI) in collaboration with the Harvard Zofnass Program for Sustainable Infrastructure identified the need for clear, concise guidance on sustainable practices for all types of infrastructure projects worldwide. Together, they developed Envision, a guidance manual and project-assessment tool to promote sustainable-infrastructure best practices.
At its core, Envision is a rating system for improving and evaluating individual infrastructure projects. Envision includes 60 credits, or sustainability concepts, that address issues related to smart growth planning, resource conservation, impacts to the natural world, climate-change adaptation, and community quality of life. The credits are designed to support inclusivity and collaboration within project teams and among infrastructure departments, neighboring municipalities, community groups, and other stakeholders. They also encourage incremental improvements toward net-zero solutions and foster innovation to overcome challenges and create transferable solutions. While the Envision guidance and tools are freely available online, ISI also offers a fee-based, third-party verification and award program to recognize sustainable projects.
Communities can personalize this guidance to focus on their unique local needs and challenges. The Infrastructure 360° Awards program, a collaboration between the Harvard Zofnass program and the Inter-American Development Bank, promotes the general adoption of sustainable and resilient practices in developing areas of Central and Latin America. The municipalities of Lambton Shores and South Huron, Canada, focused on planning and innovation guidance to spur the development of an alternative wastewater-treatment plant design that costs 40 percent less than a conventional approach. The County of Los Angeles, California, addressed social equity on projects in low-income areas to provide reliable transportation routes for commuters and school children, thereby improving the overall quality of life in these areas. The City of Edina, Minnesota, based their community outreach on communicating the sustainable-design options for the 54th Street Reconstruction and Arden Park Area Stormwater Management Plan to gain stakeholder support. These are just a few examples of the communities that are taking advantage of the guidance and tools to approach infrastructure development in a new, sustainable manner that aligns with the values and priorities of the local community.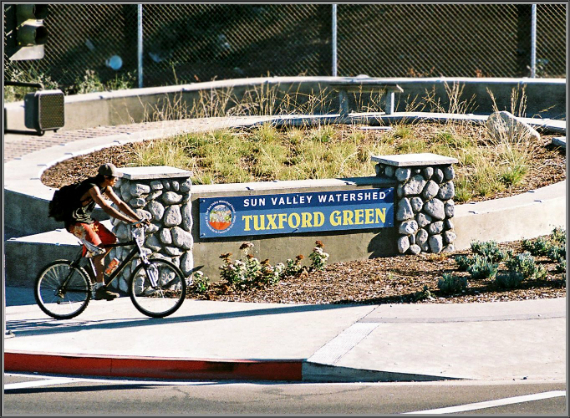 This County of Los Angeles, California, rain garden reduces localized flooding allowing the road to stay open for workers and school children commuting from a low-income neighborhood. This project earned the Envision Platinum Award, the highest award level available.
Photo Credit: Courtesy of Los Angeles County, California
As the demand for infrastructure services increases, a new approach is necessary to support this growth and development in a sustainable manner. Smart growth practices that consider available resources, the interaction with natural systems, and community needs are necessary to build stronger, more resilient communities. Since infrastructure typically has a 50-100-year life span, building infrastructure in a sustainable manner now is a good long-term investment in our communities that frees up intellectual, financial, and physical resources in order to address the other 16 global goals and get us closer to ending extreme poverty, fighting inequality and injustice, and fixing climate change.
This post is part of a series produced by The Huffington Post, "What's Working: Sustainable Development Goals," in conjunction with the United Nations' Sustainable Development Goals (SDGs). The proposed set of milestones will be the subject of discussion at the UN General Assembly meeting on Sept. 25-27, 2015 in New York. The goals, which will replace the UN's Millennium Development Goals (2000-2015), cover 17 key areas of development -- including poverty, hunger, health, education, and gender equality, among many others. As part of The Huffington Post's commitment to solutions-oriented journalism, this What's Working SDG blog series will focus on one goal every weekday in September. This post addresses Goal 9.
REAL LIFE. REAL NEWS. REAL VOICES.
Help us tell more of the stories that matter from voices that too often remain unheard.