For years, I had driven by it, admiring the architecture, but I had never visited it until this summer. The building, one of the newest and most beautiful in Washington DC, is on Constitution Avenue near the Lincoln and the Vietnam Veterans Memorials.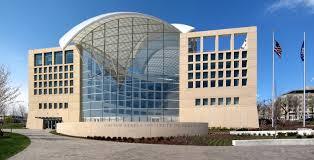 Completed in 2011 its huge glass panels allow sunlight to glorify the grand five-story-tall lobby. Covering its roof are large white arched domes resembling that of the Opera House is Sydney. It is the building, which houses United States Institute of Peace, which was established by Congress and signed into law by President Ronald Reagan in 1984.

I recall this visit, because this week in September is International Peace Week. The nonpartisan US Institute of Peace is meant to embody our nation's commitment to nonviolent resolutions to human conflicts.


Human conflicts kill just like diseases such as AIDS and breast cancer or natural disasters such as hurricanes and earthquakes, and as such, conflicts are part of our public health challenge. Yet unlike these other calamities, conflicts are created by humans, not nature, and are 100 percent preventable.
Human conflict encompasses not only wars between nations but also shootings in our schools, churches and streets. Anger and rage in our workplace and our home. Suicides and homicides which claim nearly 60,000 lives, enough to fill three Fed-Ex Forums.
Violence happens for a reason. This hit home recently, when I was volunteering at the local Boys and Girls Club of America. The children were decorating pumpkins for Halloween. One 9-year-old child painted a face with eyes, a nose, ears and then there was a steak of red paint smeared across the side of the pumpkin. Thinking that he had accidentally spilled paint on his pumpkin, I asked "What happened here?"
He remarked casually, "This is my cousin and this is how he looked when he got shot in the face."
Human conflict and violence happen due to root causes: poverty, injustice, inequality and fundamentalism. Our children grow up with this.
While many of us admire the words and works of Martin Luther King and Mahatma Gandhi, we seldom practice peace and nonviolence in our lives. The word "peace" like the word "love" has become a cliché, and more so it has become elusive to many people who have become cynical.
Often I wonder, if we don't teach our children about peace and nonviolence who will? With so much cynicism in our society today, we need to show them idealism. Cynicism drains us of energy while idealism instills hope and is the driving engine for inspiration and motivation. The balance of the cynicism and idealism will help our children find realism.
•Take one peace-building action in the course of our day on 9/21. For example, help tone down an argument at home; show kindness to someone in our community who needs help; or challenge ourselves to talk to someone with a different point of view on an issue that matters to us, and seek to understand their perspective.
•Commit to an act of forgiveness, and share on your Facebook page or by using #forgiveforpeace
If we do not challenge ourselves to solve human conflict - whether it be with our spouse, our children or our coworkers, among communities or nations--the only thing that will remain is the status quo. Conflicts will turn into violence, into bullying, beatings, homicides, and genocides.
Resolution begins with being tolerant, having a dialogue, becoming open-minded and accepting others. Once we work to resolves our conflicts, we realize one universal human fact: that we have more in common than in conflict.
Popular in the Community