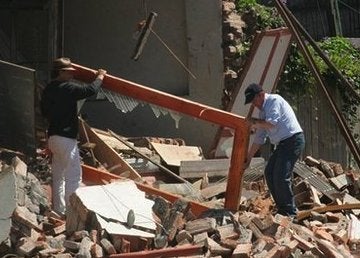 Chile is one of the top topics trending on Twitter, but rapidly falling out of popularity, eclipsed by Justin Bieber, Miley Cyrus's new boyfriend. A simple search of "Chile + Donation" reveals that the socially-driven donation nation is well underway. But, Twitter also reveals sentiments that it's tired with some users tweeting "we have to donate to Chile too?"
Disaster tech is underway, with Google launching new apps to find the missing, crisismappers mapping the disaster areas, photos documenting wreckage from Chile are pouring in, crisis response organizers are dispatching assistance of all forms, journalists on are the move, and artists are making infographics. Amidst the obvious mobilization, you can bet that leaders within non-profits are also convening and trying to figure out their response strategy. Haiti's fundraising was an unprecedented success, but with both staff and donor fatigue, fundraising for Chile might be much harder.
You can already sense it by reading the social networking streams, where people are tweeting instructions on donations, offering matching for donations, and also griping about how they're feeling frustrated that they're being asked to give all over again so soon.
Today, it looks like the response to the Chile earthquake will not surpass or even match the response to the Haiti disaster. Take a look at the January numbers for Haiti relief efforts:
Haiti Fundraising by the Numbers
** More than $2 million was raised hourly
** More than $32 million a day was raised online by approximately 70 relief organizations in the three days immediately following the quake
(*Prior to Haiti the record was 19 million in a single day.)
** The amount raised or pledged for Haitian relief efforts, including corporate donations during the 21 days after the Haiti earthquake was $575.4 million
** More than half of all funds raised came online through non-profit organizations
Here are a few strategic tips for fundraising this time around:
1.) Different Earthquakes: Carefully and clearly distinguish fundraising for Chile from the fundraising you've just done Haiti. People don't read, they scan their emails, newsfeeds, and social network chatter. Message distinction between the two earthquakes, the needs, the details of the devastation are hugely important to getting your donors to rally for your Chili support efforts.
2.) New from Haiti: It is more than likely that your organization acquired new membership during your Haiti-related fundraising efforts. Reaching out to these newest members and helping to convert them into long term supporters right now is critical. Look at some of the quotes on Twitter, "Ah, man, Chile now? You mean I have to donate again?" Don't make your donors feel like they've become non-profit ATMs.
3.) Microgiving: Rely heavily on the effectiveness of the micro-giving model. Small donations can become viral donations, highly contagious within individual social networks, especially now that people publicly chronicle their donation responses and market to their friends online.
4.) Accountability & Transparency:
Set up accountability metrics. Help your donors understand what is happening to their donations, how they are used, but also if they are giving online, how that pipeline works. Transform your organization's home page into a news-sensitive hub and be transparent about where donations will be directed.
5.) Change Your Mobile Giving Strategy for Chile:
I sat down to talk about the challenges of charitable fundraising for Chile, so soon after Haiti, with Michael Sabat of Mobile Commons.
Michael explained the technical and promotional aspects for the extremely successful mobile giving campaigns in January. However, there was also a look of deep concern on his face as he described the challenges he sees this time around, because there's a lot of donor fatigue as well as organizing fatigue from within the non-profits themselves that applies not only to mobile fundraising, but disaster-related fundraising in general.
All the headlines around Mobile Giving for Haiti had to do with the total amounts raised, but the $5 or $10 price means that we were reaching new donors, which is the most exciting part to me. We need to recognize the tremendous effort that it took in order to have people make that first donation.

Mobile technologies make it possible for organizations and supporters to create a long-term culture of giving with small "asks" for micro-donations that require little effort to donate.

Chile is in crisis and the culture I'm talking about hasn't yet been fully established or integrated into our lives. I believe that moving forward the real value is going to be established by turning the text-donor into a full supporter of the organization. That means the organization learns this donor's name, address or email and can share the results of the relief effort that was funded with all of those text messages.

It should definitely be the goal of the non-profit to turn this initial donation into a relationship. Ongoing communication and participation is what builds a donor base for an organization that can reliably called on to give increasingly large donations as well as an active membership base who will help spread the mission and values of the organization. The $10 mobile donation should potentially be the beginning of the donors civic engagement not the end.

The smartest non profits are focused on the creating and managing a relationship with its supporters with the most effective media mix including, web, email , video, events, and of course text messaging. Mobile Commons focuses on building the tools that help organizations do just that. Non profits need to be able to see text donors as people, not just phone numbers or dollar signs. That is where mobile giving and micro giving need to focus.
Tips for successful Mobile Giving Campaigns shared by Mobile Commons:
Use the media you already have: Integrate the mobile call to action into what you are already doing with Press, PSAs or celbrity spokespeople. Organizations should not create special mobile only campaigns. From real world calls to action (TV, Radio, Print, PR and Live events) asking someone to text will work much better than asking them to visit a URL.* However the organization is promoting they should tell people to text in or visit their website.
*about 325% more people will get involved through text message compared to the web
Make the Call to Action part of the movie, not the credits: If the organization wants people to text in and donate, they should feature the call to action not just list it as the last sentence in the press release.
Ask for help: Small donations can become viral donations, highly contagious within individual social networks, especially now that people publicly chronicle their donation responses and market to their friends online. Whether it's Facebook, Twitter or whatever is next, make sure the donors have a place to tell their friends to donate -- and listen.
Make Keywords Simple: It's great if the keyword is relevant and remember-able, but most people text in right away when they hear the call to action. The most important part about the keyword is to make it easy to understand and hard to mess up:
** Good keywords include: RESCUE, RELIEF, SAVE, GIVE ** Bad keywords include: TSUNAMI, ISUPPORTHAITI and GIVE2CHARITY
Watch out for human error. I'm expecting a lot of CHILI texts (it's spelled CHILE).
Michael Sabat has worked with Mobile Commons for almost 2 years and launched over 100 mobile campaigns with partners like Reform Immigration for America, NPR's This American Life, Habitat for Humanity, and many more.
Calling all HuffPost superfans!
Sign up for membership to become a founding member and help shape HuffPost's next chapter