After the death of my firefighter husband in 2010, which left me fighting for my legal benefits and recognition and ultimately led to my marriage being voided by Judge Randy Clapp, I was devastated, and all I wanted to do was fall in love and have my family again.
In May 2012 it happened. I met the man God had intended for me; William Loyd was a single man with two beautiful children, Cash, 6, and Charlotte, 7. The four of us fell in love with each other, and our new relationship seemed to be more like a reunion of a divided family.
Since then we have opened the Starving Artist Gallery, and William has become one of the most popular artists in Houston. I have been managing the business, representing 125 artists, musicians, authors and photographers, and, most importantly, being Mom. As for the children, they are happy practicing ballet and Muay Thai after their days at school, and they enjoy playing with their pet poodle Bentley more than anything.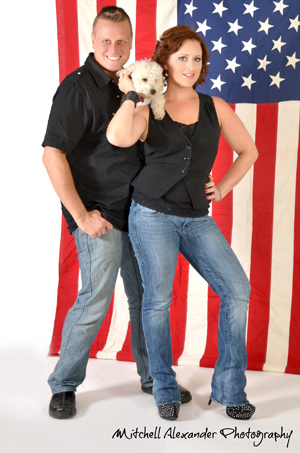 After we'd been together for a year, William took me by surprise with a proposal while filming our reality television show American Dreams, a Lightning Strikes Entertainment production that focuses on our family and our business. He'd hired a plane to fly around Houston with a banner that read, "Marry Me, Nikki Araguz, I LOVE YOU." As it flew overhead, he bent down on his knee in front of our friends, family, cast and crew and asked me to be his wife. I said, "Oh, yes! Yes, of course!"
We initially thought of having a wedding on July 4, 2014, the fourth anniversary of the day my late husband died, in honor of our love and to reclaim a tragic day as one of new life and happiness. However, we suddenly received news that my long-awaited appeal date had been set for Sept. 18, 2013! I was so excited and filled with hope that I might be vindicated and have the late Capt. Thomas Araguz III and my marriage recognized. And then it hit me: Will and I should enter into our marriage immediately following the appeal hearing at the 13th District Court of Appeals in Corpus Christi! William agreed, pointing out that doing that would make the biggest statement that "love shouldn't have to be defended."
Excitedly we began to make plans for our wedding. Our kids are excited, and I chose a wedding dress, a best man and matron of honor, colors, flowers, and photographers -- all the usual things a bride and groom do when getting married.
And then we went to apply for our marriage license in Harris County, Texas, where we live. We took several of the documents that the 2009 Family Code designates as forms of identification that are usable for obtaining a marriage license, including our birth certificates (his reads "male," mine "female"), our passports (his reads "male," mine "female"), and our driver's licenses (his reads "male," mine "female"), and I also included the court-order proof of my "sex change," as it is referred to in this situation, which the 2009 Family Code designates as an acceptable proof of identification in order to obtain a marriage license in the state of Texas. And then, after we'd waited for an hour for a decision, Harris County Clerk Stan Stanart denied us:

The county clerk stated that Harris County Attorney Vince Ryan and Texas Attorney General Greg Abbott had consulted and decided to reject our application for marriage.
I was shocked and devastated but determined. We immediately drove to another Harris County courthouse and presented the same documents, minus the "sex change" form. We were moments away from signing our marriage license with a nice clerk named Loretta when a man came from around the corner and announced to the clerk that we had been "flagged" and were "not able to receive a marriage license in Harris County."
I was angry and feeling much like I imagine the first women voters felt, or the first African Americans to attend previously all-white schools, or Rosa Parks when they were screaming at her to go to the back of the bus, or even Martin Luther King Jr. when politicians and lawyers told him not to do it, for fear that he might offend people; I was actually told that myself. Well, damn it, I am offended that someone doesn't think I deserve the same respect and civil rights as anyone else.
But Will and I remained determined and undeterred. We dropped off our camera crew, picked up Bentley from the house, and drove to get the kids from school, and then we drove to a small courthouse in a small town in another county and applied for our Texas marriage license, and this time we received it! Our family was together and being recognized, just as God intends for all people!
So this week our friends, family, artists, and supporters, as well as all three of our production crews, will be following us to Corpus Christi, where Will, Charlotte, Cash, and I will attend the appeal hearing at 9 a.m. on Sept. 18. Each side will have 20 minutes to argue and offer its rebuttal to a panel of three Democratic justices: Chief Justice Rogelio Valdez, Justice Nora Longoria, and Justice Nelda V. Rodriguez. I am hoping that with the recent Supreme Court rulings, this will be Texas' opportunity to respect all its citizens equally. However, it is Texas, and anything can happen.
I am asking the country and President Obama to hold accountable each state and force it to follow the "full faith and credit" clause of the U.S. Constitution, which requires each state to recognize every other state's legal documents, including but not limited to documents related to birth, death, name and gender changes, and, most importantly, marriage.
So what is the plan for Sept. 18? Will and I, along with our children, will emerge from the appeal hearing and, regardless of the ruling or outcome, will immediately begin our wedding ceremony, officiated by Rev. Dr. Michael Diaz, on the steps outside the 13th District Court of Appeals. We'll be highlighting the question: If this marriage is legal, then why wasn't my last one, and why isn't everyone's?
The most important message I am trying to spread is that we all deserve love and recognition. As our 9-year-old daughter Charlotte says, "I don't understand. Anyone should be able to marry anyone. It is there choice who they love." Equality for all!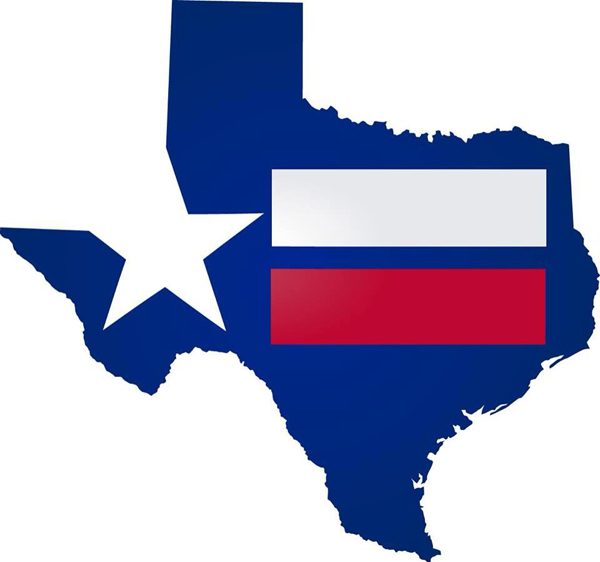 Related
Popular in the Community