The best thing a father can do for his children is to love their mother. That's exactly what our stepfather did for 33 years. We never questioned his devotion.
You are never really prepared emotionally when someone passes away. My stepfather, Jean-Luc, died at the age of 64 from a massive heart attack just over a week ago. My mom heard a big crash in the basement where he was working out. She did CPR for 20 minutes while waiting for the ambulance. Everyone that knows him is shocked by his sudden death to say the least.
I remember when my mom introduced us. I was a 16-year-old girl who was mad at the world at that moment. Jean-Luc was patient with me and didn't let that first impression phase him. With everyone he had an unassuming nature, expressed empathy, didn't hesitate to help out, and was very accommodating to others. An officer and a gentleman who became part of the family.
Jean-Luc not only protected his family but our country as well. He was a West Point graduate, Special Forces Officer, 82nd Airborne Commander; was stationed in Korea and Germany; saved a paratrooper's life in Grenada; participated in the Invasion of Kuwait; spent time in Chad, Sudan and Niger. He was a bad-ass out in the field.
After his retirement from the military, my stepfather became an international security consultant, focused on his family and lived for his grandchildren... Grandpa to 7. Jean-Luc took the grandkids (as he called them) on trips and planned adventures for them, and gave them insightful advice. He lived life to the fullest and didn't show any fear. He was also a man of great faith.
The funeral service at church was followed by a Special Forces military tribute at the grave site. Twelve of his West Point classmates (class of '75) made the journey to say goodbye to their brother, Jean-Luc. The West Pointers had a "Benny's Wake" after the funeral and SF tribute to honor and celebrate his life. Each told a personal and funny story about an experience with him. There was a lot of laughter in that room from reminiscing. We all needed that. Jean-Luc is expecting us to each remember our own experiences with him and smile.
His death reminds us to hug your loved ones each day. Hold them tight and tell them how much you love them.
Thank you Jean-Luc for making a positive impact and being a great role model for our country, your community, and our family. And most of all, thank you for loving our mother.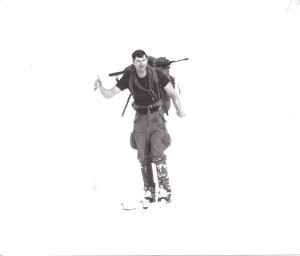 Brigitte Cutshall is a Media Solutions Consultant, Author and Health Advocate. Learn more at brigittecutshall.com
Support HuffPost
The Stakes Have Never Been Higher
Related
Popular in the Community