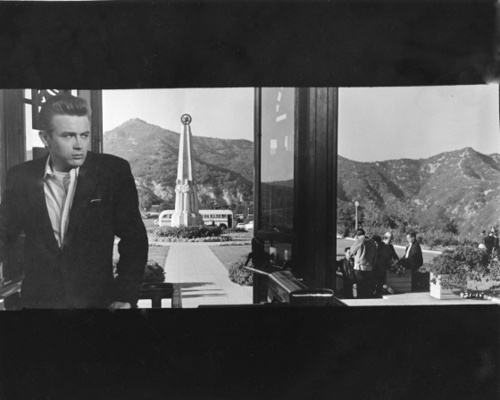 A fun new book, Location Shooting in Los Angeles, written by Marc Wanamaker, Karie Bible and Harry Medved, provides a delicious historic photo-tour of location shooting all 'round the City of Film Shoots, er... City of Angels.
Above, in a rare promotional still photo, James ["You're tearin' me apart!"] Dean broods while filming "Rebel Without a Cause" in 1955 at the Griffith Park Observatory. Shooting took place in and around the elegant, iconic building, which sits atop the hills of Griffith Park, the Central Park of Los Angeles.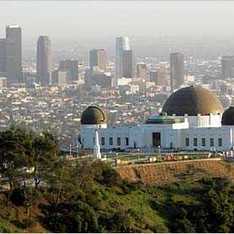 The Observatory, says architectural historian Daniel Paul, who authored the Los Angeles City historic landmark document for all of Griffith Park, is a classic PWA Moderne structure. Daniel explains:
"PWA Moderne is the term for it. Streamline Moderne is something more like the Coca-Cola bottling plant on Central Avenue. PWA Moderne mixes Moderne with a Classical monumentality. The style is also called "Stripped Classicism." This is not to say that the Observatory was a PWA project; it wasn't, except for the sculpture near the building [shown in photo above]."
Wendy Perron, editor of DANCE Magazine, reminds us in a tweet that James Dean (and Marlon Brando) studied dance with the great Katherine Dunham.
A photo captures Dean grinding at the barre, looking none too comfortable, but not too shabby, either, in terms of his placement. Good standing-leg alignment, James Dean! see: artsmeme.
Calling all HuffPost superfans!
Sign up for membership to become a founding member and help shape HuffPost's next chapter