Now that we're all painfully familiar with the slogan "Make America Great Again," a group artists has come together to show Trump who's actually doing the making in this country.
We Make America is a community of artists around the country committed to using their craft to resist the exclusionary rhetoric and policy suggestions Trump has peddled. The group formed shortly after the November election, when many were left reconciling with an unexpected outcome.
According to a piece reported by Barbara Pollack for Hyperallergic, artists Joyce Kozloff and Maria de Los Angeles were the first of the group to take action, reaching out to other artists in their circles. The group began meeting just four days after the election, with 16 artists in attendance. At time of publication, the movement has over 2,300 members on Facebook.
The group recently set its sights on a single task: creating protest signs and costumes for the Women's March on Washington and its sister march in New York City. Like the thousands of individuals marching this weekend, We Make America is taking to the streets in defense of causes threatened by Trump's impending leadership, including women's rights, immigration rights, freedom of speech and health care.
For their handmade protest gear, We Make America is taking inspiration from Lady Liberty herself. That means making lots of crowns and green gowns, as well as a 5-foot-tall torch made on a 3D printer.
In part, the Statue of Liberty symbolizes the historic role of immigration in U.S. history, as expressed in its inscription:
Give me your tired, your poor,

Your huddled masses yearning to breathe free,

The wretched refuse of your teeming shore

Send these, the homeless, tempest-tost to me ...
She is also, of course, a woman, turning We Make America's use of her image into a subtle dig at the future president who is known for his sexist comments.
"We Make America is about diversity; it is about all of America," de Los Angeles told Hyperallergic. "We are makers, and we can have a voice, and what we do in life can have an impact socially. It's not just artists. It's anybody who makes things — which is everybody — and by making things, we can transform reality."
Anyone who wishes to march alongside this talented group of Lady Liberties is welcome to do so. They're planning to meet in Washington, D.C., at 10 a.m. ET at St. Mark's Episcopal Church, and in New York City at 10:30 a.m. ET under the clock in Grand Central Station. The group asks that participants RSVP on Facebook so they know how many to expect.
Before You Go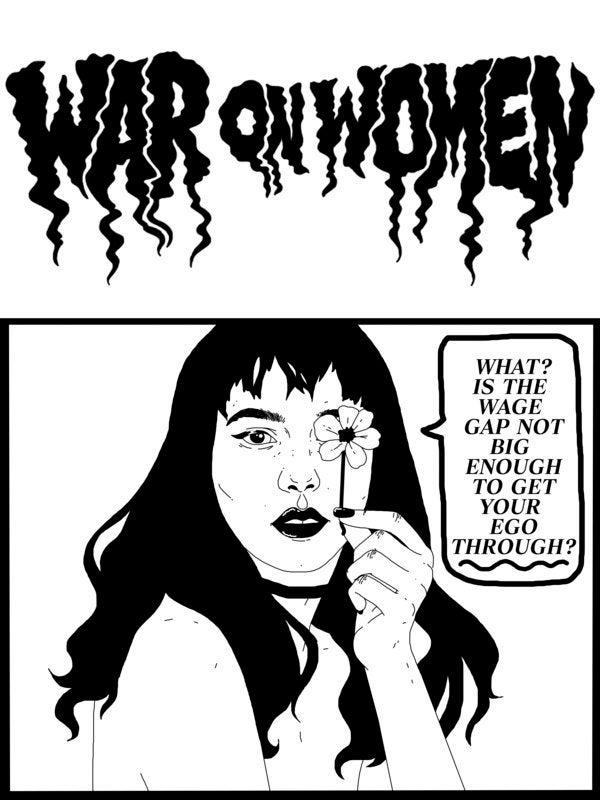 War on Women
Popular in the Community