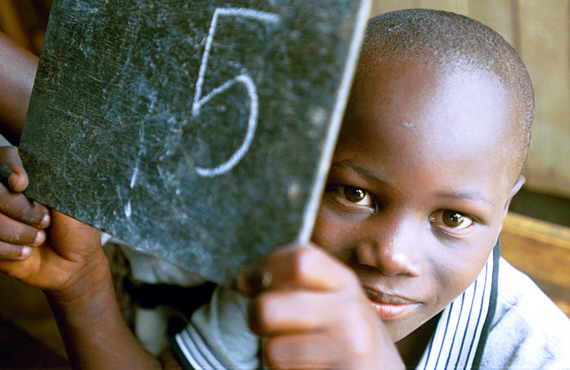 Education is one of the surest means to end extreme poverty in our time. Yet, 121 million children today remain out of school. These young people are the hardest to reach, due to poverty, gender barriers, remoteness and disability. We must make a new concerted push to bring all children into the classroom.
In addition to this challenge of improving attendance and access, we face an even tougher problem ahead: Ensuring that children are learning while they're in school. The sad truth is that most education systems are not serving the poorest children well. An estimated 250 million children cannot read or write, despite having attended school for years. This is a tragic failure of our educational aspirations for the world's youth.
Fifteen years ago in Dakar, countries around the world pledged to make universal primary education a top priority. Developing countries made a heroic effort to get children into school, and the World Bank Group supported the goal with $40 billion in education investments. This week, the World Education Forum is gathering in South Korea to recommit to access for all, but also to find new ways to increase the quality of education for all children.
In 2015, the poorest children have just a slim chance of finishing primary school in many countries. They often drop out -- discouraged by cost, distance, physical danger, gender barriers, absent teachers or their failure to progress academically. It is critical for us to ensure that children have the opportunities to gain the literacy, numeracy and non-cognitive skills that they will need to thrive in the 21st century.
Nearly one billion people remain trapped in extreme poverty today, partly because they lack these skills. To end poverty, we will have to ensure that education provided to the poorest families is modeled on using smarter and more evidence-based solutions. We must use data, technology and accountability to strengthen education systems to deliver quality learning for all.
In Angola, we analyzed global education systems and pinpointed the most important policies and institutions for inclusive learning, which helped to pave the way for large-scale education reform. We also use cutting-edge research and evaluations to guide policymaking. Impact evaluations in Jamaica, Indonesia and Mozambique, for example, showed that investing early in children's education leads to substantial improvements in long-term potential. With our support, 900,000 children are benefitting from preschool programs in those countries.
Furthermore, technology can be used to leapfrog current practices by plugging isolated teachers and students into connected classrooms of the 21st century. It can help teachers create or access innovative multimedia teaching materials, such as free content from the Khan Academy. We are, in fact, exploring ways of using Khan Academy content in urban Nigeria and rural Guyana.
Lastly, we are expanding our efforts to hold governments and partners accountable for results. Where appropriate, this means providing more financing based on measurable, verifiable results. In Tanzania, our Big Results Now in Education program links financing with pre-agreed results, such as deploying teachers more equitably and improving student achievement by the end of Grade 2.
A growing body of evidence shows that linking financing to results works. That's why over the past five years, our results-based financing grew to about $2.5 billion, or 20 percent of our total investments in education. We will do much more -- doubling results-based financing to $5 billion over the next five years to accelerate progress.
Business as usual simply won't allow us to bring all children into classrooms and ensure that all learn. We must be bold. Education ministers and other leaders in the field must heed Martin Luther King Jr.'s admonition that, "We are confronted with the fierce urgency of the now." We must commit to coming together more frequently to share the most current ideas and innovations in education to accelerate quality learning for all.
And we must always fight for the principle that all children should go to school and have access to quality education throughout life, regardless of where they are born, their gender or their family's income.