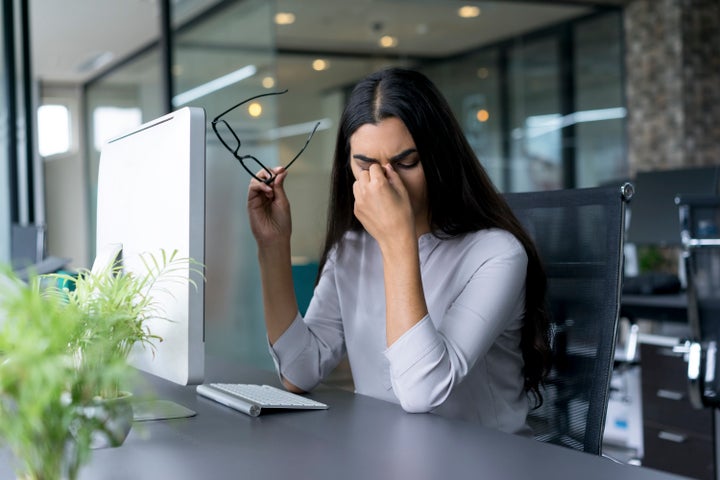 I embarked on a career in news media because I wanted to use the power of storytelling to make a difference. As I was coming up in the industry, I remember a colleague asked if I would change my name. He argued that some viewers wouldn't be able to figure me out, to understand me. His advice reminded me of what my mom used to say while we were growing up in a mostly white, middle-class neighborhood in New York's suburbs, "Don't let anyone tell you, you're not black. And don't let anyone tell you, you're not Latina." My name represents who I am ethnically. I refused to change it.
That wouldn't be the only time I felt friction as a woman of color working in the predominantly white media. I remember when I was a Production Assistant and was invited to sit in on the morning news meeting. I finished running scripts, and when I walk in one of the producers said, "Oh, I bet you're running on CP Time." (colored people time). And I'm like, no, #@, I just finished with a show!"
Yet even those slights are nothing compared to the pay inequity that most other Latinas face in the workforce. Imagine if your boss told you that you had to work nearly an extra year to earn just one year's salary. Would you do it? Would you quit?
This is the "choice" nearly 28 million Latinas across the U.S. face every day. You see, it's not until November 2nd, an extra 10 plus-months into 2017, that the average Latina earns what the average white man made in 2016.
Then there is the issue of representation. Just take a look at my profession. According to NPR: "Nationally, Hispanic, Black and Asian women make up less than five percent of newsroom personnel at traditional print and online news publications." And while our country is about 20 percent Hispanic, our voices are nearly absent from political commentary and investigative journalism. This lack of representation undercuts our ability to participate in the national conversation, making it harder for our voices to be heard and values to be seen.
Unfortunately, the workplace is not the only place where Latinas are falling behind. Currently a quarter of all Latinas are living below the poverty line and more than half are at near-poverty. This economic instability puts education out of reach for too many of our children. More than one in five Latinas has not completed high school by age 29. Latinas are also the least likely of all women to complete a college degree, at just 19 percent compared to nearly 44 percent of white women. And because Latinas are predominantly in low-income jobs and many are primary breadwinners for our families, the crippling cycle of poverty continues. Astoundingly, Latinas lose over a million dollars (an astronomical $1,043,000) in total wages over our lifetimes due to the pay gap.
"Imagine if your boss told you that you had to work nearly an extra year to earn just one year's salary. Would you do it? Would you quit?"
Yet the Latina community persists. In the last decade, Latinas raised their high school graduation rate by more than 14 percent. In that time, we also raised our representation in better paying white collar jobs ― between 30 and 40 percent in teaching, law, medicine, and management professions. Another path to the middle class, Latina-owned businesses are also growing at a faster rate than businesses for all women and adding more than $71 billion to the economy in 2014.
I'm trying to do my part by expanding the conversation about our community. At NBC, CNN, HBO RealSports, and now at my own media company Starfish Media Group, I committed to highlighting diverse stories from underrepresented groups. I recruit for diversity at Starfish and welcome the often uncomfortable conversation around race. However, the truth is that these stories are exactly what we need right now in our media, politics, and beyond. They are a way of identifying our problems with race and our achievements so we can have fewer of the former and more of the later.
There's a cliche that says white people will only watch stories about themselves. That's not true. And audiences are hungry for them. For example, when we started the "Black In America" series at CNN, we not only grew our Black audience, we grew our white audience as well.
The effort to increase diversity and improve equity is very personal to me. This country gave me tremendous opportunities that I'd like everyone to have. My father, who is a white immigrant from Australia, and my mother, a black immigrant from Cuba, met while studying at Johns Hopkins University in Baltimore, Maryland. They both went on to become teachers: my father a mechanical engineering professor and my mother a high school French and English teacher. It was important to them that we do the best we could possibly do to learn and grow. We went to local public schools with a mandate to achieve, keep our heads in our books and help each other.With that encouragement, all six of us graduated from Harvard.
That's one reason I also founded the PowHERful Foundation, an organization that offers mentorship and financial support to young women of color from low-income families who choose to pursue college. We should give everyone the opportunity to reach their potential and achieve their destiny.
"On Latina Women's Equal Pay Day, you can do your part as well by joining with others to challenge the systemic hurdles in our media, politics and larger culture."
To do so, I'm proud to partner with The Phenomenal Woman Action Campaign and The Representation Project in their non partisan effort to advocate for our government to #RepresentHer and support more women in politics and women-friendly policies, which include universal pre-K, paid family leave, and of course equal pay ― all important pathways to lessening the wealth gap.
On Latina Women's Equal Pay Day, you can do your part as well by joining with others to challenge the systemic hurdles in our media, politics and larger culture. We can all work to break down barriers and break stories that include all of us. We can make sure we are seen and valued in the newsroom, by the viewers, and when it comes time to write our paychecks. Urgent change is needed. We must disrupt the narrative that says our labor is less valuable but to do so, we must both shape and be the subject of our narratives. It's time we are better represented. Latinos are about 12 percent of the vote. By 2050, Latina women will be a quarter of the female population.
So let's continue to encourage media makers to tell more stories that include our voices. Let's make sure we are seen, heard, and valued. Let's call, tweet, and write our lawmakers to ensure our needs are center in policy negotiations. Let's never silence ourselves and continue to call upon our neighbors, friends, and larger network to take up the real work of being allies.
Popular in the Community