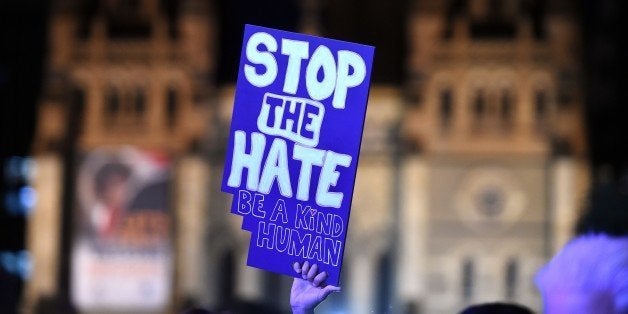 There is a culture of hatred in our midst, targeting our LGBT community. It is not some remnant of a generation soon to pass, nor merely a product of the fringe. To some degree, it is born in the halls of our own offices of government offices, and lauded by some of our own so-called leaders.
Westboro Baptist Church "leaders" have announced that they are coming to our City Beautiful, Orlando, to "protest" at the funerals of our friends and neighbors whom we lost in the terror attack/hate crime on our LGBT community at Pulse. But even their demented cries of "God hates f****" won't be as loud as the deafening silence against such hatred exhibited by so many elected officials, and even worse, that barely-audible sound of pen on paper signing hatred into law.
Florida Governor Rick Scott, Attorney General Pam Bondi and Senator Marco Rubio have spoken out against mass murder perpetrated on the LGBT community this weekend, though often conveniently excluding the LGBT detail. But they have launched legal attacks themselves against this community for years now. They have not apologized, and they have not committed to do better. They have cried crocodile tears for the cameras. That's all.
A few months ago, Rick Scott removed protection from discrimination for LGBT foster youth in Florida. Pam Bondi wasted $500,000 of our tax dollars fighting tooth and nail to stop marriage equality from coming to Florida -- all the way to the Supreme Court. Marco Rubio dismissed same-sex couples who wanted to start a family as a "social experiment," and fought against their right to foster children in our state.
They have attempted to normalize, and even mandate, discrimination against the LGBT community. Now they ask how a gay nightclub could be under attack, how such a horrific hate crime could happen in our home state. They should be asking who created this culture of hatred, now that more than 100 innocent people, their friends, their families, and our entire community, must pay the hefty price.
I am heartbroken. But I am also furious -- not only about what has happened on Sunday morning, but about what has happened continuously to an innocent, victimized group of decent people throughout the years. I am frustrated at a society that makes members of my own staff nervous to hold their same-sex partners' hands in public, for fear they could be shamed, hurt, or even killed. (None of them will ever be able to forget that the killer's father suggested that the killer's action was triggered by seeing two men showing affection in a public place.) I am frustrated at right-wing media who ask questions like "was it a terrorist attack OR a hate crime?" or "why hasn't the President launched [yet another] attack against ISIS?" rather than reporting on the hatred and discrimination against gays and lesbians that still thrives.
Young or old, male or female, black or white, English-speaking or Spanish-speaking, gay or straight, WE ARE ALL HUMAN BEINGS. Whatever your religion, whatever your age, we have to put hatred and discrimination in the rear-view mirror. It has no more place in the 21st century than slavery, or cannibalism. It's the year 2016. Enough, already.
Today, I ask everyone to acknowledge that this wasn't just an attack on my home, on our beautiful city of Orlando. This was an attack on our LGBT community. Forty-nine people were murdered for no reason other than their sexual orientation. The fundamental benefit of every civilized society is a sense of personal safety. Our LGBT friends deserve that as much as anyone else. We must organize against hatred and defeat it -- and anyone who would perpetuate it.
Rep. Alan Grayson (D-Orlando)
Calling all HuffPost superfans!
Sign up for membership to become a founding member and help shape HuffPost's next chapter