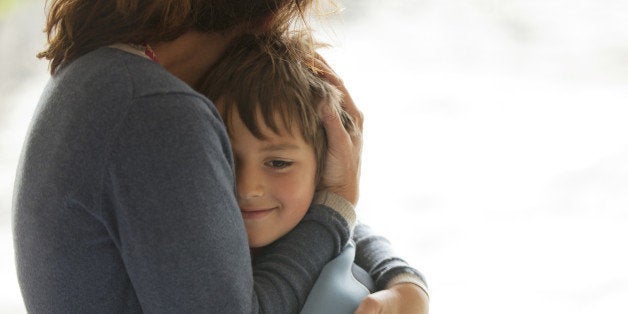 I was talking to a co-worker who is also in a blended family situation and she was telling me how they all get together and celebrate Christmas, including her boyfriend's ex-wife, her husband and young child. Another friend of mine, and fellow Huffington Post contributor, Trish Eklund, writes all the time about the great relationship she has with her children's stepmom and how they communicate every day and have even gone shopping together. This got me to thinking about the "other mothers" in the lives of my children. Here are 3 areas of respect on the subject of "blendermoms" who are stepmoms, biomoms, or like me, both.
1. Respect the biomom for who she is regardless of what you may personally think of her.
I know this may hit a nerve with some stepmoms, because stepmoms are often not treated with kindness, courtesy, or respect. However, if the biomom is in the child's life there is no one that can or should take her place.
I have a personal example of this. My son, for nearly seven years has been forced to call his stepmom, "mom." I have been powerless to stop it, however, I have watched as resentment toward her has built up and up. The reason for the resentment is because he knows the truth in his own reality, and he has been denied that reality. He has come home so upset and saying she is not his real mom so why does he have to call her that?
I have not been given respect for who I am, and my son has suffered for it. Obviously I am his biological mother and nothing can change that, however, speaking to stepmoms: Children have enough to work out in their heart over the break up of parents they love most dearly. Do not add to that by causing hurt, bitterness, and resentment in your stepchild's heart just because you do not like their mother.
2. Respect the stepmom for who she is and the difficult situation she is in.
I have tried very hard to do this towards the stepmoms of my kids, even in spite of times where I have felt justified in anger. As a biomom I want what is truly best for my children and using them as a weapon of control and revenge is not even close to being an option.

Stepmoms do not have an easy job.
Stepmoms do not have an easy job. They are caught somewhere in the middle of all the emotion and tend to receive the brunt of negativity and spitefulness, because they are not a biological parent. Often, they are a dumping ground for all the hurt, frustration, anger, confusion, and sadness that comes with divorce from all involved including the biological parents, children, and even extended families.
Let's just get real for a moment, myself included. When the ex enters into a new relationship, the biomom also feels threatened. It may be to different degrees, but it is a normal emotion and very powerful. Who does she think she is? Does she think she is better than me? Is my child going to want to be with her and spend time with her more than me?
It's perfectly normal to feel that way, but it is how we act on it that makes the difference. If we do not try to overcome our personal feelings the ones we love most, our precious little ones, will be the ones that get hurt and will pay the price.
3. Respect the relationship of the children with their biomoms and stepmoms.
You may think you know what the other mom is thinking and feeling but you have no idea. You may think you know based on their actions but unless you read minds, you do not.
I have been accused of many things such as being a liar or interfering in the relationships with the fathers. Anytime I would hear something from any of the 3 kids, I would always counter it by saying something kind about the other. That way whatever venom was attempting to be spread would be killed with love and kindness.

I want my children to feel free to love the other mothers without hindrance from me.

With all my heart, I want my children to feel free to love the other mothers without hindrance from me. I have found through experience that the more I encourage them toward healthy relationships with the others, regardless of personal feelings toward them and their actions, the more the kids love and respect me for it because I am not forcing them to choose or divide their love and loyalty.
"If a mother and father can love more than one child then why is it so hard to understand that a child can love more than one mother and father!" -- author unknown